Japanese director recalls his favourite Cannes memory.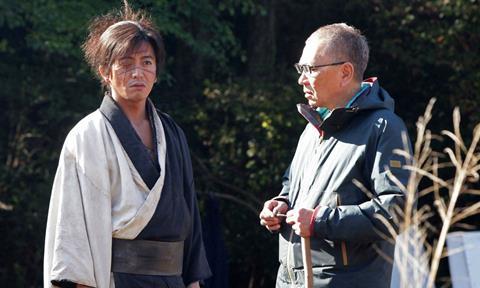 Japanese director Takashi Miike is in Cannes this year with his 100th feature credit (including TV features), Blade Of The Immortal, which premieres today (May 18) Out Of Competition.
Adapted from the Japanese manga series, which Miike says he is a huge fan of, the film follows a Ronin (masterless samurai) who is cursed with immortality.
"The original manga was serialised for 19 years, in the past many Japanese filmmakers have tried to make in into a movie," Miike says, "However due to its extreme content, there's been a history of numerous setbacks."
When he was offered the chance to direct the film, Miike says he felt it was meant to be, "I believe it was my destiny to be on board this project."
Jeremy Thomas' Recorded Picture Company re-teamed with the director on the title after previously working on 13 Assassins.
Much like that film, several sequences in Blade Of The Immortal required significant fight choreography. One scene featured a 300-on-one fight. How did Miike make that work? "I just proceeded wherever my mind guided me. It was a fun sequence to shoot, and I feel it was a good exercise, although it was the actors who did the actual exercising!" He says.
Cannes
Talking to Screen ahead of Cannes, Miike reveals that he is a big fan of the festival, "I always send off my films to Cannes with surprise and excitement, there is nothing more encouraging for myself and for my team than being invited here."
The director has a storied relationship with the festival, having been nominated for the Palme d'Or on two occasions: in 2011 for Hara-Kiri: Death Of A Samurai and in 2013 for Shield Of Straw.
He regards the first of those years as his favourite Cannes memory, when Hara-Kiri became the first 3D film to screen In Competition at the festival, "Just imagine a theatre full of audiences in tuxedos and evening dresses all wearing 3D glasses, watching a samurai movie….it is a happy sight, don't you agree?"
This year in Cannes, the continued disruption of SVoD giants Netflix and Amazon to the old world order is a dominant topic of conversation, but Miike says change is often for the better. "I see it as a problem, but in a good way," he comments on the shifting landscape, "Disturbance is needed to create something new. We need to tell ourselves that it is not about how we deliver, but what we deliver to the audiences."
The seemingly evergreen Miike continues to often churn out two feature films a year, and his output is showing no signs of slowing down. How does he keep finding the stamina? "I do not find myself full of energy, I just don't know what else to do, that's all," he comments.
HanWay Films is handling sales on Blade Of The Immortal; Warner Bros Japan will release locally.