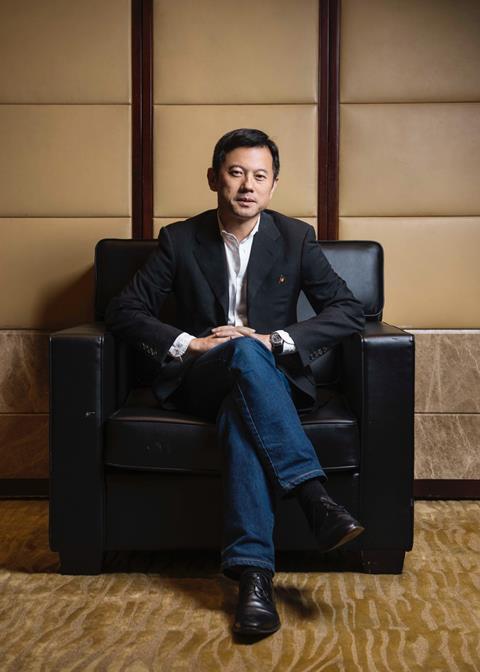 One of the big three streaming platforms in China, Tencent Video has around 95 million paying subscribers and more than 900 million monthly active users (MAUs). Like its local rivals, iQiyi and Youku, it is investing heavily into original content and taking its first steps into international markets.
In June this year, Tencent Video's parent company, Tencent Holdings, launched a streaming service in Thailand, WeTV, offering Chinese film, TV and anime content subbed and dubbed in Thai. Tencent original productions streaming on the platform include popular talent show Produce 101 and esports-themed drama The King's Avatar.
Jeff Han, senior vice president of Tencent Penguin Pictures, which produces original content for Tencent's streaming business, talked to Screen about the new service and the company's plans to start producing local-language content.
Why choose Thailand as your first international market for video streaming services?
Thailand is a strategic market for Tencent in Southeast Asia. Other than WeTV, we also have consumer products such as JOOX [music streaming] and WeChat [social networking app] here, and we also provide cloud products to our enterprise clients in Thailand. When evaluating the first overseas market for video streaming, we noticed that there is high demand for quality content in Thailand, and that Thai consumers are ready for a subscription model.
With high mobile internet users penetration of 79% and sophisticated infrastructure and network, WeTV eyes great potential in Thailand's video streaming market. We are confident we can replicate the high-quality digital entertainment we have been delivering in China to the Thai audience.
What kind of Tencent content do you envisage will work well in Thailand?
Backed by Tencent Video and Tencent Penguin Pictures, WeTV can provide exclusive original Chinese content with subtitles and dubbing, and simulcast them to an overseas audience. At the same time, we will continue to work with local partners to develop content that is tailored to the local audience in their local language.
Which other international markets are you looking at?
Thailand is our first market, and it is our first step. We believe that there is still untapped demand in the overseas market, especially for quality original content from China. While we will continue to explore suitable opportunities, we would focus on what's at hand first. WeTV is still relatively new, and we will keep learning and improving ourselves, so that we can be ready for future possibilities. In terms of growth, we will continue to look for different opportunities to expand our businesses, whether it is working with local partners or acquisitions. At the moment, we focus on working with local partners to expand our reach to international users.
In addition to Flavorful Origins, which was acquired by Netflix, have you sold any other Tencent originals overseas?
Other than Flavouful Origins, Tencent's dramas The King's Avatar, Unrequited Love and Take My Brother Away are also available on Netflix. The King's Avatar is a great example showcasing Tencent's ability to develop a strong IP [intellectual property] into various content formats. Starting life as a popular online novel about e-sports, it was first adapted into an animation, which streamed on Tencent Video in 2017, with a live-action drama version streaming in the summer of 2019. By identifying quality IP within the Tencent ecosystem, we aim to curate high-quality Chinese content for our audience. Tencent will continue to explore opportunities to bring our quality content to international audiences to widen our reach.
Tencent Video recently reported nearly 100 million paying subscribers. What are the factors driving the rapid conversion from free to pay in China?
There are several key drivers behind our paid subscriptions. One of the key factors has been our self-commissioned IP content, which has been well-received by the audience. Users with paid subscriptions are entitled to watch a few episodes in advance, compared to the freemium users, which give those keen fans an incentive to subscribe to our platform so that they can stay updated with the latest content. We also take advantage of our diverse library of long-form videos to edit into exclusive short videos, such as behind-the-scenes footage, interviews with cast etc, to engage and attract users to subscribe.