Iceland has a growing studio infrastructure, experienced English-speaking crews and a formidable production filmography.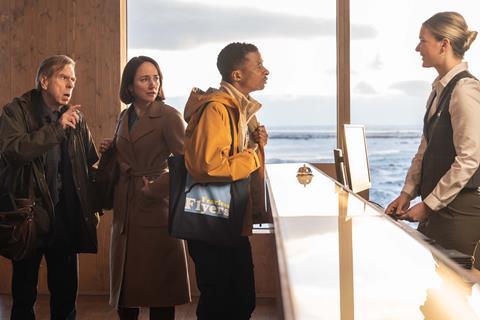 Netflix-backed film spin‑off from hit BBC series Luther is one the latest big‑budget projects to take advantage of Iceland's unique locations. The production, starring Idris Elba, Andy Serkis and Cynthia Erivo, landed on Svinafellsjokull, an outlet glacier of the Vatnajokull ice cap, with Icelandic director Baltasar Kormakur's film production and services company RVK Studios assisting the crew.
At the same time, Marvel was busy shooting a TV series offshoot — working title Safari — in the Myvatn area of northern Iceland. Crews, reportedly swelling to 200-300 people on the busiest days, filled up three hotels, according to local publication Iceland Monitor.
Other high-profile productions to film recently in Iceland include HBO series The Flight Attendant, Marvel's Doctor Strange In The Multiverse Of Madness, Hafsteinn Gunnar Sigurdsson's English-language feature debut Northern Comfort starring Timothy Spall, Lydia Leonard and Iceland's Sverrir Gudnason, and Hulu's Washington Black, which occupied a studio in Reykjavik and locations in east Iceland.
"Iceland's stunning nature is one of the most popular reasons for international productions to come here," says Iceland's film commissioner Einar Hansen Tomasson. "Iceland's varied landscapes are unique because you can find very different but epic sceneries and locations within short distances from each other. The film industry has also garnered world-class production service companies with resources and the know-how to accommodate big productions." Joining RVK on the roster are the likes of Truenorth, Genesis Films Iceland, Arctic Productions and Pegasus Pictures.
Another reason for the increase in demand is the rebate system put in place by the Icelandic government, which "offers reimbursement of 25% of the costs incurred during the production of films and television programmes in Iceland", notes Tomasson. "The reimbursement scheme, based on a special legislation, is simple, transparent and effective."
The territory's entertainment production sector survived and thrived during the pandemic, with little pause in productions in 2020 or 2021. And there's more to come. "The film school is graduating more crew members every year and Iceland University of the Arts is creating a department of filming this autumn," says Tomasson.
As founder and CEO of RVK Studios, Kormakur is also investing in and growing the company's facilities. RVK is scheduled to make stages two and three — both measuring 17,200 square feet and 60 feet at the highest point — operational by mid-2022.
Streamers and studios alike are queuing up to film in Iceland, with English-speaking crews accustomed to working 12-hour days, six days a week. FX Productions' limited series murder-mystery Retreat, starring Clive Owen and Emma Corrin, is expected to begin shooting this year on location at Vök Baths, Egilsstadir in east Iceland, Deplar Farm hotel in north Iceland, and at Harpa concert hall in Reykjavik. Meanwhile the Kormakur-produced English-language expedition drama Against The Ice marks the first Netflix Original film from Iceland.
The territory might also find itself in demand more than ever as the impact of the Russian invasion of Ukraine sees UK, North American and other international projects look to move away from central and eastern Europe to territories in western Europe and beyond.
The lowdown
Financial incentives
Iceland offers a 25% reimbursement of qualifying production costs for TV and film productions incurred within Iceland. There is no minimum or maximum amount. The incentive scheme is secured by government-endorsed special legalisation X filminiceland.com/incentives-to-film-in-iceland
Infrastructure and crews
Icelandic crew speak perfect English, but most studio productions bring their own heads of department. Leading production service companies include Truenorth, Pegasus Pictures and Sagafilm. RVK Studios plans to open two more soundstages in 2022.
Size matters
Iceland's compact size makes it easy to traverse via road or air. The country is only 40,000 square miles, which is smaller than Colorado. It offers filmmakers everything from glaciers, mountains and lava fields to waterfalls, black sands and geothermal pools. The island's network of roads means a vast array of options are within easy reach of capital Reykjavik. International flights arrive at Keflavik airport, which is just 45 minutes from the city. Flying time from JFK to LAX is about the same, give or take 20 minutes, as JFK to Keflavik, while most major European gateways are between two-and-a-half to three hours away.
First person to contact: Einar Hansen Tomasson, Iceland film commissioner