Dir: Mark Herman. UK-US. 2008. 94mins.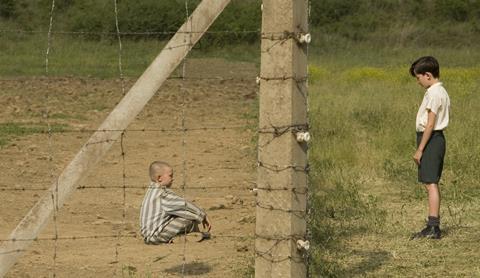 A children's novel which has sold over three million copies, The Boy In The Striped Pyjamas reads like a fable, an imaginary 'what if" aria on the untold number of real children who were sent to the Auschwitz-Birkenau death camp. As a film - albeit a well-made film - it will test an audience's ability to be subjected to the wrenching trauma of a Schindler's List without the reassurance that at least it really happened.
In director Mark Herman's (Little Voice, Brassed Off) adaptation, The Boy In The Striped Pyjamas is much less suitable for children (in the UK, where it opens September 12, it carries a 12A rating). Herman tells the story in a restrained, careful, manner eliciting strong performances across the board, in particular from young lead Asa Butterfield and Vera Farmiga as his unravelling mother.
The fine period recreations and story of a child caught up in a wartime world of battle-scarred adults he doesn't fully understand are reminiscent of both Empire Of The Sun and Hope And Glory; both of which spoke of hope amongst the ruins. This most emphatically does not; it's a three-hanky affair, should audiences be persuaded that they need the grief. And that will be the issue for worldwide distributor Miramax (going out through Walt Disney Studios Motion Pictures in the UK); this may ultimately be a more comfortable fit on TV.
John Boyne's brief book told its simple story through the voice of eight-year old Bruno (Butterfield), youngest and much-loved child of a high-ranking Nazi officer (Thewlis) who initially lives a childhood idyll of innocence in wartime Berlin. That voice has been lost in writer-director Mark Herman's adaptation (Little Voice, Brassed Off), losing some of the inconsistencies which plagued the novel.
For example, the film makes no mention of Auschwitz ('Out-with' in the book), there's no meeting with the Fuhrer (the 'Fury'); just Bruno, his sister, his loving mother (Farmiga) and his father's orders to move to the countryside where a mysterious and forbidden 'farm' backs onto their house on which all the people wear striped pyjamas.
An isolated Bruno eventually breaks out of his restricted life and finds Schmuel (Scanlon) standing behind the camp's fence. They become friends: although the viewer knows it's unlikely this friendship will have a happy ending, the boys, ignorant of their respective plights, do not.
Overall, this feels like a thoroughbred UK period drama (it was shot in Hungary last summer), stocked with solid support from British stage and screen - Sheila Hancock as the Commandant's outspoken mother, Jim Norton as chilling tutor Herr Lizt, Richard Johnson, David Hayman and Rupert Friend as the Nazi aide an increasingly-degraded Thewlis humiliates. As far as the young cast goes, Butterfield is outstanding, although Scanlan seems too healthy to be a long-term inmate of one of Hitler's most notorious death camps (not to mention that his continued presence seems highly unlikely).
The Boy In The Striped Pyjamas appears to be a little conflicted: it desperately wants the viewer to care about Bruno and Shmuel, yet the fact that this is a story not reality, stacked with supposed Nazi-era Germans speaking English in Gosford Park-style sets, places it, and the viewer, at arm's length from the greatest horror the world has known.
Production companies
Miramax Films
Heyday Films
International distribution
Miramax Films
Producer
David Heyman
Screenplay
Mark Herman
Based on the novel by John Boyne
Cinematography
Benoit Delhomme
Production design
Martin Childs
Main cast
Asa Butterfield
Jack Scanlon
Amber Beattie
David Thewlis
Vera Farmiga
Richard Johnson
Sheila Hancock
Rupert Friend
David Hayman
Jim Norton