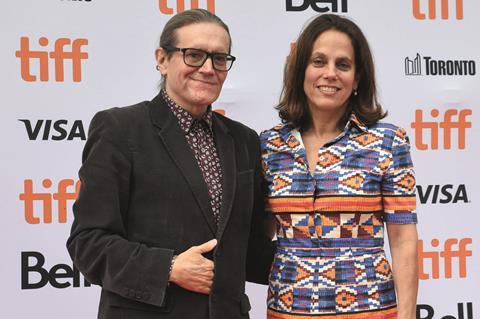 Need to know Since it was founded in 2002, Number 9 has established itself as a maker of taste-driven, quality UK cinema under the stewardship of husband-and-wife duo Stephen Woolley and Elizabeth Karlsen. Focusing on a steady output of one or two titles per year, many of which have had a strong female perspective, the company has racked up the accolades, including with Todd Haynes' Carol, which was nominated for six Oscars in 2016. Number 9 has tended to take a collaborative approach to filmmaking, including projects with Christine Vachon, Pamela Koffler and David Hinojosa's New York-based Killer Films (Carol and the recent Colette) and working as a co-producer on Paolo Sorrentino's Oscar-nominated Youth. It has established relationships with key talent, including actress Gemma Arterton, who has starred in three of the company's films to date: Made In Dagenham, Their Finest and Byzantium.
Key personnel Stephen Woolley, Elizabeth Karlsen, co-founders; Joanna Laurie, in-house producer; Claudia Yusef, head of development.
Incoming Number 9 has Wash Westmoreland's Colette gearing up for release after its Sundance premiere and Toronto berth, and the film is attracting awards buzz for star Keira Knightley. In the pipeline is So Much Love, which will star Arterton as iconic English soul singer Dusty Springfield — the project is now financing and will shoot in the US and UK in spring 2019, with Carol writer Phyllis Nagy writing and making her feature directing debut. Also likely to shoot next year is Mothering Sunday, which is with Film4 and has a screenplay by Lady Macbeth writer Alice Birch. The company has typically focused on features but is now also making forays into television, with Ida and Colette co-writer Rebecca Lenkiewicz's Portrait Of A Lady, an adaptation of Henry James' 1881 novel, and The Sea, The Sea with writer Jemma Kennedy, based on Iris Murdoch's Booker Prize-winning novel and co-developed with Archery Pictures.
Elizabeth Karlsen says "Women have tended to be central to a lot of our films, but not because we've set out to shift the balance — we're inspired by the material and what we think we can bring to the screen from it."
Stephen Woolley says "We are a British company but we've always had a more international outlook — whether we're working with Lone Scherfig, Wash Westmoreland, Todd Haynes, Neil Jordan or Paolo Sorrentino. We don't have barriers and we want to make films that are appealing to people not just in the UK but everyone who loves movies."
Contact: info@number9films.co.uk