Ben Stassen, the founder of Brussels-based nWave, has established his company as a European animation powerhouse backed by Studiocanal. It is now looking to conquer the US with The Wild Life.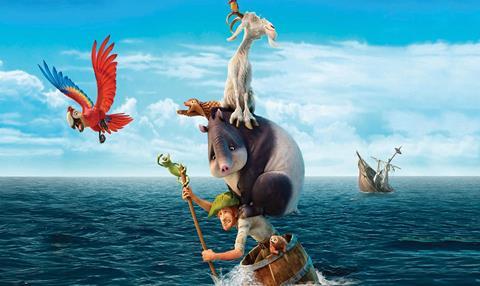 Within the European film industry, it is grudgingly accepted that locally produced animation has little chance of competing against the juggernauts from Pixar and DreamWorks. That is what makes the achievements of Brussels-based Ben Stassen [pictured right], founder of nWave Pictures, so notable.
In 2008, Summit released Stassen's first animated 3D feature Fly Me To The Moon in the US. At the time, there were only a few hundred 3D cinemas in the US but the film, which went out on 400 screens, still managed to reach 2 million admissions and went on to gross $42m at the global box office.
Thanks to his partnership with Studiocanal, Stassen's productions are now shown around the world — and sometimes outperform films from the US majors. A Turtle's Tale: Sammy's Adventures, for example, made close to $10m at the South Korean box office. Later this year, Lionsgate will release nWave's latest film, The Wild Life (aka Robinson Crusoe), in the US on 2,000 screens.
"The ability is there, the talent is there," says Stassen, reflecting on the struggles faced by his fellow European animators to find global audiences. "But it is extremely difficult to have the continuity. Without Studiocanal, we would no longer be there. It's as simple as that."
Sammy's journey
It was at the 2009 Berlin International Film Festival that Studiocanal's then head of sales Harold van Lier (tipped off by fellow executive Anna Marsh) first saw the teaser for Sammy's Adventures. He in turn alerted Rodolphe Buet, president of international distribution and marketing at the company. A week after the festival, a high-level Studiocanal delegation visited Stassen in Brussels, snapping up worldwide rights to Sammy's Adventures and seeking to invest further in the company. "They wanted to make a long-term distribution deal with us," Stassen recalls. "We said, 'Great but we'll do that only if you take an equity position in our company.'"
A deal was struck in 2010: Stassen and his partner Eric Dillens remain majority shareholders while Studiocanal took a stake of just below 50%. For nWave to remain eligible for local tax shelter support, it needed to retain Belgian nationality.
"With nWave, we are in the right spot to bring very high quality to third-party partners in the world who are looking for family entertainment," Buet reflects on the alliance. nWave's films, he notes, do not just work in cinemas; there is obvious appeal for TV and SVoD platforms as well. Of the territories in which Studiocanal distributes, the films have performed especially well in France and Germany. "The UK market is much more complex," admits Buet. "The family market is very crowded. It's difficult to find a slot without competition that will give us a chance on a relatively modest P&A investment to reach the appropriate audience."
Studiocanal always retains the final decision on which films go ahead. "We need to agree on the project but once we get the greenlight, they have been the best possible partners," Stassen says of the French major. "They've left us completely on our own to do our stuff. They've been very supportive."
Along with Studiocanal, nWave partnered with Belgian producer and tax shelter specialist uMedia on some of its earlier projects and is now working with distributor/financier Belga on its latest feature, Son Of Bigfoot, for which Belga raised $5m through the tax shelter. "The fact we're masters of our destiny, that we don't have to convince 20 layers of hierarchy or partners about what we do, makes it much, much easier," Stassen notes of the nWave model. He co-directs and produces the films as well as managing the company, which employs 120 staff.
Stassen came into animation in a roundabout way. In the late 1980s, he had just completed a post-graduate degree at the University of Southern California, where his fellow students included Jay Roach and Phil Joanou. He produced a Golden Globe-nominated Yugoslavian live-action film called My Uncle's Legacy (1988), directed by Krsto Papic. Stassen and Papic had planned to work together again, but the Balkan wars intervened and the new project was scrapped.
On a trip home to see his family, Stassen was introduced to digital animation company Little Big One. While the company forged trailblazing work in animation, TV graphics and commercials, it had a flawed business model: it was not able to hold on to rights since it did not generate its own content.
This was in the early 1990s, before any computer-animated features had been made — Toy Story was several years away from its 1995 release. Stassen suggested the company make CGI animated shorts for theme parks, which led to Devil's Mine Ride in 1991 — a simulated rollercoaster inside a deserted mine. Sold to theme parks around the world, its success came too late to save Little Big One from bankruptcy. But going into partnership with TV producer Dillens, Stassen formed nWave in 1994 and brought with him almost the entire team from Little Big One.
Throughout the late 1990s, nWave made 'ride' films. Observing that Disney and Universal were offering 3D in their theme parks with attractions such as Honey, I Shrunk The Audience and T2 3-D: Battle Across Time, and that 3D was being used in speciality films long before it became de rigueur for features, Stassen experimented with Imax and 4D, producing self-financed 10 to 13-minute films that each cost $1m or more. nWave held on to the rights and licensed the films to theme parks, creating a lucrative business. Stassen estimates that the company was supplying more than 50% of the world's theme parks, with certain titles demonstrating remarkable staying power. Devil's Mine Ride, for example, played for 17 years at the Excalibur Hotel in Las Vegas. "Last year, they were still paying $70,000 in licence fees," he says.
In 2005, when Disney announced plans to release Chicken Little in digital 3D, Stassen decided it was time for nWave to take the plunge into features. Fly Me To The Moon, released three years later, was first out of the gates. The film was self-financed with a $17m budget, of which $4.5m came from the Belgian tax shelter and the rest from the company's principals. Stassen handled worldwide sales on the film himself, licensing it to 53 territories.
Although Fly Me To The Moon was successful, nWave needed to grow in order to survive. Continuity of production was essential if the company was to retain its animators. "We needed financial resources to enable us to overlap projects," he says. With ambitions to start planning a new feature every year, the partnership with Studiocanal was crucial.
US strategy
All of nWave's animation work is done in-house in Brussels. However, the films are always in the English language and Stassen uses North American voice casts. His regular composer Ramin Djawadi (best known for the Game Of Thrones theme) is based in Los Angeles but travels to Brussels for orchestration and recording. In the main, nWave develops its own projects but, as its reputation has grown, the company is now offered scripts from outside, some of which it has purchased. For example, Son Of Bigfoot was brought to nWave by Waterman Entertainment, executive producers of Alvin And The Chipmunks.
Stassen is unapologetic that his films seem so US in tone. "If we were to go to Cannes or wherever without the material being in English, it would be unsellable," he says. "That is purely strategic. Also, let's face it, American properties tend to have a much more universal appeal than more local films." He adds that it is essential for nWave to sell to the global market despite its films' budgets being a fraction of those of the big US animations. "It's very tough to break even in Europe. A huge success in Belgium is 200,000 admissions — and 200,000 admissions wouldn't cover the music for the films."
nWave may be a global animation studio in its own right but Stassen still has to defer to Hollywood. The international release of Robinson Crusoe had long been planned for December 23, 2015, but Stassen and his team had no choice but to postpone when 20th Century Fox decided late in the day to release Snoopy And Charlie Brown: The Peanuts Movie in the same week. Moving to February, the film has since rolled out across more than 30 international markets, with the US to come in September.
Budgets for nWave features are around the $20m mark. That allows a profit to be turned without needing to break out in the North American market. Buet, however, talks of "slightly uplifting" budgets and production levels. Success in the US will allow this to happen. That is why so much attention is being paid to Lionsgate's ambitious September release of The Wild Life. If it proves a hit, nWave is poised to expand yet further.
Big draws Europe's animation contenders
In recent years, several European companies have attempted to produce and distribute big-budget animations aimed at a global audience. Luc Besson's EuropaCorp spent more than $80m on Arthur And The Invisibles (2006), and achieved a worldwide gross of $108m despite of tepid reviews. The film's two sequels performed less robustly.
French animation has been going through a golden period. Three of the top 10 French films in the international market last year were animated features: The Little Prince, Asterix: The Land Of The Gods and Mune: Guardian Of The Moon. The most successful, The Little Prince, had a worldwide gross of just under $100m (still only a tenth of what a Hollywood animated feature would be expected to make). UK-based Aardman, celebrating its 40th anniversary, has grossed close to $1bn with its animated features, working with partners DreamWorks, Sony and Studiocanal.
One encouragement for ambitious European animation outfits is the opening up of Asian markets. Russian outfit Wizart recently announced it was partnering with Chinese company Flame Node Entertainment on the Chinese release of its new feature Sheep And Wolves, which screens in Annecy. Nonetheless, as statistics in the European Audiovisual Observatory's publication Focus on Animation 2015 revealed, the Europeans are still at a huge competitive disadvantage to their US rivals. In 2014, European animation could achieve only a 20% share of the animation market in Europe, and the top 20 animation films by admissions worldwide in the period 2010-14 were all US in origin.