The Wind was the only female-directed film in TIFF's Midnight Madness section this year. Screen spoke to writer Teresa Sutherland and director Emma Tammi about the weather that woke up this 1800s horror.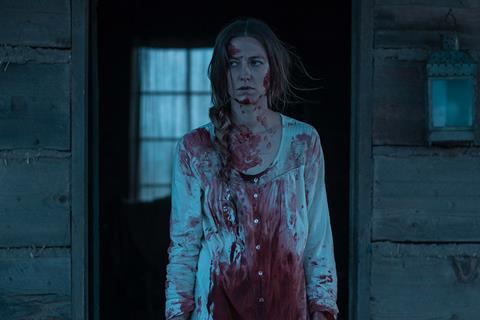 "Horror is is definitely my thing," says Teresa Sutherland, writer of the supernatural thriller The Wind, which premiered at TIFF this month. Sutherland paired up with director Emma Tammi to illuminate the lived experiences of women in the prairie in a horrific way.
Set in the Western frontier of the 1800s, the film follows Lizzy (Caitlin Gerard), who moves to a desolate stretch of untamed land to settle it with her husband. As the harshness of the land and a sinister presence begin to close in on Lizzy, she spirals into madness and paranoia.
As the only female-directed film in TIFF's Midnight Madness programme, The Wind expands the experiences of women in the horror space. What makes this western horror all the more thrilling is the real accounts of women losing their mind from the wind on the prairie that initially sparked Sutherland's desire to write the script.
Inspiration
Sutherland, who is from Missouri and lived in Kansas for a few years, recounted her experience at a community garden on the plains working alongside several older women.
"The wind was blowing a lot, and one day we just couldn't hear each other over it… But once we got into the wind break, one of the older women just comes up to me and grabs my arm, and she's like 'You know it used to drive women crazy?' And I was like 'What did?' And she's like, 'The winds out here, in the 1800s when people were settling this area. It used to drive women crazy,'" says Sutherland. "I was like, 'Tell me everything about this.'"
She began researching and reading the diaries of women who had settled Kansas, eventually writing a script. When Tammi read it, she fell "totally in love with the characters that Teresa had created".
"The drama of that script and those character arcs I found so relatable to life right now in 2018, which is amazing considering its a period piece, not to mention genre," adds Tammi.
"The men would go off and be the cowboys that we always see but someone had to stay on the homestead and that was the women," Sutherland says. "And that was when we were pregnant, and that was when the floods would come, and that was when wildfires were rampant…They were there and they were the protectors of the homestead. They were taking care of business."
The Wind zones in on Lizzy's terrifying experience settling the plains. "It's just not a perspective we've seen," Sutherland adds. "It's a silent part of history for women, who were doing amazing things just to keep alive."
Editing process
The film travels back and forth in time through a series of flashbacks, unravelling the story in a non-linear fashion.
"It felt like it added to this fractured sense of Lizzy's own headspace, and it also felt true to the human experience… and maybe a specifically female experience as well?" says Tammi. "To make a huge generalisation, I do think that we are often thinking a little bit more about the future and the past in the present more than men."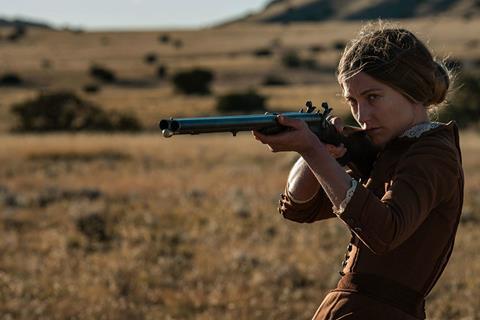 It was a complicated structure and Tammi and Sutherland were reshuffling scenes throughout the entire process, all the way through post-production.
"Our first [edit] was exactly how it was in the script and we were like, 'Well, this doesn't work at all'," Tammi laughs. "So we need to re-envision and re-scramble and rewrite it in post. And we did, and we did more than once."
Tammi's background in documentary filmmaking proved helpful. "I didn't feel intimidated by departing from where we thought we were starting," she says.
Women in the horror space
In creating The Wind, Tammi and Sutherland referenced many classic western films, but also sought out horror films featuring female protagonists to examine "how they enter the horror space through the everyday experiences of women."
Tammi cites Carrie and Rosemary's Baby as major reference points for The Wind, with the duo looking at how the seemingly "mundane" experiences of women can be expanded into the horror space.
"Lizzie's just trying to get water, hang up the laundry and some wolves come knocking and get at her, you know?" Tammi explains. "How do you take what someone has to do just to get by and make it extraordinary?"
For Sutherland, horror is a genre close to her heart: "It's the thing I want to stick with."
"I am very committed to the story, and the characters, and making sure that it's not just a bucket full of jump scares. The story aspect of horror is important because it's what makes you so connected to the people that these terrible things are happening to. And then when you do get those jumps, it's so much more effective."
Tammi, on the other hand, is not as much of a genre-head. "I think it was an amazing combination because she brought that to the table and I brought something else," the director reflects.
With more films from female creators entering the horror space, Tammi says they didn't set out to be part of a trend. "We gravitated towards it because these stories resonated for us right now, personally, and I guess that's to say that I don't think we're alone in that moment."
"Our world is in such a weirdly precarious moment that I think it's an interesting time to tap into different perspectives on how people are seeing genre in particular because it's a kind of magical, supernatural extension of our reality right now."