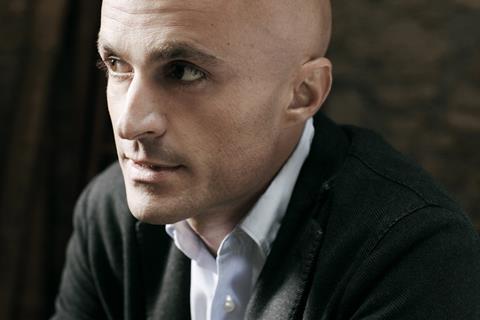 Italian producer Lorenzo Mieli is in Venice this year with two Golden Lion contenders, Paolo Sorrentino's The Hand Of God and Fabio and Damiano D'Innocenzo's America Latina.
The Hand Of God is Mieli's first feature with Sorrentino following TV series The Young Pope and The New Pope, both starring Jude Law. But despite the years of collaboration, Mieli says the film came out of the blue.
"Everything has been a coup de theatre, starting with the script. I had no idea what it was about," Mieli recalls. "I read it, it was the summer, and I was bowled over. It was so personal, so different from Paolo's previous movies. It was a conscious change, a coup de theatre within his own movie career."
The Hand Of God draws on the director's loss of his parents as a teenager from carbon monoxide poisoning.
"He told me, 'I've been thinking about this movie for 20 years and now I think I'm ready'. I trusted Paolo because I know that he knows himself but when I reading it I was thinking, 'Wow, you're dealing with something really very important for you and deciding to put it in front of people'. But I think the answer is that he was telling a story about hope."
The next unexpected twist was Sorrentino's suggestion they approach Netflix. "Paolo had the idea to go Netflix. Auteurs don't normally want to work with platforms, but Paolo is not that kind of guy. Paolo is the type of person who says, 'This movie is perfect for Netflix'," says Mieli. "This movie is a very intimate, delicate, precious journey and Paolo understood it needed a place that was safe but potentially super broad."
Mieli and Sorrentino met first with Netflix's London-based director of international film Teresa Moneo, who in turn connected them with the platform's vice president of international films David Kosse, who is also in London, and Los Angeles-based head of global film Scott Stuber.
"They were enthusiastic and focused from the beginning," says Mieli. "They understood the movie and why we wanted to make this movie with them. It has been incredibly profound teamwork with them from the beginning."
The film will launch on Netflix on December 15 with an expected exclusive two-to-three week theatrical run in Italy and other territories. Sorrentino has set aside time to accompany the film as it hits the festival circuit, cinemas and the Netflix platform, rather than embark on a fresh project straightaway. "Because of the movie's importance for Paolo, he gave himself time. Obviously, we are talking ideas, but he needs this time to live the life of this movie," says Mieli.
The Billy Wilder effect
Rome-based Mieli launched Wilder, his first TV-focused production company in 2001, in a tribute to Billy Wilder. Over the following two decades, Wilder's legacy has been woven into Rome-based Mieli's other ventures as he forged an increasingly high-profile career in film and TV.
In 2009, he joined forces with cinema producer Mario Gianani to create film and TV company Wildside. The company was acquired by international production and distribution giant Fremantle in 2015 just as it was developing Sorrentino's The Young Pope. Mieli continued to produce under the Wildside banner at the same time as taking on the role of managing director of Fremantle in Italy.
Remaining within the Fremantle fold, Mieli then launched The Apartment in 2019. Named after Wilder's 1960 classic comedy-drama, the company is focused on the creation and development of TV series and features for the international market.
"The name may have changed over the years, but this idea of Billy Wilder has always been there and what I have been able to do, like Billy Wilder, is to work on so many things," Mieli reflects. "I love cinema and television as part of a whole system. I'm not snobby towards any form of storytelling or form of visual art. It can be very high-end or super popular – I like them all.
"It is reflected in the two movies I have here in Venice. One of them is by one of the biggest auteurs in the world, Paolo Sorrentino, and the other is by two super edgy directors [brothers Fabio and Damiano D'Innocenzo]. They belong to a different generation from mine and Paolo and have a completely different mindset."
America Latina is the D'Innocenzo brothers' third film after Bad Tales, which won a slew of awards including best screenplay in Berlin in 2020, and 2018 debut Boys Cry.
Mieli is now finishing production on octogenarian director Marco Bellocchio's first foray into the series format, Esterno, Notte, about the assassination of former Italian prime minister Aldo Moro by the Red Brigade in 1978.
He is also building The Apartment's development and production slate, including a long-gestating drama exploring the life and legacy of Benito Mussolini, based on a quartet of novels by historian and writer Antonio Scurati.
"I read those books, and I saw why it is so relevant to do today because of what's happening with democracy and populism today," says Mieli. "It's a great project which I am still developing on my own but I am close to finding a home for it. It's going to be huge."