Taking over the shooting of Bohemian Rhapsody was a walk in the park compared with the complexity of creating full-blown movie musical Rocketman, Dexter Fletcher tells Screen.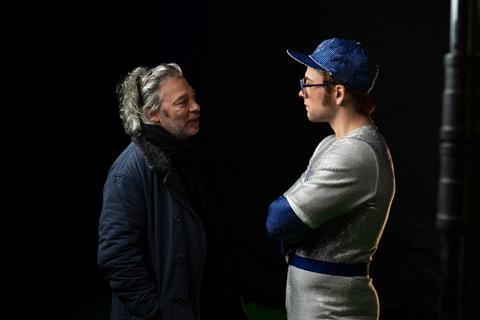 Dexter Fletcher has more than 100 screen credits as an actor, beginning with the role of Baby Face in Alan Parker's Bugsy Malone, shot when he was just nine years old. As a director, he has made low-budget indie Wild Bill; Sunshine On Leith, a musical hooked to the songs of Scottish sibling duo The Proclaimers; underdog true tale Eddie The Eagle; as well as an uncredited takeover of Bohemian Rhapsody after original director Bryan Singer departed mid-shoot.
Still, nothing had quite prepared him for the ambition and complexity of Paramount Pictures' Rocketman, the movie musical telling the early life story of musician Elton John — from childhood in suburban Pinner, northwest London; his songwriting partnership with Bernie Taupin; fame, addiction and destructive sexual relationships; and finally to rehab and the road to recovery.
Take the song 'Rocket Man' itself, which begins with Elton, played by Taron Egerton, at a party in his mansion, follows the singer as he sinks to the bottom of his swimming pool, takes him on to a gurney, into an ambulance, then hospital, before patching him up to send him out to perform at a stadium concert, blasting him to the skies and then into a private plane — all within the space of the four-and-a-half-minute track.
Framing devices
Fletcher — speaking to Screen on the phone from Los Angeles, where he has been busy with promotional duties for Rocketman's awards campaign — counts off the different shooting days and individual locations, which number at least six, spread out across almost the entire 12-week shoot.
Just as tricky as these elaborate musical numbers, however, were the short rehab-set sequences that pepper the film and provide its framing device. "Taron has this incredible journey in those scenes," explains Fletcher — essentially performing a transformation from petulant, aggressive burnout to a man who is achieving self-acceptance and growth, in the space of very brief screen time. "He has to chart the whole journey of Elton through the film. Some scenes were physically challenging; other were emotionally challenging."
One of Fletcher's own tests was the lack of any existing blueprint for the film, other than Lee Hall's screenplay. "With Rocketman, it wasn't like it was already a musical or a stage show," he says. "A lot of musicals are being realised and workshopped in theatres around the world before they get to the point where they are being made into a film. I don't think Taron and I even considered that at first.
"We had 12 weeks of prep — which may sound like a lot, but it wasn't. There was a lot of dancing and a lot of music to discover and get together in that time."
Stars aligned
Fletcher enjoyed two existing relationships that helped put him in the frame to direct the film. One was with Egerton, who is the star of Eddie The Eagle. The other is Matthew Vaughn, who Fletcher has known for more than 20 years, and who produced Eddie The Eagle. Once Vaughn had agreed to join forces with Elton John and David Furnish's Rocket Pictures to produce Rocketman, suggesting Egerton as the star, all roads inevitably pointed to Fletcher.
"Taron and I have a great working relationship," says the director. "Taron knows that I give him that very actor-driven support, [which helps] for something like Elton where there is going to be a certain amount of risk-taking that he has to do as an actor, putting himself out on a ledge. Because of Eddie and our relationship there, and our friendship subsequently, he felt it was a good fit for him. So that was obviously very key to it."
As for Vaughn, the relationship began when Fletcher was asked to perform at readings of his debut feature as producer, Lock, Stock And Two Smoking Barrels. At that stage, the film was not greenlit, and initial readings were "to see how it works". When Vaughn and director Guy Ritchie started casting it, Fletcher was used as "the person other people read against, and eventually I was in the film". Roles followed in several of Vaughn's own films as director — Layer Cake, Stardust, Kick-Ass. "I turn up in all of them, one way or another, if I'm available.
"He's always been a massive supporter of mine. He was a big fan of The Rachel Papers," he says, referencing the 1989 film adapted from the Martin Amis novel, in which Fletcher starred alongside Ione Skye, Jonathan Pryce and James Spader. "When I started directing, he was always very supportive. He's one of the great producers of his generation."
Egerton was already part of the film's conception when Fletcher boarded Rocketman — Furnish and Elton John had become converts to Vaughn's protégé after hearing the actor sing. Filling out the other roles — including Jamie Bell as lyricist Bernie Taupin, Bryce Dallas Howard as the singer's mother and Richard Madden (TV's Bodyguard) as manager/lover John Reid — was more complicated. Discussions ensued with Paramount, the film's producers and casting director Reg Poerscout-Edgerton.
"There were some people who came in and worked really hard to land it, and that the studio were really gunning for, and I just didn't quite feel it," says Fletcher. "Similarly, I had someone else who I was really pulling for and the studio didn't feel it. It's frustrating and exciting, and all part of the normal back-and-forth of it.
"You know when it's right. Suddenly, the noise becomes a clear tone of clarity," he says. "For John Reid, we looked and looked, and there were various different ideas, but then when Richard burst through, it was blindingly clear. He and Taron sat and read scenes together and I was like, 'We've got the guy, we've got him,' and of course everyone saw it. Some are immediately obvious and some pop out at the eleventh hour."
Next for Fletcher, reportedly, is Sherlock Holmes 3 — taking over the reins of the Warner Bros franchise from Guy Ritchie, with Susan Downey, Joel Silver, Dan Lin and Lionel Wigram producing; a screenplay in the works from Narcos co-creator Chris Brancato; and a December 2021 release date anticipated. The director is unable to indicate when production will start, or even confirm that he is attached. "We're in talks," he says. "Next year is more likely than imminently. It's one of a few things that are around."