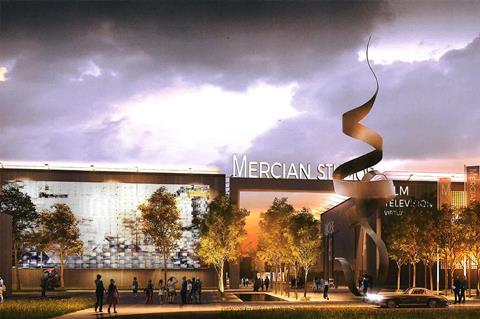 Major new studio developments are underway in every corner of the UK, in the south-east of England, Cardiff, Northern Ireland, Yorkshire, Manchester and Scotland.
All of the existing big studios have ambitious expansion plans. The 33-acre Shepperton site has the potential for a further 20-odd sound stages following the planning permission granted to the Pinewood-Shepperton group. (Netflix's lease is not thought to cover any future development.)
WALES
Wolf Studios Wales is a new purpose-built facility with 125,000 square feet of stage space and six sound stages. The studio is close to the centre of Cardiff in Wales. Set up to host the production of His Dark Materials, it is a private/public partnership between the Welsh Government and Bad Wolf, the production company launched by Jane Tranter and Julie Gardner in 2015.
"I don't think there has been a studio before that was built by a producer," says Tranter. "You normally have them done by property developers or people looking to make money out of it. We weren't. We were simply looking for a space to make high -end television drama, either Bad Wolf dramas or in the event that Bad Wolf couldn't fill the space in the studio, somebody else's."
His Dark Materials is presently on five of the studios's stages. The trading floor set for Bad Wolf's new HBO-backed drama Industry, directed by Lena Dunham and set in the vicious world of international finance, is on the sixth.
Further sets for Industry and for season two of the Elizabethan-set Discovery of Witches have been constructed at Pinewood Studios Wales, for which Bad Wolf has an agreement to use over the next two years. It is owned by the Welsh Government. Pinewood Wales, based on the north-east of Cardiff, has 70,000 sq ft of stages as well as workshops and office spaces. It has a lower ceiling height than Bad Wolf Studios.
"What Pinewood Wales have is brilliant office space," says Tranter. " We are able to base two productions and all of the costume and design departments very comfortably in Pinewood Wales. Everyone nips between the two studios. They're only about 10 minutes apart. It works very well."
Tranter has not discounted the possibility of expanding the Wolf footprint further and taking on the Swansea Ford Factory which was successfully used to shoot Da Vinci's Demons.
NORTHERN IRELAND
Titanic Studios is still leased to HBO which has just completed shooting the Game Of Thrones prequel there. The former Paint Hall offers four 16,000 square- foot spaces, and two sound stages at 21,000 square feet. More workshops continue to open.
Belfast Harbour Studios launched two years ago with two 65,000 sq ft stages to house Syfy's Superman prequel series, Krypton. The site is run by the Belfast Harbour Commission and is expected to add a further stages as well as extra office space and workshops by 2021.
The so-called Britvic facility in east Belfast, which has three stages and two workshops, continues to be used by filmmakers. Owners LCC are looking to expand and improve the facility.
Several new sites in Northern Ireland are also being earmarked for film production, among them the Michelin Ballymena tyre factory which closed last year. Owner Silverwood Developments is courting potential filmmaker clients.
Former airbase Shackleton Barracks in Ballykelly is also being touted as a potential space for filmmaking by owner, the MJM Group.
ENGLAND
Peaky Blinders creator Steven Knight is pressing ahead with the 30-acres Mercian Studios in Birmingham. "What I am trying to create is a studio complex with a halo effect so you have got a media neighbourhood," he explains.
Knight is promising a Brummie equivalent to London's Soho, complete with shooting facilities, education initiatives, street theatre and new housing. University of Birmingham, City of Birmingham University and the London Film Academy are all involved. Once the high-speed railway is complete, the site will be only 49 minutes from Euston and Knight's own projects, including his future Charles Dickens adaptations, are likely to shoot here.
Rebellion Studios, on the site of the Hamsworth Print Works in Didcot, near Oxford, is up and running. School's Out Forever directed by Oliver Milburn, produced by Emma Biggins and fully financed by video game and comic book outfit Rebellion, has been shooting this summer in the 220,000 sq ft space. Duncan Jones's Rogue Trooper is expected to begin production next year.
The old print works are near perfect for filmmaking, "usable and sound-proofed", as Jason Kingsley, co-founder, CEO and creative director at the fast expanding Rebellion explains.
"We'll be filming multiple features and multiple TV shows there simultaneously. We will build more facilities," Kingsley promises.
Rebellion is looking to exploit its own IP (which includes 50,000 video games characters) and to work with partners partners.
Barking and Dagenham Council is expected to soon announce further details of the ambitious Dagenham East studio project. It aims to be the biggest in London and building work on a hotel to service the studio is already underway.
Manchester's expanding Space Studios (backed by the city council and with recent credits including TV series Curfew and The A-Word now has 85,000 saw ft of production space and six purpose built production stages.
Capital & Centric struck a deal with Twickenham Studios last year for Twickenham to run new studios to be based in The Littlewood Building in Liverpool. Planning is still in progress at the 300,000 sq ft which is supported by Liverpool City Council and Homes England. However the development has been delayed, partly due to a fire at the site last year, and is now hoping to open by late 2021 It already has Twickenham Film Studios as a tenant and are planning to announce another major tenant soon.
SCOTLAND
Privately-owned Wardpark Studios in Cumbernauld, based on the location of a massive former circuit board factory, is expanding. Starz is shooting the fifth season of hit TV series Outlander at the facility and has committed to sixth series. Majority shareholder Terry Thomson has confirmed to Screen he is "busy making sound stage number five" that will allow the new facility, which also has workshops and offices, to house additional productions to Outlander. He says it will be open to other productions by the end of the year.
"Wardpark has a reputation as one of the best studio conversions in the UK," says Brodie Pringle, head of Screen Commission, Creative Scotland. "It has been tried and tested, the locations that surround it are stunning and the crew base is there."
Hopes are high the new Scottish studio in the Pelamis Building in Bath Road, Leith, which has already been used for Avengers: Infinity War, will be operational by the end of the year. A preferred bidder has been identified and is expected to be announced shortly.
"We see Bath Road as being a precursor to other studio developments," Pringle notes.
Edinburgh Caledonia Film Studios is the new name of the venture previously known as Pentland Studios. This was being planned as a £250m site with six sound stages but the original plans had to be torn up late last year when a tenant farmer successfully protested against the development. Now, a new site has been found approximately four miles from Edinburgh City Centre at Salters Gate. Public Consultation for the development is under way and the developers are planning to submit the studio 'planning in detail' application this autumn. Investor and operator contracts are being finalised but the opening of the new studio is clearly still some way off.