Director Ruben Ostlund talks to Screen about life after winning the Palme d'Or, and how real life can be stranger than the satire of Swedish Oscar submission 'The Square'.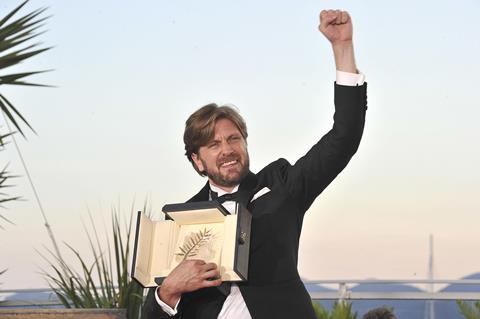 Sweden's submission for the foreign-language Oscar race, The Square, has some of the most memorable film scenes of the year. Who could forget that terrifying performance artist disrupting a black-tie gala or that post-coital condom conversation? They could exist as short films unto themselves.
Perfecting moment by moment is what Swedish director Ruben Ostlund says is at the heart of his filmmaking style. "The moving image has an ability to highlight who we are as human beings, even in a one-minute scene," he says.
In Ostlund's eyes, "the strongest moving images in the world today" are on the internet. "I have to compare myself to all these fantastic YouTube clips: 'Girl's First Ski Jump', 'Cab Driver on the BBC' and 'Battle At Kruger'… Professionals in the business have to compete with amateurs who have captured these unique images."
Of course, there are larger themes at work in Ostlund's Palme d'Or-winning feature, which is about an art museum executive dealing with the fallout from a controversial viral video to promote an exhibit called 'The Square', a zone where citizens are supposed to look out for each other.
"When it comes down to the theme of the film it is quite universal — the idea of who we should be towards each other, responsibility and trust," says Ostlund.
He shot The Square in mid-2016, when there were no president Trump press conferences, so does he feel like some of the film's skewering seems even more apt now? "I try to capture something about our contemporary time and how confused that time is," he says. "The real world is much more of a satire than you could imagine."
Gold standard
The experience of winning the Palme d'Or was obviously a career highlight. "When they announce that you have won, of course it's so fantastic, but for a couple of seconds there it's surreal," says Ostlund. "You're getting up on stage and have to remind yourself that this is Cannes and you're on stage here, now. You're in the [Grand Theatre] Lumiere and this is happening!"
He has taken the Palme (a gold-and-diamond Chopard creation) on a promotion tour in Sweden and to many more festivals and screenings around the world. "Winning the Palme has gotten the film a lot more attention," he says. "And [the trophy] is a fantastic thing to show people — everyone wants to take a selfie."
There will be a lot of selfies: Philippe Bober's Coproduction Office handles sales and the film has sold to 66 countries, including the US (Magnolia released on October 27), UK (Curzon Artificial Eye), Germany (Alamode) and France (BAC).
Even after winning the Palme, there were tweaks Ostlund wanted to make to the film (he also re-edited previous films Involuntary, Play and Force Majeure after they premiered in Cannes). Responding to some critics who said the film was too long (at 142 minutes), he said at a Cannes press conference, "The next version will be longer."
In fact, the new version remains at 142 minutes, but there has been work on "some in and out points", with an intention to inject a pacier feel. "It's increasing the speed a bit to give it more punch in the end," he says.
Shape of success
Ostlund says it has been "very enjoyable" to see The Square boost the career of his leading man, little-known Danish actor Claes Bang, who plays the museum curator in the film, as well as US motion-capture actor Terry Notary (who Ostlund discovered on YouTube). "The Danish directors missed out on Claes. How could they? He's such a beautiful, sensitive and skilful actor," Ostlund says of giving Bang his first lead film role.
Of Notary, who gives an uncomfortable and unforgettable performance as a performance artist, Ostlund adds: "Movement actors like Terry are a source that hasn't been used really, and they have a super-skill when it comes to acting in this completely physical way."
Beyond promoting The Square, Ostlund is already at work on his next film, Triangle Of Sadness, which he hopes to shoot in late 2018 or spring 2019. His fashion-photographer wife has told him lots of interesting stories about the fashion and modelling world. He explains: "I want to make a sensitive portrayal of people in a cynical industry."
Ostlund and his long-time producer Erik Hemmendorff went viral in 2015 with a video of the pair freaking out (perhaps not so seriously) when they didn't land an Oscar nomination for Force Majeure. "I hope the Oscar nomination committee has a sense of dramaturgy," he says. "We have been on the bottom. I'm sure they want us to film the next announcement." Let's see who goes viral again on January 23.