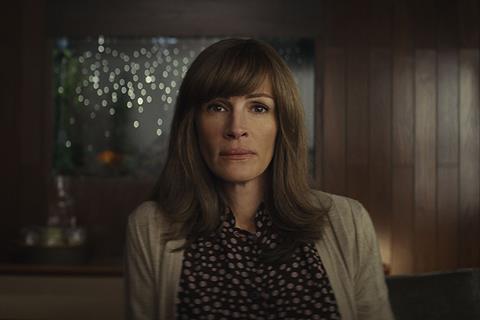 Taking journalists round the elaborate set of their soon-to-launch Amazon show Homecoming earlier this year, series creators Eli Horowitz and Micah Bloomberg seemed almost like new home owners giving nosy neighbours the guided tour.
But this psychological thriller is hardly a tale of domestic bliss, and its set is several times the size of the average starter home. The 'family' that shares the set with Horowitz and Bloomberg isn't typical either, including, as it does, big screen icon Julia Roberts and, in the director's chair, Mr Robot creator Sam Esmail.
In her debut as a TV series regular, Roberts plays Heidi, a caseworker at an experimental facility designed to help American soldiers transition back to civilian life. The show, based on Horowitz and Bloomberg's Gimlet Media podcast of the same name, follows Heidi both in 2018, as she works with the soldiers (one played by fast-rising If Beale Street Could Talk star Stephan James), and in 2022, when she has started a new life as a small-town waitress. Only in the second time period does a visit from a Department of Defense auditor make Heidi realise that things at the Homecoming Transitional Support Center were not quite what they seemed.
According to the show's creators and writers, the narrative and visual style of Homecoming is what necessitated the construction of a two-storey set complete with residents' bedrooms, medical exam rooms, a cafeteria, Heidi's office and a huge octagonal atrium.
"The heart of the story and more than half of the action takes place here," says Bloomberg on the set, "and we couldn't find a building or facility that did any of the things we needed this to do, technically or stylistically."
Built over the 36,000 square feet of two connected soundstages at Universal Studios in Los Angeles, the set has a roof that can be raised to the 50-foot high stage ceiling to allow 'top shots' and room for a 75-foot telescoping crane that can take a camera to almost any point in the facility.
The physical flexibility gave Esmail - who directed all ten half-hour episodes of Homecoming's first season and also served as an executive producer - an extra measure of directorial freedom.
"We designed [the set] to fit our needs in terms of how we wanted to frame and compose the shots," explains the Mr Robot mastermind. "It all sort of came together with the storytelling too – it wasn't just to service production, it added to the creative process."
Esmail says he often shot bird's-eye views of the facility's clients "to give the feeling that you're watching these guys like insects under a microscope."
And to differentiate between the story's two time periods, he took cues from features such as Xavier Dolan's Mommy and Pawel Pawlikowski's Ida and used different aspect ratios to shoot the action: "In 2018, when Heidi has her shit together, we're in full frame, 16:9. Then in 2022, when Heidi has memory gaps so she's sort of boxed in, we go into a very boxy 1:1 aspect ratio. It was an interesting way to break up the two periods."
Source material
Not surprisingly, given Mr Robot's mind-bending narrative twists, Esmail was drawn to the Homecoming podcast by its "sense of mystery, and that question of reality and identity."
More surprisingly, adapting the fictional podcast - presented as an audio collage of phone calls, therapy sessions and overheard conversations – for the screen "was much easier than I thought it would be," says Horowitz (who previously worked at innovative US publishing company McSweeney's). Though podcast and series are "distinct universes," he maintains, "hopefully we've kept the DNA of the podcast."
Because of the podcast, which began in late 2016, the narrative "was already in scenes when we went to development," adds Bloomberg (whose other writing credits include prize-winning indie feature Stand Clear Of The Closing Doors). "And that's a huge thing to get over when you're developing something: the way the characters sound, the way the scenes are going to work and the way the plot's going to break down."
A podcast is "a great way to test a story at relatively low cost," Bloomberg goes on. And the current rash of TV development projects based on podcasts is a result of "the affinity that people feel for them. With podcasts, the audience seems very motivated to go and find things they like. People who buy intellectual property see that and they want to participate in that."
Given a two-season, straight-to-series order by the streamer in July 2017, Homecoming, from Amazon Studios and Universal Cable Productions (UCP), had its premiere at last month's Toronto film festival and arrives worldwide on Amazon Prime Video on November 2.
The series has already helped Horowitz and Bloomberg earn an overall deal with UCP, which also produces Mr Robot and where Esmail has his overall deal.
Esmail himself – whose role on the second season of Homecoming hasn't yet been specified – is writing a miniseries about Hollywood billboard icon Angelyne and recently signed on to re-team, as director and producer, with Mr Robot star Rami Malek for a Universal feature based on the book American Radical: Inside the World of an Undercover Muslim FBI Agent.
Since the success of Mr Robot (the fourth and final season of which is due next year), Esmail has been pursued to direct another feature (his first behind the camera was little seen 2014 romantic dramaComet). And going from the small to the big screen isn't a major leap, he insists.
"I never look at it that way," he says. "There's more at stake, the budgets are bigger and there's all the pressure of box office. But I kind of let that go when I think about making the thing. I try and let the process be as pure as I can."