Chinese blockbuster Ne Zha has two shots at an Oscar nomination - it is in the running for animated feature as well as being China's submission in the international feature film category. Screen speaks to its creator, Jiaozi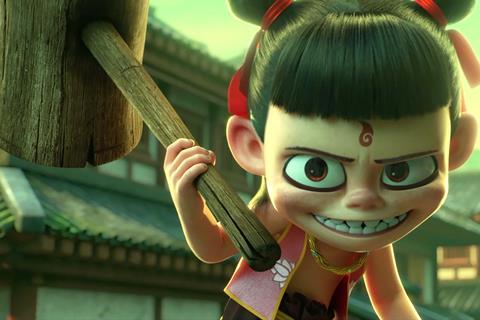 No-one would ever bet that a Chinese animation by a first-time director would become China's second-highest-grossing film of all time, behind only nationalistic action drama Wolf Warrior 2.
But Jiaozi's Ne Zha, China's entry to the Academy Awards for both best animated feature and international feature film (as the foreign-language film category is now known), did just that over the summer months. It raked in more than $700m at the local box office, overtaking Disney animations Zootopia and Coco (hitherto the biggest animated hits in China) by a large margin, surpassing even Chinese and Holly­wood live-action blockbusters The Wandering Earth and Avengers: Endgame.
The title Ne Zha is based on a centuries-old mythical character with unique powers, which is one of the most recognisable in Chinese mythology. The role has often appeared in literature, in film and on TV, including Prince Nezha's Triumph Against Dragon King, produced by Shanghai Animation Film Studio in 1979, which was the first Chinese animated film screened at Cannes Film Festival.
Jiaozi, who watched the 1979 version as a child, gives his Ne Zha a modern spin, creating a mischievous boy who must choose between good and evil to break the shackles of fate and become a hero.
"When it's a work made by an unknown director and an unknown animation company, it is important to use a household character with a huge fanbase to increase our chances of success - rather than an original character with an original story, just like Disney's first animation was Snow White," says Jiaozi. "Film­making is a high-risk business — we have to be practical when it comes to certain creative decisions."
Comic-book dreams
Jiaozi - or 'dumplings' in Chinese, a pseudonym for Yang Yu - dreamed of becoming a comic-book artist since childhood, but it was difficult to make a living in this profession in China. He ended up studying pharmacy at Sichuan University, but never gave up drawing and became interested in 3D animation.
It took three years of self-learning to create his first animated short - the 16-minute See Through, which premiered in 2009, winning more than 30 prizes including the golden award at TBS DigiCon6 and the special jury prize at Berlin Short Film Festival.
Despite the recognition, it was not plain sailing to get his first full-length animation off the ground. "The Chinese animation market wasn't mature. It was hard to raise money, with a lack of commercially successful local cases. I've had some false starts with dishonest investors," says Jiaozi, who is based in Chengdu, Sichuan province, in southwest China.
For the next few years, he was struggling to survive in the animation industry until Yi Qiao - CEO of then-nascent outfit Coloroom Pictures, who was impressed with See Through - flew to Chengdu to meet him soon after the launch of the company in 2014. Beijing-based Coloroom is an animation subsidiary of leading Chinese production company Enlight Pictures, and has since produced several Chinese animated films such as Big Fish & Begonia and The Guardian. It is also the Chinese distributor of Japanese animation hits Your Name, Spirited Away and, most recently, Weathering With You.
Both Enlight and Coloroom subsequently came on board as investors on Ne Zha, along with Jiaozi's Chengdu Coco Cartoon and October Media, founded by director Tian Xiaopeng of 2015's animation hit Monkey King: Hero Is Back.
Jiaozi spent five years on the project, consisting of two years on the script and in pre-production — which involved the draft of 100 different designs of the Ne Zha character — and another three years in production. Now, according to local reports, the animation is facing a lawsuit from China Film Huateng, which claims the film has copied the storyline, character design and production elements from its stage musical Memory 5D+, which is described as "a creative show of Chinese intangible culture heritage". The Beijing Intellectual Property Court has accepted the case.
In North America, Ne Zha was released on August 29, initially exclusively in Imax, before a wide release on September 6 across 154 screens, targeting the Chinese community in more than 120 cities. Its final gross reached $3.7m, making it the highest-grossing film of all time in North America for distributor Well Go USA.