The uplifting tale of a man recovering from depression through his bond with a sea creature has taken the world by surprise, charming audiences and awards voters alike. Screen talks to the Bafta-winning directors of My Octopus Teacher.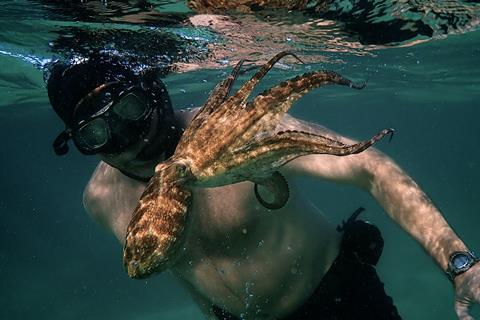 No-one involved in the creation of My Octopus Teacher expected the sheer extent of the film's success, including its two directors. Pippa Ehrlich and James Reed speak to Screen International a week after their win at the PGA Awards, where their uplifting nature film was selected as best documentary over the likes of Time, Dick Johnson Is Dead and David Attenborough: A Life On Our Planet. The film subsequently won best documentary at the Baftas, and has also been nominated at the Oscars.
Ehrlich and Reed's remark­able story follows the relationship between a man living with depression — former natural-history filmmaker Craig Foster, who also produces — and a common octopus in a South African undersea kelp forest. It dropped on Netflix on September 7 last year, with little fanfare, and did not strike anybody as an Oscar contender at the time. Is it fair to say the film has been underestimated? "Our experience with this film is that we underestimated a lot of things," replies Ehrlich, "from the beginning to where we are now."
Ehrlich first met Foster in 2015. Raised in Johannesburg, she was working as a conservation journalist for the Save Our Seas Foundation when a mutual friend told her about Foster, who, feeling burnt out by his career, had started exploring and documenting the kelp forests near his home in Cape Town, swimming without a wetsuit or breathing apparatus. Their first dive together was, Ehrlich says, "a fascinating and eye-opening experience. He was identifying and interpreting animal behaviours that I'd never dreamed were possible. It left a big impression on me."
Fascinated by cold thermo­genesis ("the process of adapting your body to the cold water") and Foster's underwater tracking skills, Ehrlich returned about 18 months later to be mentored by the natural history filmmaker. After six months of diving together, Foster said he was working on a film project inspired by his encounters among the bamboo kelp — including "this crazy experience he'd had with an octopus" — and asked if she would like to be involved.
Ehrlich was keen to direct a feature having made a few short films, but the biggest hook was an emotional one. "I just read his treatment and started crying," she says. "There was something in there that resonated with me on a level I couldn't really explain." Then, looking at Foster's rushes, she realised he had — for want of a better word — befriended a female octopus. "He had captured pretty much the entire life of an animal underwater, and that's almost impossible to do." There was, she concluded, "no way I could say no".
However, it required a leap of faith. Ehrlich had to quit her job, while the film, she says, "had no budget. We were editing out of Craig's attic." Foster's kelp-forest conservation group, the Sea Change Project, provided a stipend that enabled her to "just survive" as she worked through Foster's 3,000 hours of footage and filmed him, without wetsuit or scuba gear, in the icy waters of the Atlantic.
"There are certain places you can't access when you're carrying loads of heavy things," Ehrlich explains of Foster's insistence they eschew diving paraphernalia, "and bubbles are bad for animals underwater — certain animals are terrified of them. The cold water has incredible benefits. It's good for your health, it changes the cocktail of chemicals in your brain, and it makes you sharp and present in the water. So that brings incredible focus to filming."
Objective eye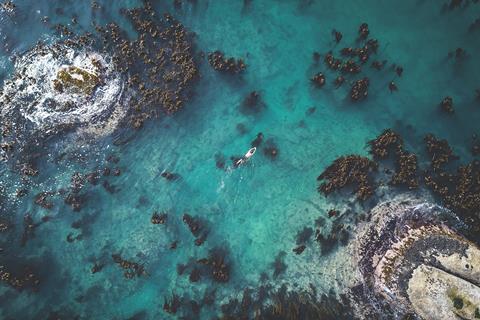 After nine months of cutting the film together, Foster invited his friend Ellen Windemuth (Naledi: A Baby Elephant's Tale) to executive produce, bringing the project under the aegis of her Amsterdam-based production company Off The Fence. With Windemuth's input, Foster and Ehrlich came to realise that, for all its transcendent imagery, the film needed something else: "An objective eye," says Ehrlich, "someone who could help us get the voice right." Windemuth proposed UK filmmaker James Reed.
Bristol-based Reed has two decades of experience in the natural history genre, with credits including Jago: A Life Underwater about an 80-year-old free diver. When Winde­muth approached him, Reed was busy and — he admits — ready to turn down her offer. But he could not resist looking at what Ehrlich had put together, and within 10 minutes saw "there was a brilliant story and all the ingredients to tell it".
Reed suggested they reassess the story to make Foster more central — not just as a narrator, but also as an interviewee "to get him to tell his own story". This interview would be conducted by Reed as an outsider, someone with "a totally fresh perspective and the curiosity anybody would have on seeing that material".
So Reed shot a three-day interview with Foster at his kitchen table, around which the entire movie was recut. "It was a hard thing to do," says Reed, "to reprioritise the film around this conversation, especially as so much had been achieved in the original process. But it was a fantastic collaboration and a combination of very different perspectives and skillsets."
In January 2019, a few months after that collaboration began, with Ehrlich and Reed re-editing the film together in Bristol, Off The Fence's then-head of sales Ludo Dufour shared the work in progress with Sara Edelson, a newly appointed commissioning editor at Netflix.
"She happened to be getting on a plane returning from a Christmas holiday in Hawaii," says Ehrlich. "Her eight-year-old son was sitting next to her on the flight and the whole way home he was trying to claw his way onto her lap because he was so fascinated by what he was seeing. I think it's quite rare for Netflix to happen upon a film that appeals as much to adults as it does to children."
With Edelson's enthusiastic backing, Netflix took it on and My Octopus Teacher finally found its financing (the budget is undisclosed), not to mention a platform ideal to realise the widespread appeal its creators were confident the film had. "We felt this could be a real universal story, though we were not thinking, 'And then maybe we'll get an Oscar nomination,'" says Reed, with a laugh. "That was not part of the thought process."
The day after My Octopus Teacher started streaming, the Sea Change Project's inbox began filling with messages from people touched by Foster's story and its uplifting story of healing through intimate inter­action with nature. "We were getting an email every three seconds," says Ehrlich. From there it just grew. It turned out even Netflix had underestimated the film. "They got us on a call, and said, 'Okay guys, we know it's intense, but it's gonna be two weeks of riding the media wave.' And here we are, seven months later, and it's only got more intense."
The surprising success of My Octopus Teacher is something the filmmakers are soberly processing. "It probably does open doors," says Reed. "I am already involved in a new secret project for Netflix, but also very happy on another project, and was before any of this amazing news."
Ehrlich reveals she is looking at a number of film projects, "but I can't say too much about them". She is more concerned about how the film has opened doors for the Sea Change Project — despite the filmmakers' mutual decision not to give the film an overt conservation message.
"We are trying to increase the profile of kelp forests generally," she says, "and send a message to our government about how important these natural environments are.
"When you get something like an Academy Award nomination — and this is the first time any South African film has been nominated in the documentary category — it's a big deal. We hope to make some good impact from that."