Set in Zagreb, the Croatian-language Success is the first local series to come out of HBO Adria.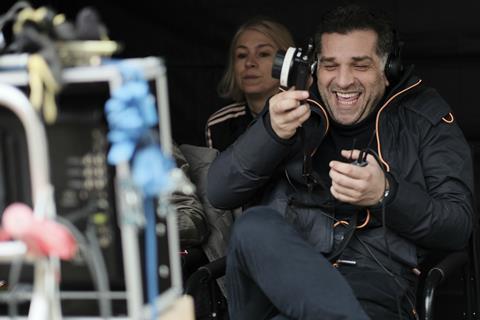 The Oscar-winning Bosnian director Danis Tanović is looking at his monitor as Iva Mihalić and Toni Gojanović, two of the stars of the six-part HBO drama series Success, discuss an on-screen troubling incident in front of the Museum of Contemporary Art in the Croatian capital Zagreb.
Mihalić is a renowned Croatian actress, while Toni Gojanović is a German-based Croatian actor for whom Success is his first job back home in a while.
It is two years since HBO Europe announced the HBO Adria 'First Draft' screenwriting contest at the Sarajevo Film Festival in 2016 and one of the two projects chosen for further development, Marjan Alcevski's Success, wrapped production in May. The six-part drama, shot in Croatian, is the first HBO original series from the Adria region of Croatia, Serbia, Bosnia and Herzegovina, Slovenia, Macedonia and Montenegro.
The First Draft contest has been a boon for HBO Europe following successful incarnations of the competition in Hungary and Romania.
"When we go to new territories, there is usually not a long tradition of television writing," explains Antony Root, executive vice president, original programming and production, HBO Europe. "There may be auteur films, or soap operas, but no long tradition of the signature dramas that are part of the HBO identity. One way of finding them is to throw gauntlet out to the community and see what comes back."
HBO plan
Netflix recently bought the Croatian TV series The Paper as its first series from the region.The show originally aired on Croation Radio and Television (HRT). In contrast, HBO are keen to develop shows from scratch rather than buy ready-made product, a process that requires investment in the region.
"The whole point of doing local productions is to do a ground up operation so that local authors, stars and producers are doing the sort of work that reflects the spirit of HBO," explains Root. "Although local, we want shows to deal with topics that speak to a wider, international audience."
"There was no restrictions on what you could write," says writer Alcevski, who hails from Macedonia. Success is the intertwining stories of four people tied irrevocably together by the same violent event.
Having 'won' the contest, Alcevski was asked to write episodes two and three. He worked on the story development with Johnathan Young and Steve Matthews of London-based HBO Europe and with Ana Balentović, development executive, at Zagreb-based HBO Adria.
The next step for HBO Europe was to find a producing partner in the Adria region. "We invited tenders from local production companies," says Root.
Although HBO will not reveal the budget of the series Root says the following parameters were kept in mind: "We don't want to disrupt the market," he explains. "We have to be realistic about what we pay people and other costs. We are not an incoming American or British show, but we are competing with them for the crew because we want the top people."
Again the Sarajevo Film Festival was the place HBO Europe chose to announce the tender process. "We were one of 10 production partners from the region invited to tender," says producer Nebojša Taraba, of Drugi Plan, the Zagreb-based production company that is producing Success with HBO. (Drugi Plan has also produced two series of The Paper.)
"HBO gave us the script to the first episode and asked us for a budget proposal, director proposal and some heads of department, as well as main cast, and also our creative view of the project," Taraba explains. "It was really demanding."
"We had something like 14 days to write the first proposal and then we were selected for the second round. My immediate reaction on reading the script was to call Danis."
"Drugi Plan and three other production houses [tendering for the HBO contract] called me," reveals Tanovic, who won the Oscar for the best foreign-language film for No Man's Land in 2001. He went with Drugi Plan as it called first and he knew Taraba a little through friends. "HBO called me at one point to check that I was in and sent me the first two episodes," the director explans. "I loved it immediately. It's the story of four people from different parts of society and how they get together. I loved the writing."
Quite by chance, the project has a Bosnian director, a Macedonian-born writer and Croatian production company and location. "We are literally covering the whole region," says Taraba. "Possibly we are risking political accusations that we are Yugo-nostalgic, which is kind of an offence to some."
Screenwriter Alcevski says of his characters, "I didn't go into the nationalities or religious beliefs of the characters because those can be hot topics in Croatia. I didn't want to get into those topics because this is not the story of whether you are a Serb, or a Muslim in Croatia. I was trying to get a group of people who in ordinary circumstances would not meet, even if often times these people would go to the same coffee shop."
Global ambitions
Balentović, who is from Croatia, believes global audiences are hungry for content from outside the US and the UK. She hopes the pan-Balkan nature of the production and the story itself will appeal to a regional audience and have an appeal that extends beyond this part of Europe.
"The show is aimed at the 20 million people of the whole Adria region, rather than targeting each individual country," she explains. "We feel the setting in Zagreb and the story structure will resonate with everyone in the region.
"Platforms are looking for shows where [because of the location and language] it's fresh and different," she continues. "With Adria, it's part of Europe but for other Europeans [this region] might be a bit of an enigma. To a certain extent [those from outside the region] are trying to figure us out. One of the ways to figure people out is to read their books or watch their movies or see how they make TV."
Success will be broadcast day-and-date across all HBO Europe territories at the end of 2018/the beginning of 2019.