Isabelle Huppert says her love of ambiguous, nuanced characters drew her to Paul Verhoeven's uncompromising rape drama Elle.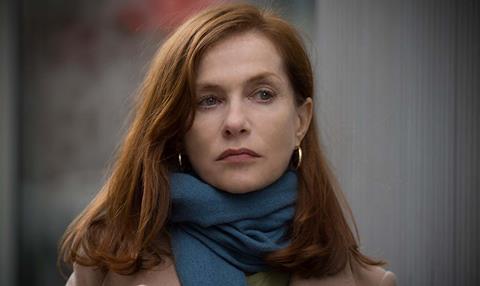 Isabelle Huppert is "Donald Trump's worst nightmare" commented one journalist after a recent New York press screening of Paul Verhoeven's Elle, according to a tweet by the film's producer Said Ben Said in the aftermath of the recent US election results.
While it is unclear whether the US president-elect has ever heard of Huppert, one certainty is that Verhoeven's French-language debut - starring the actress as a rape victim who enters a deadly psychological cat-and-mouse game with her well-heeled tormenter - has gained unintended resonance in the age of Trump.
Huppert's performance as company boss Michele Leblanc, who lays down the gauntlet to her suave attacker, has been intriguing critics and audiences ever since its premiere in Competition at Cannes in May. It is never really clear whether Huppert's protagonist is plotting revenge, secretly enjoying the thrill of the chase, or simply living through the experience and trying to figure it out as she goes along - or whether all or none of the above options apply.
Huppert explains it was the ambiguity of Michele's actions and motivations that first attracted her to the character when she read French writer Philippe Djian's novel Oh…, on which the film is based.
"The protagonist is an interesting character who isn't quite a victim but isn't a traditional 'revenge girl' either," says Huppert. "It's like we're inside her mind as she deals with the situation. You get the sense she feels compelled to act but, at the same time, it's not clear what's driving her. I like the idea that we can never truly know why people do things, but the fact is they do.
"I think she has plans but she isn't necessarily conscious of it or where it comes from," she continues. "Her actions aren't just linked to the fact she is a manipulator or that the attack has unleashed childhood memories. There's a depth to the character and that's what makes it so interesting. As human beings, we're made of many things, where we come from, where we are, the people we love. That's the great talent of Paul Verhoeven, to get all these different layers to co-exist side by side in the film."
Michele is the sort of complex protagonist Huppert appears to relish, standing alongside other career highlights such as the murderous teen prostitute of Claude Chabrol's 1978 Violette Noziere and the masochistic loner Erika Kohut in Michael Haneke's The Piano Teacher. Both roles earned her the best actress prize at Cannes.
While Huppert left the Croisette empty-handed in May, Michele looks set to become one of the defining roles of her 40-year career. For the first time since she hit the big screen in the early 1970s - around the same time as Oscar winners Meryl Streep, Susan Sarandon and Helen Mirren - Huppert is being cited as a serious contender in the best actress categories of both the Academy Awards and Golden Globes.
False start
It is surprising to learn, then, that Elle very nearly happened without Huppert on board, even though the actress had expressed interest in a big-screen adaptation of Oh… before Verhoeven joined the production. "Isabelle wanted to do the movie long before I was part of it," says Verhoeven. "But when I became attached, the idea from the start was that the film would be made in English. Given my credits, and Said's credits over the years, it seemed the obvious direction."
To that end, Verhoeven brought in writer David Birke to transpose the novel to the US. "I wanted to set it somewhere like Boston, Chicago or Seattle," he says. "The plan was to shoot with an American cast and crew." But when it became clear there was no appetite either from A-list actresses - or their agents at the very least - or US financiers for a risky rape-themed drama, Verhoeven and Ben Said circled back to France. Huppert immediately jumped in. "We never discussed this false start; it was a full and adamant, 'Yes,'" recalls Verhoeven, who says he cannot imagine the film without Huppert in the lead role.
"Looking back now, I think if Isabelle had not lived on this planet, this movie should never have happened," he says. "What she brings to the movie is unique. You may not identify with Michele or understand or accept her actions, but Isabelle brings an authenticity to the character. Her presence makes the movie acceptable and protects it from cliché and banality."
The director reveals that while they went over the choreography of the film as well as details of wardrobe and dialogue - after it was translated from English to French - he and Huppert never discussed the protagonist and her motivations.
"I had the feeling, the minute I saw her acting, that it would be better not to say something," says Verhoeven. "From the beginning, she was on target. I trusted her intuition… In the morning she would jump into the character and see where it would lead her that day. Sometimes it would lead to emotional explosions that certainly were not in the book but I understood I should not interrupt."
Huppert, for her part, appreciated the space Verhoeven gave her to develop the role. "He gave me the screenplay and that was it. We rehearsed the rape scenes a lot because they were very technical, so that was all very controlled, but we never exchanged a word on my character and I never questioned him either."
Awards buzz
Both Huppert and Verhoeven have hit the awards season trail in recent weeks to coincide with the film's US release by Sony Pictures Classics in New York and Los Angeles this month, ahead of a UK release from Picturehouse Entertainment in 2017. The pair attended New York Film Festival in mid-October and AFI Fest in Los Angeles for a gala tribute screening in honour of Huppert. AFI also played Mia Hansen-Love's Things To Come, which stars Huppert as a philosophy teacher rebuilding her life following a series of personal setbacks.
Verhoeven, who is in the running for an Oscar following France's decision to submit Elle as its entry to the foreign-language category, feels the time is right for Huppert to be feted in the US. "I am certainly hoping this will be the year of Isabelle, who has not been overwhelmed by awards in the United States. It would be well deserved," Verhoeven told Screen International on the eve of the AFI Fest screening.
"It a mysterious process and I've never understood how it works. I would be disappointed if there was nothing. You just never know," he continues, suggesting that Trump's recent victory might even influence her chances. "Hillary Clinton's just been excluded from power while the character of Michele holds power to the very end of the movie - you just never know how it will go."