Oscar-nominated documentary tracks the rise of an independent news organisation run by Dalit women in India, taking on the establishment with journalism geared for social impact. Screen talks to director duo Rintu Thomas and Sushmit Ghosh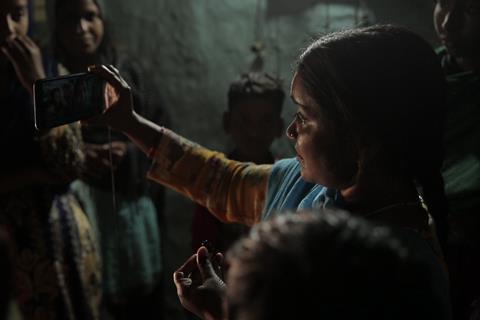 Journalists interviewing local police, talking to villagers about a broken road and getting to grips with digital equipment might not seem the most riveting documentary subject matter. However, the proposition changes when the reporters in question are Dalit women from the north of India — the "untouchables" that inhabit the bottom of the caste system and typically perform the most menial jobs.
The subject of Black Ticket Films' Writing With Fire is the work of the all-female reporting team at Khabar Lahariya ('waves of news'), the news organisation that was founded in 2002 in the northern Indian state of Uttar Pradesh by Nirantar, an NGO focused on gender and education. Remarkably for the sub-continent, where fiction film and TV is churned out at industrial levels, the Sundance 2021 world premiere is India's first to earn a feature documentary Oscar nomination.
Co-directors Rintu Thomas and Sushmit Ghosh are a married couple from liberal backgrounds in New Delhi and had shot documentary shorts but had never made a feature. That changed when they read about Khabar Lahariya 14 years after it launched. "We got invited to a meeting in which the whole team was discussing the shift [to digital], and just being in that room convinced us this was the right moment for an outside filmmaking team to enter the story," recalls Thomas. "Personally, I wanted to spend more time with the women — they were so intelligent, so witty."
Rintu and Ghosh initially funded the film, eventually receiving support from sources including Sundance, Chicken & Egg Pictures, IDFA, Tribeca and San Francisco's SFFilm, and attracting co-producers John Webster of Finland's JW Documentaries and Tone Grottjord-Glenne of Norway's Sant & Usant.
The filmmakers embedded with Khabar Lahariya and ended up filming their work and lives for four years. They were attracted to a group of historically disadvantaged women within the Hindu caste hierarchy who had defied their status and built a respected news organisation comprising around 30 journalists who wrote, edited, designed and personally distributed a newspaper with a print run of around 6,000 copies, sold in 600 villages in the region.
Before they started filming in 2016, the outlet was barely known beyond its circulation patch in Uttar Pradesh, save for "very niche liberal news circles", as Ghosh puts it. Female journalists from mainstream media would periodically visit to help with training but that was about it. Ghosh says the shift to digital was "momentous", adding: "I don't think they anticipated the kind of explosive growth they would witness over the next five years. Now everyone knows about them."
Writing With Fire focuses on several journalists as they go about their daily work, familiarise themselves with mobile-phone cameras, prepare to launch a website and YouTube channel, and share a little of their home lives.
On the face of it, their work appears to run the gamut of regional reporting that plays out every week, the world over. Yet the specifics of the culture and who is asking the questions add a greater dimension: chief reporter Meera Devi demanding of an awkward-looking police chief what is being done about an assault allegation brought by a woman; reporter Suneeta Prajapati investigating an illegal mine next to her home, where she worked as a child; an interview with a rape victim; the 2019 re-election campaign of prime minister Narendra Modi.
The journalists were used to having local crews shoot short films about them, but a full-blown feature documentary was something new. "The power equation is never equal between a filmmaker and their protagonists," notes Thomas. "They needed to hear from us very clearly that we were not interested in framing this as a victim story. Neither was it going to be some patronising super-heroine narrative. We didn't know what our story was going to be but we knew that we were interested in them as relatable, ordinary women with an extraordinary spirit."
Spirit of openness
Thomas and Ghosh went about their work quietly with cinematographer Karan Thapliyal, and without the usual crew and paraphernalia that comes with a feature production. That intrigued their subjects, as did the filmmakers' personal circumstances. "The fact that Sushmit and I are an interfaith couple, Meera said, was very meaningful to her because she said it felt like this said something about us, our openness to different kinds of people and realities," says Thomas.
Writing With Fire offers its share of tense moments experienced by the reporters. "There were many situations where they were entering spaces that were unwelcoming, hostile or downright dangerous," says Ghosh. "On other days, people would chase them down and say, 'Please come to my village. If you report, we will get water in our broken-down handpumps.' The film's story exists between these two spaces."
The filmmakers were interested in showing the risk the Dalit women face as soon as they leave their homes. Prior to a scene where Prajapati steps out of her house and walks towards the mine, she had instructed the filmmakers to carry smaller GoPro cameras to mitigate the likelihood of confrontation.
"She pointed out a man on the cliff who owned the mine and was looking at us," says Ghosh. "The guy next to him had murder charges against him. We said, 'Are you sure we should be doing this?' and she said, 'As long as you're with me, don't worry.' That swagger with which a lot of these women operate, the agency that they have, is quite phenomenal… [The Dalit journalists] being there actually was a layer of protection for us as a film crew, because we were clearly outsiders."
At one point in the film, Prajapati is challenged by a man on the side of the road and is quickly surrounded by others. Thomas recalls "the level of sophistication in being able to negotiate through hostility and oppression" as the reporter defuses the tension.
"I think it comes from the DNA of being a Dalit woman," she says. "When you grow up seeing oppression playing out in your villages and communities and you're made to feel invisible, 'othered', you have to find ways to negotiate your way through."
The journalists go about their work with the help of "silent allies" within the region's administrative ranks, who do what they can to facilitate Khabar Lahariya. The women's work has changed perceptions. "In these regions, being a journalist has traditionally been the forte of the dominant caste. The fact Dalit women now exist for 20 years as professional journalists, running their own outfit under their own steam — independently, with a feminist lens — they're seen with a certain kind of respect within the journalistic community and also within the administration, towards them and their committed work."
At Sundance 2021, Writing With Fire won the audience award in the world cinema documentary category and a special jury award for impact and change, and went on to pick up further festival prizes including the audience award at IDFA in November. Music Box Films gave the documentary an awards-qualifying release in North America, while Autlook has sold to multiple international territories.
Since the film wrapped, Khabar Lahariya has won awards and expanded into three more states. Prajapati took time during the pandemic to design an online journalism course for younger women in the region, and more journalists have joined. "They're doing really well and going from strength to strength," says Ghosh.
"No textbook can teach you empowerment," adds Thomas. "You're constantly told how [women and men, boys and girls] should be and then you see the image of a woman breaking all these stereotypes, quietly, in a gentle, firm, elegant way. That's been the largest and the most indelible kind of change that they've done to the landscape of rural India, and now the rest of India is sitting up and taking notice."