Pals at university, Graham Broadbent and Pete Czernin spent a decade apart learning the industry ropes before setting up Blueprint Pictures. The UK producers of awards contender Three Billboards Outside Ebbing, Missouri tell Screen about their own blueprint for TV and film success.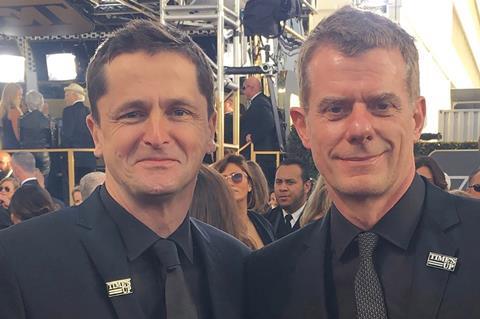 Graham Broadbent and Pete Czernin apologise for the mess. In truth, there is little disarray at the central London headquarters of their film and television company Blueprint Pictures, but the offices in Fitzrovia have yet to receive the personal touch. The company's nine-person team moved in just before Christmas, and everyone has been busy.
First there is Three Billboards Outside Ebbing, Missouri, which has thrown the co-chairmen into the white heat of awards season for the first time, while also netting them their first personal Oscar nominations as two of the picture's three producers, alongside Martin McDonagh (the $15m production was jointly financed by Fox Searchlight and Film4). Then there are a pair of Studiocanal-financed productions, The Mercy and The Guernsey Literary And Potato Peel Pie Society, which hit UK cinema screens in February and April respectively. These are closely followed by the first production to emerge from Blueprint Television, A Very English Scandal, about the 1979 trial of former UK politician Jeremy Thorpe, which stars Hugh Grant and Ben Whishaw and goes out in three parts on BBC1 this spring.
As film producers, Broadbent and Czernin have come a long way since meeting on their first day at Bristol University as fellow history students who became friends and housemates. While both were keen to pursue careers in the film industry, their paths diverged after university. Broadbent moved to London, becoming a runner at Working Title, a third AD and a producer's assistant. In a hurry to establish himself as an independent producer, he spent three years trying to get Welcome To Sarajevo (1997) off the ground — finally doing so with Michael Winterbottom at the helm. "It was literally three years on the dole and doing cleaning jobs," recalls Broadbent.
Czernin, meanwhile, was making his way in Los Angeles, where he ended up president of Denise Di Novi's Warner Bros-based Di Novi Pictures. "I always wanted to learn in a big corporation and see how the studios worked," he says. "Then I'd come back and set up a company and produce, which is kind of what happened." After nearly a decade in the US, Czernin relocated his family back to London and set up Blueprint in 2004 with old pal Broadbent.
Blueprint's first features — romantic drama Becoming Jane (with Ecosse Films) and supernatural thriller Wind Chill, both 2007 — were reasonably auspicious, but real critical and then commercial success came respectively with In Bruges (2008) and The Best Exotic Marigold Hotel (2011), also beginning vital relationships with McDonagh, director John Madden and writer Ol Parker. The appointment of Diarmuid McKeown as Blueprint's managing director in 2016 has allowed the two co-chairmen to focus more on their creative roles. "It gets business and legal more off our desks," says Czernin.
The Best Exotic Marigold Hotel was Blueprint's first $100m global cinema hit, and Three Billboards ($88m at the time of going to press) is on track to be their second. 'Filmmakers for an audience' is how the pair defines the Blueprint corporate ethos. "Filmmakers for festivals — that's its own interesting experience," comments Broadbent, "but, if you look around this office, there's a load of people employed here and it has to function as a business. Our approach is, 'Who is the filmmaker, will it sell into North America and will it sell internationally?'"
As for their respective roles, "I'm probably more conceptual and bookish," says Czernin, "whereas Graham is brilliant with filmmakers." Following the Working Title template, the pair both take a producer credit on Blueprint productions, but either one will take the lead on individual titles.
Blueprint made its first forays into TV with BBC1 two-part miniseries The Outcast in 2015 and fantasy-themed TV movie The Last Dragonslayer for Sky One in 2016. In June 2016, the company formalised those ambitions by hiring EastEnders executive producer Dominic Treadwell-Collins to head up its TV division, with backing from Sony Pictures Television for staff and development overheads.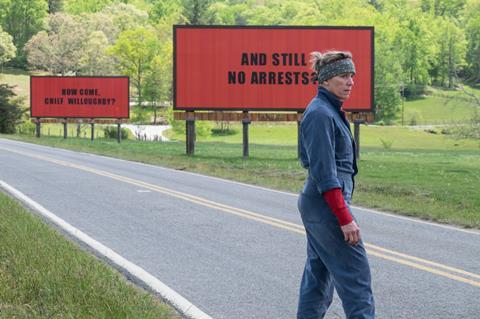 High-end drama
The executive hit the ground running, alighting on John Preston's non-fiction book A Very English Scandal, which Czernin had already optioned with a TV adaptation in mind. Treadwell-Collins managed to secure the writing services of Queer As Folk creator Russell T Davies, with the resulting script luring Stephen Frears to direct and Hugh Grant to star as the former Liberal Party leader Thorpe. Producer partners BBC and Amazon have key UK and US rights — each episode will premiere on BBC1 in the UK and become available as an Amazon Original on Amazon Prime in the US the following day, as Amazon acquired the US rights before it went into production. Sony is selling internationally.
"Our first television thing, it stands for what we want to do, which is take amazing, accessible stories and yet make it feel big and noisy and commercial," says Treadwell-Collins. "It's powerful men and their cover-ups, and bumbling British eccentricity. It's all very Blueprint stuff."
A Very English Scandal achieved greenlight after only nine months of development, a speed that certainly got the attention of Broadbent and Czernin. "Now they're going, 'Right, where's the next one?' I have to explain that television isn't as swift as this normally," says Treadwell-Collins. The TV development slate includes another non-fiction book, The Transatlantic Marriage Bureau by Julie Ferry, and a four-part series based on Patrick Gale's novel A Place Called Winter. TV host Graham Norton's detective novel Holding has provided the inspiration for what is hoped will be a long-running murder mystery series, drawing on Treadwell-Collins' early experience of working on enduring detective drama Midsomer Murders.
Title treatment
Broadbent and Czernin concede that Blueprint has — after the two Marigold Hotel films and Three Billboards — gained a reputation for its lengthy and peculiar titles. The Guernsey Literary And Potato Peel Pie Society, based on the 2008 novel by Annie Barrows and Mary Ann Shaffer, and set in Guernsey and London shortly after the Second World War, is their biggest tongue-twister yet. "You've got a book that's sold 7 million copies," says Czernin. "Do you change the title on the poster? Probably not."
Blueprint boarded after the original producers — Mazur/Kaplan's Paula Mazur and Mitchell Kaplan — had to pull the plug during pre-production on an earlier Fox 2000-backed incarnation, in which Kenneth Branagh would have directed Kate Winslet, from a screenplay by Don Roos. "They hadn't cast the [male] role so it came undone," explains Broadbent. The producer quartet brought on a new writer Kevin Hood (Becoming Jane), and then Thomas Bezucha (The Family Stone), and it was the latter's screenplay that snagged director Mike Newell. Lily James was cast as the story's bestselling author with a rich American fiancé who travels from London to Guernsey to investigate the titular book club, and finds herself falling for one of its members, a local pig farmer (played by Game Of Thrones' Michiel Huisman).
Studiocanal financed the film and will release in the UK, following a pattern established on The Mercy, which tells the true story of plucky amateur sailor Donald Crowhurst (Colin Firth), and is adapted from the 2006 documentary Deep Water.
Directed by James Marsh, The Mercy started shooting in May 2015, and has endured a lengthy post-production involving two editors (Jinx Godfrey, then Joan Sobel). The 1968-set story's dark trajectory has evidently made this material a challenging fit for Blueprint's commercially ambitious ethos. "Can you make a movie as compelling as the documentary?" ponders Czernin. "I think we have, but it's taken a while, for sure."
Broadbent and Czernin are proud of the company's relatively lean development slate (15 projects maximum at any given time), as well as its proactive approach to material. On that slate is A Boy Called Christmas, based on Matt Haig's children's book about the origin of Father Christmas. Ol Parker is adapting, Studiocanal is once again financing and Blueprint is looking to attach a director. "For us, it's a step into a bigger area," says Broadbent. "To date, it's been $10m-$25m films, that mini-major space. This is bigger. It's a $50m-$60m film. Studiocanal are very keen [for us] to get on with it as quickly as we can."
In the broader comedy arena, the company has writer-director Dan Mazer's Three Miles North Of Molkom (another wordy title), based on Corinna McFarlane and Robert Cannan's 2008 documentary capturing events at a Swedish New Age festival.
"The danger is that we seem a bit awards-y, but Dan is absolutely a filmmaker of comedy, one of the key UK talents," says Broadbent. "The idea of doing this at the much broader end of comedy — clever comedy, but still comedy — is a nice space to be in."
Producers flourishing
While Blueprint's commercial ambitions and international outlook made it a relative outlier in London when Broadbent and Czernin first teamed up — Working Title being the model, and exceptionally so — the pair now feel that the picture has changed. "Tim [Bevan] and Eric [Fellner] built a unique company and they're a league above, but there are some very nice producers operating at our level," says Broadbent. "You'd point to [See-Saw's] Iain Canning and Emile Sherman, to Andrew Macdonald and Allon Reich [at DNA], Debra Hayward and Alison Owen [at Monumental]. And David Heyman clearly is unique.
"The UK is a nice place to make films, because you can originate here, we're close to the talent, it's a much smaller pool and we punch far above our weight on the international market in terms of cast, filmmakers and our ability to find audiences. [Working Title's] Darkest Hour is doing business. Three Billboards is a British film. You can make these films here and worldwide audiences are interested. I find that pretty exciting."