Director Maren Ade explains why she was determined to move out of her comfort zone and find the humour in a father-daughter relationship, in Germany's Oscar contender Toni Erdmann.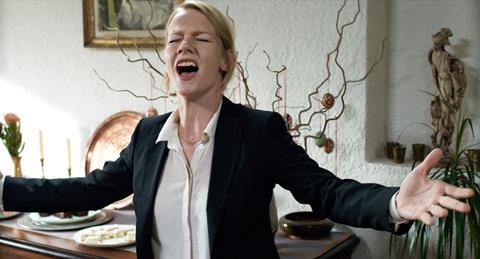 This time last year, few would have predicted that a German comedy would be leading the pack in the best foreign-language Oscar category. Step forward Toni Erdmann, director Maren Ade's first feature since romantic drama Everyone Else, which won two Silver Bears at the Berlinale in 2009.
Her latest, which made a sensational debut in Competition at Cannes, is the story of a German father's unconventional attempts to reconnect with his career-focused daughter during a prolonged and unwelcome stay in her adopted home of Romania. The film's delicate swings from the hilarious to the heartfelt have resonated with audiences across the globe, earning rave receptions at festivals including Karlovy Vary, Toronto, Sydney and Busan.
It has been a remarkable journey for a film that was a labour of love for its director. After Ade found success with Everyone Else, she set up production outfit Komplizen Film, with Janine Jackowski and Jonas Dornbach. The company's credits now include Miguel Gomes's Tabu and Arabian Nights trilogy, as well as Radu Jude's Scarred Hearts.
Write to the end
While working on those projects as a co-producer, Ade began writing the script for Toni Erdmann, which would take almost two years to complete and continued to evolve during production.
"I write until the end of shooting," explains the director, "then I feel like I continue to write in the editing room because I have so much footage. In a way it doesn't stop."
Script in hand, Ade began scouting locations, visiting Romanian capital Bucharest, where the majority of the film would be shot, on multiple occasions. Financing was a surprisingly straightforward affair, the director reveals.
"My previous film was a success in Germany so we didn't have too much trouble," she says. "The budget was $5m (£4.5m). For me, this was a huge step up, more than double my last film, but you can spend money very easily when doing films. It's never enough, but we were happy to get that together. It was mostly public funding and television money."
The production team also applied for funding from Romania, but were unsuccessful. "We tried to get money but we didn't succeed in the end, which is OK. They have enough good Romanian film-makers they should support," says the director.
Approaching what would be a 49-day shoot spread over five months - beginning in Romania before travelling to Germany for the beginning and end scenes, with a break in between - Ade and her producers embarked on a lengthy casting process that went into remarkable detail.
"I do casting for everybody who is in the film, even the close background actors," she reveals. On top of its named cast, Toni Erdmann used a total of 1,600 extras, with many of the larger scenes, including the parties, requiring a significant amount of choreography. "They were big sets but I always tried to be 180-degrees free with the camera. It was sometimes tough to focus," Ade admits.
Casting chemistry
Neither of Toni Erdmann's two leads, Sandra Hüller and Peter Simonischek, were well known as film actors, but Ade explains that it was their reputations as "radical theatre actors" that attracted her to them. She cast for the roles in pairs of male and female actors, but discovered Hüller and Simonischek separately. Once they tested together, she knew she had her leads. "Even when you put two people sitting next to each other, it's already a story, it just needs to be the right story," she adds.
One of the film's most talked-about sequences, involving an impromptu naked birthday celebration, would have represented a challenge for many actors because of its prolonged nudity, but Ade says that Hüller was in her comfort zone. "The hardest parts for her were actually the business scenes because she felt they were so far away from who she is."
Hüller found the experience to be a world away from theatre. "I'm not so experienced in making movies so it was completely new for me to work this way," says the actress, referencing Ade's propensity for doing numerous takes of each scene. "There was never any relief, the tension stays all the time. We would never clap each other and say, that was a good job today."
Her strong relationship with Ade was key to the performance, Hüller explains. "We really got to know and trust each other. She's a very calm person, she never yelled, she was never impolite. She was really fair."
While Ade was intending to deliver a comedy, on set the director was conscious of creating an appropriate atmosphere. "It was sometimes funny but a lot of shooting days were really hard," she says. "It was funny enough so we survived it but I'm always suspicious when something is too funny on set; you have to be very careful because it may be too over the top in the end."
Ade explains that "it is often the takes that really cost the actors that are funny," acknowledging that her technique of shooting scenes repeatedly sometimes proved a challenge for the actors.
Despite her faith in the script, during filming Ade began to wonder whether the humour would work or whether her inclination as a film-maker towards the more dramatic elements would ultimately suppress the comedy. At one point, the director turned to her production team and apologised for the direction it was taking, saying, "I'm sure it will be a super-sad film, I'm sorry there's not more comedy."
Ade explains that "the comedy came back in the editing room", a process that took a full 18 months thanks to a gargantuan 100 hours of footage. In May 2016, she found herself frantically providing the final touches just days ahead of Toni Erdmann's premiere in Competition at Cannes.
The film would go on to receive one of the best receptions of the festival, including setting a record score for Screen International's Cannes Jury Grid and causing a stir when the cast walked the red carpet accompanied by the traditional Bulgarian 'kukeri' costume - said to scare away evil spirits - that provides one of the film's funniest moments. "To find it I just Googled 'traditional eastern Europe costumes'. In Germany, we have similar things," says Ade.
Ultimately, that the film has been widely praised for its humour has been the most satisfying aspect for Ade, who had previously seen herself as a staunchly dramatic film-maker. "I'm happy I managed to get that label, it felt really difficult to do a comedy."
She is now beginning to think about her next project, but is in no immediate rush to set about it after the lengthy process of Toni Erdmann; the production occupied a period of her life in which she also gave birth to two children. How much of a challenge was it being apart from her family for lengthy shooting periods? "It wasn't nice, I was completely physically and mentally gone. But I couldn't survive without my work. I never had to make a decision, I always wanted both."