Dir: Francesca Comencini. Italy. 2009. 99 mins.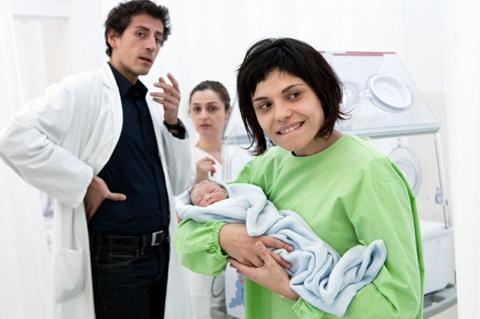 A moving story struggles to escape the made-for-TV vortex in Francesca Comencini's tale of a single woman whose life is put on hold when her baby is born three months premature. White Space aims to tap into a surge of emotional empathy and for many, this could compensate for its conventional narrative and over-expository dialogue. But although this is undoubtedly set for a respectable arthouse run at home in Italy, buoyed by warm notices for lead actress Margherita Buy, its tendency towards easy sentiment may see it struggle elsewhere.
It's all a little too scripted, designed and acted, as if the film were wary of too much realism
The script wobbles before it learns to walk as it rushes the audience through a confusing montage of pre-crisis scenes, from the one-night stand between adult education teacher Maria (Buy) and single father Pietro in her adopted city, Naples, to the moment when she finds herself sitting in hospital in a surgical gown, staring with emotional paralysis at the tiny baby in an incubator she has just given birth to.
The arthouse ambitions of this first part are undermined by the laziness of certain choices–like Maria's cliched students, who seem to exist simply to show that she's a good sort despite her neurotic tics and frayed temper; or the use of chunks of unplaced voice-over dialogue to fill in the backstory.
We don't know a lot about Maria by the time she begins her vigil, but Buy's performance fills in the gap, showing a woman frozen by fear, uncertainty and the knowledge that all she can do is wait until her baby is strong enough to breathe unassisted (as she says at one point, "I'm not pregnant, but I'm still expecting").
It's here, in the hospital, that the film is at its visual best too, with the production design by the director's sister Paola and the careful shallow-focus photography of talented DoP Luca Bigazzi (Romanzo Criminale, Il Divo) establishing the suspended 'white space' that gives the film its title.
The other mothers in the hospital (including coarse but kind Mina, played by Antonia Truppo) –and a subplot involving an investigative woman magistrate who lives on Maria's landing, serve to chart Maria's emotional progress and build the theme of female solidarity. But it's all a little too scripted, designed and acted, as if the film were wary of too much realism although it does build its emotional authority in the second half.
With the choice of bullying soundtrack anthems like Nina Simone's I Wish I Knew (How It Felt To Be Free), the director seems to feel the need to force the feelgood factor; she should trust her audience a little more.
To sign up for Screen's weekly Reviews Newsletter with all the week's new releases, international openings and full festival reviews delivered free to your mailbox every Friday, please click HERE
Production companies
Fandango
Rai Cinema
International sales
Fandango Portobello Sales
+44 207 6051396
sales@fandangoportobello.com
Producers
Domenico Procacci
Laura Paolucci
Screenplay
Francesca Comencini
Federica Pontremoli
based on the novel of the same name by Valeria Parrella
Cinematography
Luca Bigazzi
Production design
Paola Comencini
Editor
Massimo Fiocchi
Music
Nicola Tescari
Main cast
Margherita Buy
Gaetano Bruno
Giovanni Ludeno
Antonia Truppo
Guido Caprino
Salvatore Cantalupo
Maria Pajato