Adarsh Gourav plunged into the life of his character when preparing to play a humble servant in The White Tiger. Screen talks to the Bafta-nominated actor about his immersive approach.
When Adarsh Gourav was called in to audition for The White Tiger by the film's casting director Tess Joseph, he wasn't particularly thinking about landing the lead role. Gourav was just thrilled to be asked. "I had been trying to get an audition with Tess for two years," he says over Zoom from Mumbai. "She is one of only two casting directors in India who casts for international films, which is why she's very busy. She didn't mention it was for The White Tiger. She said, 'I'm going to send you a couple of scenes.'"
Gourav had read Aravind Adiga's Booker prize-winning novel when he was 14 — he is now 26 — so knew immediately it was for the role of Balram who escapes a life of poverty, becoming a driver for a rich family and eventually breaking free from his servant mindset. Still, Gourav's only thought was "to give a good audition, so she calls me in the future".
Joseph thought Gourav was worth more immediate attention and agreed for him to meet The White Tiger's writer/director Ramin Bahrani. Eager to make an impression, Gourav walked in wearing "clothes from the local market I thought Balram would wear and I sat down on the floor [like a servant]. It's not something I would do as Adarsh, but I knew Balram would. I was also just trying to see how it feels. I think Ramin took notice of that."
Living the life
The director certainly did, and Gourav secured the role in the Net­flix-financed film. Still, that was nothing compared to the lengths Gourav would go to once he had the part. "I enjoy living the life of the character before I start shooting," he explains of an approach to research that recalls the famously immersive Daniel Day-Lewis. "A lot of the parts I've played have been relatively small, so the preparation has been much less. In this case I had almost five months, so I drew up a plan."
Initially, Gourav hoped to work as a driver — like Balram — for a wealthy individual in Mumbai or Delhi. "But landing a job like that would require me to have some previous experience. They would do background research, and I didn't want to reveal my identity. I wanted to be known as Balram from the time I got cast."
Instead, he packed his bags and went to live with the family of a friend in a small village in the east of India. "I stayed at his house, but requested him to not disclose to anybody that I'm an actor," says Gourav. "I've grown up in Mumbai, so I wanted to feel how it is to stay there, to not know what's happening outside the village, and to understand the dynamics of the village.
"In Mumbai, I'm practically racing against time. In a village, time passes slowly. It has an effect on the way people walk and talk," he continues. "The pace and rhythm of somebody who's grown up in a village is completely different. They are so much more relaxed because they have all the time in the world."
After two weeks, Gourav moved to Delhi and tried, again, to get a job. "I wore the clothes I bought as Balram. I'd grown my hair and beard. I was trying not to take a bath too often. It took me three days, because nobody would give me a job without looking at my ID card." Eventually, he found work with the owner of a food cart in a market. "He agreed to pay a hundred rupees a day, which is equivalent to one-and-a-half dollars. My job was to clean plates, run errands, keep the place clean. I worked 10, 11 hours a day for two weeks. I wanted to know that feeling of being trapped in something you don't particularly enjoy and still have to do."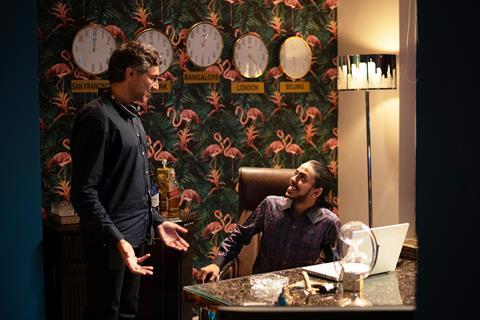 Born in Jamshedpur in the east of India, Gourav studied classical music from the age of five. "It wasn't a matter of choice. My parents decided they wanted me to learn," he says. "My paternal grandmother was a trained singer, but she grew up in a small village much like Balram's. Similarly, my father grew up in a village, and he didn't have the opportunities I had."
When Gourav was 13, his father, who worked in a bank, was transferred to Mumbai. "It was a culture shock, coming from a small town. I started feeling even more that classical music wasn't cool, because kids in [Mumbai] listened to western music." In college, he decided it was "cool to sing in a band", and formed his own, later fronting a progressive metal group called Oak Island.
While singing at an arts festival, Gourav was spotted by a talent agent and asked if he wanted to act. He eventually made his feature debut in 2010's My Name Is Khan. "I never planned to be an actor," he admits. "I used to love lying as a kid, making up stories and fooling my friends and family. And that's what acting is — essentially, you cook up a lie and make it your truth. I started taking it seriously only when I was 18 or 19."
It is proving to be a wise choice, with Gourav scoring an Independent Spirit and Bafta nomination as best actor for The White Tiger; the film also has an adapted screenplay Oscar nod. He was at the gym when co-star Priyanka Chopra Jonas messaged to say congratulations about the Baftas. "I thought it was a mistake." Almost immediately, another friend called. "My heart skipped a beat. It's so strange to read my name next to Anthony Hopkins [nominated for The Father]. Hannibal Lecter is one of my all-time fictional characters. I was a big fan of the book, the film and Mr Hopkins' portrayal."
Since The White Tiger, Gourav has finished the second series of Amazon's comedy-drama Hostel Daze as well as a short film. "I am going to be working on something in November in India," he says. "But I only want to work on things that affect me and consume me. I don't want my work to be frivolous."
Thanks to Bahrani, Gourav now has US representation, in the shape of agent WME and management Brillstein Entertainment. "They've been sending me scripts and scenes to audition, so I can record myself in India and send them. Nothing has worked out so far, because a lot are characters based in America so I have to speak in an American accent. It's something I'm still trying to master. I'm 60% to 70% there."
As to whether his future lies in India or internationally, he is not entirely sure. "I haven't thought it out. I want to work with international directors, people who inspire me and fill me with a sense of wonderment and intrigue. But I don't know if I want to move to America right now.
"In India, all the casting directors know me," Gourav adds. "It will be a big step because if I'm not here, for even a couple of years, it's going to be hard to come back and start over. So I'm just sending in self-tapes and let's see if I get something good."