Dir/scr: Matthias Glasner. Germany. 2009. 107 minutes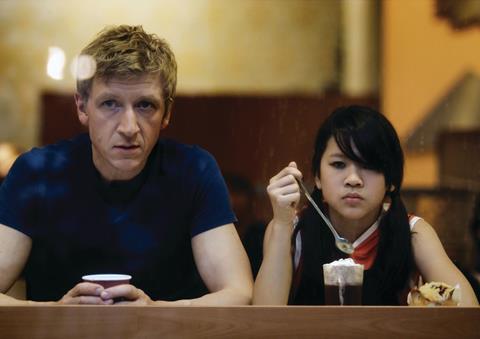 Matthias Glasner likes to put a philosophical gloss on his work. The title of his acclaimed, if harrowing, tale of a rapist struggling to quell his darkest urges was The Free Will. If that was an ironic statement-in-negative, the title of his latest high-art thriller, This is Love, reads more like a question. Where, we wonder as we settle down for this bleak, sobering drama of two tightly woven plots involving child prostitution and an abandoned wife, is the love? That the film goes some way to answering this question is testament to its narrative punch.
Jens Albinus (The Idiots) gives a lean performance as gaunt, abject outsider who believes he can be a father to Jenjira.
Bowing at San Sebastian, This is Love ticks all the boxes for a successful art-house run. It's a slick-looking, well-crafted and engaging suspense drama, and succeeds as a keenly observed social commentary that deals with broad existential issues. Easier to watch and of wider potential appeal than The Free Will, it's a fine example of the contemporary renaissance of German cinema and a potentially strong title for Trust Nordisk.
Maggie (Harfouch) kicks things off in a voice-over flashback, recalling the day her husband simply disappeared from the family home in Berlin. Sixteen years later, she has become a police detective - not hard-boiled, but more gently steeped in gin, having taken to the bottle in the wake of her husband's departure. Her story crosses with that of Chris (Albinus), a man charged with murder and attempted suicide.
Through a series of noirish flashbacks we discover that Chris once bought Vietnamese child prostitutes and sold them on for adoption to German parents. But when a planned deal involving an endearing nine-year-old called Jenjira (Lisa Nguyen) falls through, he decides that, rather than returning her to the mafia, he will go on the run and look after her himself.
The film opens with a quote from Graham Greene, "Innocence is a form of insanity", and it's clear that Chris is the one afflicted here and not the worldly, damaged child. Greene's novels are filled with absurd innocents, misfits ill-equipped for the real world, and Chris is such a character – he tries to pursue a fatherly relationship with a child whose only previous intimacy with men has been as a prostitute. And he moves through his own make-believe world of self deception rather than the real nihilistic void, where the mafia may strike at any moment.
Jens Albinus (The Idiots) gives a lean performance as gaunt, abject outsider who believes he can be a father to Jenjira. His relationship with his own father is underscored when he goes to ask for money to pay off the child traffickers. Filmed in close-up reverse shots, father and son never share the frame. There's an unbridgeable distance between them, a gap which contrasts to the cosy two-shots of Chris and Jenjira playing happy families.
Maggie as the likeable policewoman battered by life, is grappling, meanwhile, with her own inner demons. "Reality is an illusion created by a lack of alcohol," she slurs as she takes another swig. She's fallen in with an older man, but her new relationship seems devoid of love. She can't move on if she never discovers why her husband betrayed her.
The film is shot in high realist style on a RED digital camera, with a close ups of the characters' inscrutable faces, often framed through windows or set against lifeless, grim backdrops. There's a great deal of suspense as the parallels between the Chris and Maggie are drawn ever closer by the director's narrative approach, as the interrogated turns interrogator. By the end of the film we begin to grasp, even if the characters don't, that love is not always redemptive, but rather, it's a dangerous, destructive force. Innocents should proceed with caution.
To sign up for Screen's weekly Reviews Newsletter with all the week's new releases, international openings and full festival reviewsdelivered free to your mailbox every Friday, please click HERE
Production company
Badlands Film
International Sales
TrustNordisk
+45-36-86 87 88
Producers
Matthias Glasner
Lars Kraume
Juergen Vogel
Cinematography
Sonja Rom
Editor
Mona Braeuer
Production Design
Frank Pruemmer
Main cast
Corinna Harfouch
Jens Albinus
Duven Pham
Jurgen Vogel
Katja Danowski