Screen spoke to Alison Thompson, Gabrielle Stewart and Stephen Kelliher.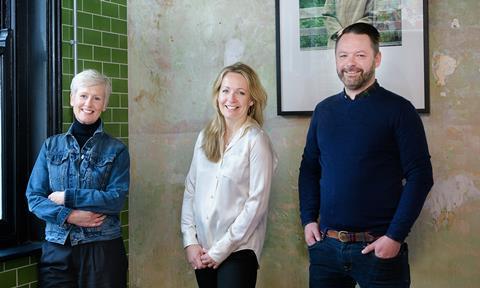 Three leading figures in the UK film sales scene came together for a robust conversation around strategies for the present and future at the Union Club in Soho, London: Alison Thompson, former Focus Features International chief and co-founder and co-president (with Mark Gooder) of Cornerstone Films; Gabrielle Stewart, who joined HanWay Films as managing director last summer from her previous position at Bloom Media; and Stephen Kelliher, director of Bankside Films.
In a pre-Cannes conversation, they talked to Matt Mueller about their enhanced roles as executive producers, sustaining a good relationship with theatrical buyers, and why Netflix should consider revealing its figures to cautious filmmakers.
How do you adapt and build your business to survive?
Gabrielle Stewart: We're getting involved far earlier than sales companies have traditionally done in the past. Because we are linked to Recorded Picture Company, and there is a team at HanWay that works across both companies, we're helping producers build projects — we're really providing quite extensive EP [executive-producer] services. We have a team that is able to help build the financing plans of producers — help them find soft money around Europe, attach casting directors, that kind of thing.
Alison Thompson: I don't think the old rules apply anymore. We all work harder than we've ever worked before while the ratio of films that get greenlit versus those that don't is diminishing. One of the advantages of being a relatively new company is we've been able to set up the company structure in a way that is fit for purpose for 2017. There's more multitasking, and we're using external consultants to come on board where we need them.
Stephen Kelliher: The bullseye of what works in today's market is getting smaller and smaller, and we have to use every resource available to us to ensure that we're involved in the projects that can hit that bullseye. At Bankside, we have a relationship with Head Gear Films, which will put equity financing into films that Bankside wants to sell, and we've also begun producing and developing ourselves.
What do your buyers need to do to continue to add value to your business?
AT: The onus is on the filmmaking community and sales agents to deliver material that can work in the commercial space. There's no question it is tough for independent distributors right now. But it's a little easier now to identify films that have the potential to work. We talk a lot about cinema that we represent being event cinema, by which we mean material you can 'eventise' from the outset. You have the right kind of talent attached, you have a very clear idea of how you are going to position a movie in the market, what the poster might look like, what kind of editorial you can expect to get around a movie, how it will work on social media, and so forth.
GS: We're having to show distributors we will be able not only to deliver a film, but a campaign that they will be able to use to release the film. We have a new head of marketing distribution, Tom Grievson, who's new to the international business. He's always worked on the distribution side and I felt it was important from a pre-production standpoint to have someone thinking like a distributor, working with the producers throughout production to create the campaigns and materials. More and more we will have to deliver good campaigns as well as films.
SK: In a world where people don't need to go to the cinema anymore, what reason are you giving them to leave their house, to leave their Netflix account and go and see the movie in the cinema? You have to be able to identify those reasons from day one, and develop the materials that illustrate that audience to a distributor. And by giving people a reason, I mean having great films that are critically well received, that have a strong international festival profile, that everybody is talking about the week they're released. Good is not good enough anymore; it has to be outstanding.
Are there opportunities that excite you, or is it a matter of working out how to navigate this landscape?
SK: The dawn of Netflix and Amazon is disrupting the traditional model, absolutely, but at the same time I wonder whether we are at the beginning of the glory days of VoD, where we will see it continue to grow and other players coming into the market. Despite all the disruption to the marketplace, from a sales company business perspective the deal with Netflix or Amazon is a very good deal to do.
GS: I also think, because there is so much money now in television, it's creating a bigger pool of talent. It's developing directors, it's creating new stars. In the same way that we can be negative about the fact that it's harder to get certain film stars because they are now filling their schedule with high-end drama series, we can also say that we're actually generating a bigger pool of talent that is known worldwide.
AT: Looking at it from a slightly different perspective, we've never lived through more interesting times in our world. There is so much happening and the industry is evolving so quickly that, personally, I find it immensely exciting and fun.
SK: I agree completely. It's not all doom and gloom.
GS: And professionals are diversifying. Traditional film producers are also doing television series, and that develops and grows their business. The studios are making less content than before and therefore they are buying more, so a lot of producers that used to work within studios are now looking to the independent world to make their films.
Does a US deal still drive international sales?
GS: The US sale ends up being the icing on the cake. Our focus is to finance the film without it and build your film for international, and then try to sell upon completion to the US. The US is a very buoyant, exciting market right now — that's where all the upside can be found for the sales agent and the producer.
SK: If you want the film to be theatrically released in international territories, the primary driver is still US theatrical. They want to know how many screens, they want to know what the campaign is, they want that kind of surety. I'm sure we've all been in the situation where the best deal to do for a film has been some kind of premium VoD sale in the US, and that does have a negative impact on the ability to sell foreign for theatrical release. It's the distinction between what's perceived as a theatrical film and what isn't as far as international territories are concerned. [But] if you do have the right script and the right package, the pre-sales market is still buoyant.
AT: There is still fierce competition surrounding a small number of movies. But I take a slightly different view in that I think the pre-sales model has massively diminished in value over the last five years. There are not so many movies that are now pre-sold widely prior to production. So it becomes the role of the sales agent to work on getting a sufficient number of pre-sales over the line to give financiers the confidence in the material to want to go ahead and green-light. For the vast majority of material, that is now the default position.
Now that Netflix and Amazon are among your clients, what do you say to traditional buyers who fear streaming platforms might drive them out of business?
SK: It's challenging. I'm not sure I know the answer to the question because the traditional all-rights distributors in many cases have already stepped up to a project and pre-bought it, only for a VoD platform to come in at a later point and say, "We want it but we'll only take it if we can have the world." You may then be faced with a situation where you have to go back and undo those deals, and that's difficult. From a distributor's point of view, they might wonder, "Is this going to happen to 30%, 40%, 50% of the movies that I buy? And what happens to my release schedule, to my release date, to the sustainability of my business if this is going to happen repeatedly?" It is a real issue.
GS: I've not yet been in that situation but certainly at Sundance I was aware of that happening — a few of the films that became hot properties at Sundance had a few international territories sold, and that process happened. I think there's more a risk on American independent films going into Sundance because they are often the films that get picked up by Netflix or Amazon. On European cinema, I think there is less of a risk.
Stephen, you did a worldwide deal at AFM with Netflix on Cargo. What made that the right deal for that film?
SK: There are several things you have to take into consideration. In certain cases, there will not be a theatrical release for the film. Everyone has to be comfortable with that, including the filmmakers and the producers. And, as sales companies, we also need to assess whether an offer from a VoD platform takes into account the potential upside we would see on a film if it were released territory-by-territory in the traditional theatrical model, since their deal is a flat fee with no revenue share to producers.
GS: I had this experience at my previous company [Bloom] with The Siege Of Jadotville, which Netflix offered on the world when we took it to Berlin. It was a very attractive offer on what would have been quite a challenging film for distributors, and we had to have very difficult conversations with the talent and the director at the time. What would be very helpful is if there was a way for all of us and the talent involved to understand just what the figures are. Netflix don't give away any viewing figures, and perhaps they should start doing that with filmmakers.
Is the survival of the traditional theatrical model crucial to your business?
AT: There is no question the theatrical window for a certain kind of filmgoing experience is absolutely crucial, and it's a very rewarding part of the business to be in. But it's high risk. The costs of marketing in theatrical are very high and the rental terms in a number of countries are pretty onerous for distributors, so the margins of profitability are increasingly slim.
GS: There's an opportunity for us in terms of independent cinema. I was just having a conversation with a distributor to whom I'd sold quite a big film in the past for a really big MG [minimum guarantee]. He said to me, "When you look at Moonlight and Whiplash, these smaller films are the ones that are really working. I don't know if I would have bought that big film with the big movie stars for the big MG. I'm more excited by spreading my bets and buying four smaller films for more reasonable MGs with the hope that one will break out." I see that as an opportunity for the type of films that we're doing because actually some surprising films are the ones that are really working and making money. We do a lot more filmmaker meetings now with distributors because they want to understand what the director's vision is.
SK: We still set out to make films for theatrical release — that is the core ethos within the company. When digital first came on the scene, there was this idea that so many more films were going to be distributed because there wouldn't be the P&A costs, but actually Netflix and Amazon have focused, on the whole, on films that could have theatrical releases, so that is still where we have to position ourselves.
Although your business is international, can you see Brexit posing any particular challenges?
AT: In the here and now, the exchange rate is challenging for the Brits and, going forward, a certain kind of cinema will potentially miss the MEDIA support. There is still a question mark over whether or not the UK can stay part of it. If we don't, that would obviously impact the export of British films into Europe and the import of European films into the UK.
GS: Because the dollar is so strong at the moment, a lot of American producers are looking to Europe because it's cheaper for them.
AT: And from a UK sales agent's perspective, the exchange rate is actually quite handy because we earn in dollars.
GS: But that can swing around as well — that could be a temporary thing!