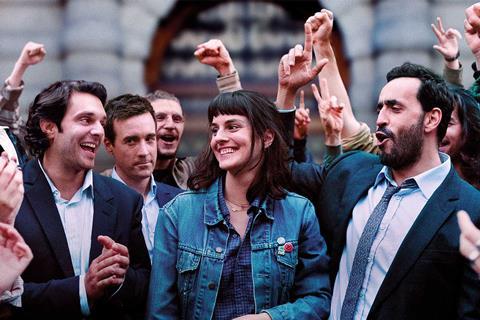 After tackling disability, autism, immigration and terrorism-driven trauma, France's famed filmmaking duo Éric Toledano and Olivier Nakache are taking on the global environmental crisis. A Difficult Year premieres in Special Presentations, and showcases the duo's signature blend of amusement and auteur vision.
Toledano and Nakache's entertainment empire, which includes their production company Ten Films, began one summer in southwest France when the teenage pair worked as counsellors at a summer camp. "We became friends and we each had dreams of making films," says Nakache. "Little by little, we found we both recorded movies on audio cassettes. I said, 'I found a guy who is as crazy as me.'"
They became inseparable and, after a series of shorts together in the late 1990s and early 2000s, made their feature debut as a writer/director duo on 2005 Gérard Depardieu comedy Let's Be Friends, following it up with 2006's Those Happy Days, which they filmed at the actual summer camp where they met.
More than two decades later, they still write side by side in their office, occasionally separating scenes. But, says Toledano, "there comes a point where we don't remember who thought of which idea or who wrote which texts or even who had the idea for the film itself to begin with. It's really done with four hands."
"There is never a film that represents one of us more than the other," adds Nakache. "It couldn't be any other way, otherwise we wouldn't have lasted for more than 20 years."
The duo burst onto the international scene with 2011 buddy comedy Intouchables, which went on to earn $445m at the global box office and sold to 104 countries. They reteamed with star Omar Sy for 2014's Samba, which also premiered in Toronto, then went on to make 2018's Cesar-nominated C'est La Vie! (aka Le Sens De La Fête), which was the biggest French film internationally that year, grossing $11.7m in 45 countries.
Next up was 2019's The Specials followed by their first stab at TV, In Therapy, an adaptation of Israeli series BeTipul, set after the real-life Bataclan terrorist attacks in Paris in 2015; it became the most watched series ever on Arte's digital platform. A Difficult Year – their eighth feature together – has sold to 50 territories and counting ahead of its premiere at TIFF and release in France on October 18 via Gaumont.
Casting call
Each project begins with their ideal cast before writing a single word. "First, we focus on actors we want to work with," explains Nakache. "We have photos all over our production offices – so many that we have to take them down when actors come in for other projects, so they aren't jealous." Next comes the theme. "When a topic piques our interest and it continues to gnaw at us, we say, 'Let's go for it.'"
The idea for A Difficult Year came after the pandemic saw France hit especially hard with government-initiated lockdowns that kept Toledano and Nakache away from the outside world – and each other.
"The two of us were separated," says Toledano. "We were with our respective families and talked on Zoom like everyone else. The images of an empty Paris, with people cheering in their windows and banging pots and pans for the nurses – the emptiness evoked something very cinematographic. It made me think of Tom Cruise all alone in the streets of New York in Vanilla Sky.
"When we saw this void, this emptiness, we immediately thought of its opposite – fullness," he continues. "The fullness is overconsumption, overspending, and the emptiness was minimalism or eco-conscious living. We played with this idea and brought in aspects of Italian comedy and asked, 'How can we stay light when talking about a subject so heavy? How can we stay away from it being a guilt trip or a lesson in morality, yet still be a reflection of the world we're living in?'"
Plus ça change…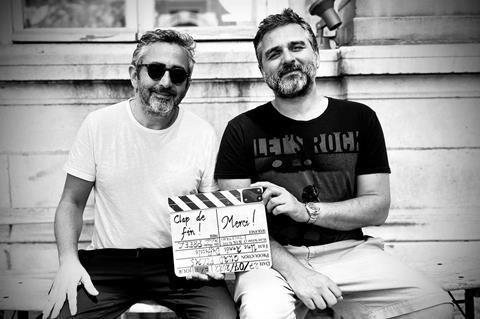 Despite the film's comedic tone, A Difficult Year is a reminder of the situation plaguing the planet. "In France, during Covid, everyone talked about 'le monde d'après' or 'the world after'," says Toledano. "Everyone said, 'Things won't be the same. We won't consume in the same way,' as if Covid had sounded an alarm and changed our way of seeing the world. But, in truth, nothing changed."
The film's opening scene depicts a hectic Black Friday at a mall, as people rush into a store. Noémie Merlant and Pio Marmai stand face to face. "They are on opposite ends of the spectrum," Toledano continues. "One is saying, 'You can't live like that,' and the other saying, 'You can't tell me how to live.' And the two are pushing each other physically."
The characters end up joining the green movement reluctantly – much like the filmmakers. "We are both 50 and have kids the same age, teenagers who talk to us, who question us about how they see their future," says Nakache.
"We grew up in a different world," adds Toledano. "Our generation is a bit clueless. We grew up with people telling us that consuming was good; now it's bad. We don't know if we should take airplanes or if we should continue to buy things. It's like a waltz. We're not about to go live in the forest and grow potatoes, but now we're awake and starting to ask questions. I think audiences are also just as clueless and the idea is to come together in a theatre and figure it out together."
The film features real-life activists, particularly in the scenes depicting major protests at Paris Fashion Week, the Bank of France and the Trocadero plaza, across the Seine from the Eiffel Tower. Toledano and Nakache spent time with activist groups prior to making the film. "We asked them to be a part of it, we let them read the script. And 95% of them said yes," says Toledano.
Comedy combined with tragedy or deeper issues has long been the duo's signature, from disability and racism in Intouchables to autism in The Specials. "Whenever we make a film, people ask, 'How can you laugh about things like autism or handicap?'" says Toledano. "The people who are most open tend to be those concerned with the subject, and the guardians of the temple are usually people who are looking in from the outside and criticising.
"After the terrorist attacks in France, after Covid, we were all depressed," he continues. "I read an interview with Billy Wilder where he said, 'When I'm really depressed, I make a comedy.' Comedy is a form of sadness, disguised in a way to face life with elegance. You transform horrible situations into fun. It doesn't mean you live in Disneyland or that life is all roses, but when it passes through a filter of comedy, it becomes more bearable. It's human to make fun of ourselves even in the most complex situations."
In the pipeline
Toledano and Nakache have an action-packed agenda ahead of them, including a 140‑venue tour of France to promote A Difficult Year. They have already visited half the stops and will complete the schedule after a summer break. They also remain hopeful for the future of cinema. "We need to fight for these places of shared emotion, of a collective experience," says Toledano. "It's almost a religious experience. We turn off our phones and we just feel."
Unlike the imminent threat of climate change, the filmmakers see a healthy path forward for the film industry in France and beyond. "It's the same song every three or four years," says Nakache. "Everyone cries out, 'Cinema is dying!' First it was because of DVDs, then pay-TV and now it's streamers. Yes, Covid did momentarily kill cinema and things were complicated, but it's back."
"I think cinema is immortal," adds Toledano. "Every time we say it's dying, it returns."
The pair continue to make films of all genres via Ten Films. They recently produced Phantom Youth (Bota Jonë), directed by A Difficult Year star Luana Bajrami, which premiered in the Horizons section at Venice. They are currently prepping their next film as writer/directors, a story that will involve time travel to the decade of their youth.
"We haven't tried out time travel yet in our films, so we wanted to test it out and ask, 'How did we get here?'" says Toledano. "Cinema is a magic box – you can go back in time and explore other eras, so why not go back to our adolescence in the 1980s?"
But first, it is the international premiere of A Difficult Year in Toronto. "We are curious to see the reaction of North American audiences," says Toledano. "When they laugh, they laugh. They're so expressive.
"We made A Difficult Year to hear people laugh," he concludes. "We can't forget the therapy of laughter."