With his first film in 16 years, Todd Field returns with TÁR — a provocative drama about the rise and fall of a classical music star. The writer/director tells Screen about his timely examination of privilege and power.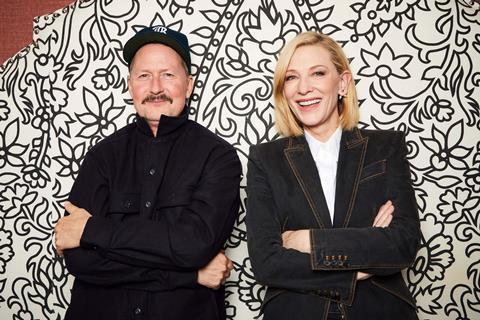 It took the pandemic, a carte blanche from Focus Features and a character that Todd Field says "had been on my shoulder for 10 years" to bring the writer/director's first film in 16 years to the screen.
The persistent character eventually became Lydia Tár, the orchestra conductor whose brilliant international career and carefully manipulated personal life begin to unravel in TÁR, Field's coolly riveting and provocatively topical drama.
Having premiered in September at Venice, where Cate Blanchett's acclaimed performance in the title role earned her the Volpi Cup for best actress, TÁR has since nabbed seven Independent Spirit nominations, including for screenplay and director, and was named best film and best actress by the New York Film Critics Circle.
The filmmaker had been working on a different script for Focus early in 2020, when the pandemic hit. "It felt like the world was ending," he recalls. "[The script] wasn't something I felt terribly engaged with and I called Peter Kujawski and Kiska Higgs [Focus's chairman and production president respectively] and said, 'I really can't do this.' And they said, 'Well then, don't throw it out, do whatever you want. We just want to make a film together.'"
The project Field turned to — his first original screenplay to be filmed, after two literary adaptations — placed its obsessed and self-­possessed central character in the rarefied and patriarchal world of German classical music.
"I knew the character would be at the top of some kind of power structure," says Field, who as a teen had been a budding jazz musician. "The thing that was handy about classical music is it's a clear pyramid, with the fulcrum being the conductor's podium, so the lines of power are clearly drawn. I also wanted to see this character in some kind of process that was clearly hierarchical and performative. Because she does perform in every aspect of her life."
The fact TÁR seems to take a nuanced look at cancel culture and other recent social movements through the unusual lens of a powerful woman was not, as Field remembers it, part of the original concept. "It was mainly this character that was driving things," he says. "But I was putting her in front of me in this world, today, as opposed to 10 years ago, when I first started thinking about her. Those things were just happening in real time as I was working on the script."
Blanchett — who learned to speak German for the role and how to play the piano — became a crucial part of the character's creation after she and Field had first met a decade ago about another project. "Obviously she's one of the most superb actors we've ever had," Field acknowledges, "but she also has an incredible holistic way of looking at her work. She understood that this character had to function at a level where you completely bought into her artistry, but at the same time that there had to be room for you as a viewer. It was absolutely crystal clear that she was the only one for this part."
Focus Features, the independent boutique label of Universal Pictures, played its part by giving Field all the creative freedom he needed. Focus had evolved from leading 1990s independent Good Machine, which had backed Field's directing debut, "so there was a sense of continuity there, and a sense of shared history," says the director. "They didn't give me a note on the script, they didn't make me test the movie, they really gave me enough rope to hang myself," he adds with a laugh.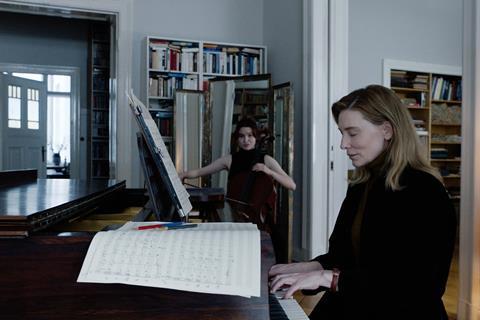 Dividing opinion
Field is as measured as his film when asked about reactions since TÁR hit the festival circuit and began its North American theatrical release in late October. The US media has described it as both "a great movie about cancel culture" and "regressive" on its way to grossing $5.3m in North America at press time.
"It's interesting to see how people relate to this character and what their capacity is to question, at the end, how they feel about her," he says. "People have all kinds of different questions and feelings and opinions about different aspects of the film, and some of them are in direct opposition to each other. But that's thrilling for me. As long as they're not indifferent about it. That hurts any filmmaker."
Very few people were indifferent when Field — known through the 1990s for his performances as an actor in projects like Ruby In Paradise and Eyes Wide Shut (the last feature made by Stanley Kubrick, who became a mentor) — planted his flag as a writer/director in 2001 with powerful Sundance entry In The Bedroom. The drama won the best first feature Independent Spirit prize and earned five Oscar nominations, including one for best picture.
Five years later, quietly subversive romantic drama Little Children confirmed its director's talent and garnered three Oscar nods, among them one for Field and novelist Tom Perrotta in the adapted screenplay category.
Field has faced questions about a follow-up ever since, but even now is not sure how to explain the decade-and-a-half gap in his filmography. "Part of it, I think, was just that the things I was interested in doing were things other people weren't interested in doing," he muses.
He has been involved in a string of intriguing projects that for various reasons failed to come to fruition. His initial meeting with Blanchett, for example, was about As It Happens, a political thriller he was writing with the late author and journalist Joan Didion, who died just over a year ago. Though the script was completed, "that was something deeply important to make with Joan," says Field, "and she's not here anymore."
He also worked on an adaptation of Cormac McCarthy's classic neo-western novel Blood Meridian. But given the novel's epic scope, a film version, he says now, "wouldn't be a commercial endeavour."
For television — where he at one time tried pitching Little Children as a miniseries — Field cited a scheduling issue on withdrawing from Hulu limited series The Devil In The White City, a historical novel adaptation long associated with Leonardo DiCaprio.
And before the pandemic there was Purity, a reported 20-hour adaptation for Showtime of Jonathan Franzen's 2015 novel of the same name, on which Field worked with English playwright David Hare and actor Daniel Craig. Not getting the limited series made is "probably my largest professional regret", he says.
So what might persuade Field to direct again before another 16 years pass? He insists that he has no projects lined up immediately and that no genre or theme is presenting itself as a motivation to get back behind the camera. "In my heart of hearts, I'd love to make a western," he admits. "I don't know if that will ever happen."
More likely, he suggests, is that a character will become the seed for a fourth feature or TV project, just as one was, eventually, for TÁR.
"The birth of cinema was about us wanting to watch each other, as opposed to watching events or things," Field suggests. "There was always this sense of being excited about spectacle and intrigue and seduction and all those things — but at the end, I think we go to movies to watch ourselves. So it always starts with a character."