Putting aside his Spider-Man costume, Tom Holland plays a PTSD-stricken veteran and drug addict in Cherry, a tale inspired by true-life events. Screen talks to the UK actor about the mental and physical strains of his most intense role to date.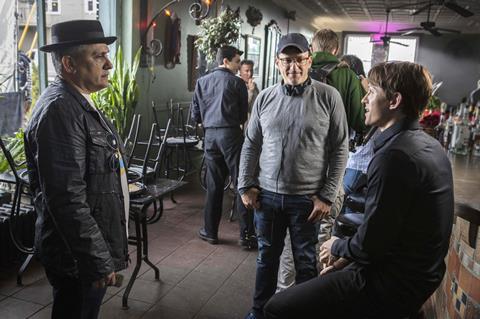 Tom Holland may have achieved global fame playing Spider-Man in five Marvel films, but he first caught attention in JA Bayona's intensely dramatic The Impossible (2012) playing a child caught up with his family in the 2004 tsunami that hit Thailand. From his very first role on-screen, he registered as an actor capable of conveying intense emotion.
A decade later, his new film Cherry completes the circle, offering the young actor his most dramatically demanding role to date, while also reteaming him with the director duo who first introduced Holland to audiences as Spider-Man in 2016's Captain America: Civil War.
It was during an ADR session on 2019's Avengers: Endgame that Joe and Anthony Russo took Holland aside and asked him to be in their new film. "They said they were making this smaller, independent film and they would like me to play the lead. That was all they told me," says Holland.
Cherry may be small and independent relative to the Russos' Marvel adventures, but the scope and scale of the drama is hardly modest. Based on Nico Walker's 2018 bestselling novel inspired by his troubled life, the film sees Holland begin as a mild-mannered student, then an army medic serving in Iraq, next as a war veteran suffering from PTSD who develops a drug dependency, and eventually a skin-and-bones heroin addict who robs banks.
The first non-Marvel feature film directed by the Russo brothers since You, Me And Dupree (2006), Cherry is scripted by their sister Angela Russo-Otstot (ABC/Warner Bros Television series V) and Jessica Goldberg (creator of Hulu series The Path). Produced by the Russos' AGBO with The Hideaway Entertainment, the film was acquired by Apple TV+ and is being released as an Apple Original.
Holland says he was flattered to be chosen: "When you think of the calibre of actors they had worked with, they had so many people at their fingertips — I was blown away they had picked me." But the truth is he has not exactly struggled for work outside the Marvel films. James Gray (The Lost City Of Z), Ron Howard (In The Heart Of The Sea), Antonio Campos (Netflix feature The Devil All The Time) and Doug Liman (upcoming release Chaos Walking) have all pressed him into service in recent years.
Reality check
Holland did not meet or speak with Nico Walker, but was anxious about playing a character the author had based on himself. "As you progress as an actor, you become more and more used to the idea of one of your films coming out," he says. "More than any film I have done, I have never been so nervous as at the idea of Nico watching Cherry." Holland's anxiety stems from the fact Walker has transformed his life since the publication of his book. "I hope he can be proud of what he's written, and his progression and healing, and that I've done his life justice on screen."
To play the character as an emaciated addict, Holland had to go through a physical transformation, shedding 20lbs from his already-lean, youthful frame. He combined exercise ("I would do a lot of running with a bin bag on and sweat as much as I could") with a strict diet. Nevertheless, whatever he suffered on set, it could not compare to the pain endured by Nico Walker. "It was uncomfortable, even painful, but I do believe that if you're telling a story about a real-life person you have a duty to do justice to them."
Shooting in non-chronological order, Holland then had to pile on the weight to film the sequences set in Iraq and shot in Morocco. "Every day was Five Guys for lunch, just burgers after burgers after burgers," which he admits came more naturally.
Holland's schedule over the past few years has been hectic. He was handed an enforced break when Sony's video-game adaptation Uncharted was shut down after one day of shooting in Berlin last March, thanks to the Covid-19 pandemic, before completing the film in Spain and Germany from July to October. He then had just three days before starting the Atlanta shoot for the third Spider-Man film (still untitled and following 2017's Spider-Man: Homecoming and 2019's Spider-Man: Far From Home).
"I was doing this scene [on the new film] where I'm walking into this building and there is this cool cinematic shot pushing in behind me and [producer] Amy Pascal took me aside and said, 'Why are you walking like that? You're walking like a man; you need to walk like a boy,'" says Holland. "I went back and watched the monitor, and I could see I was walking with a swagger and confidence. Jon Watts [the director of all three of Holland's Spider-Man films] was like, 'It's fine, it's [Uncharted's] Nathan Drake. We'll iron him out and get Peter Parker back.'"
From Spider-Man to Nathan Drake, Holland has played some iconic characters, but choosing parts comes down to a simple set of rules. "When I read a script, I ask whether I've done it before. Is it a challenge? Is this something my parents would enjoy or even my grandparents would enjoy?" says Holland. "I always say with my Grandad Bob that I do one for me and one for him. Uncharted is very much one for me, and Cherry is one for him."
While Holland's schedule remains relentless, he has his sights set on directing in the future. "I think one day I will hang up the acting cloak. I have been on set my entire life, so I feel I know how to do it [directing], but at the same time I'm aware there is a lot more to it than just picking where the camera goes." He hints at a special project he has written with his brother Harry, but it is still under wraps. For the time being, it is back to web-slinging in Atlanta.