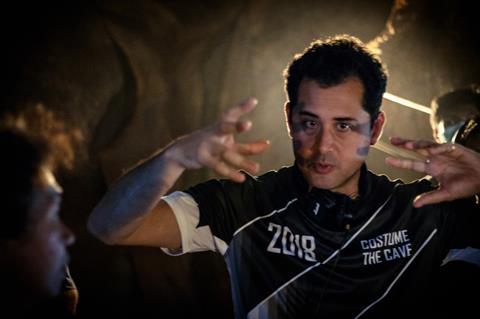 Just 15 months after the world held its breath while 12 boys and their football coach were rescued from Tham Luang cave in northern Thailand, the first film about the event, Tom Waller's The Cave, received its world premiere in Busan.
Produced by Waller's Thailand-based De Warrenne Pictures, the film tells the story from the perspective of people directly involved in the dramatic rescue. Four of the volunteer cave divers — Belgium-born Jim Warny, Canadian Erik Brown, Finland's Mikko Paasi and China's Tan Xiaolong — play themselves in the film, as does Thai engineer Nopadol Niyomka, who helped pump rainwater out of the cave. The boys and their coach are played by actors.
"We've taken the angle of the unsung heroes — how they first heard what was happening, how they reacted and dropped everything to help," says Waller, an independent film­maker with credits including Mindfulness And Murder (2011) and The Last Executioner (2014). "We also wanted to illustrate how multinational the rescue effort was — it wasn't just Thais and Brits — but people from all over the planet came to help."
This approach was born partly from necessity. Almost as soon as the boys emerged from the cave, the Thai government set up a committee to protect them and represent their life rights, which were eventually awarded to Netflix and SK Global Entertainment. But Waller, who has a Thai mother and Irish father, was able to meet diver Warny who lives in Ireland. "After hearing his incredible story, I knew this was the film I had to make," Waller says.
Waller worked on the story with Don Linder and Katrina Grose — his co-writers on The Last Executioner — before writing the multilingual (Thai, English and Chinese) script. The writing team based their story on public domain sources, including news reports and press conferences, as well as talking to other divers, diplomats, rescue foundation workers and local villagers to make their retelling of events as accurate as possible, while also staying aware of potential legal issues.
Shooting conditions
Executive produced by former CAA China head Jonah Greenberg and line producer Desmond O'Neill, the film is backed by Chinese distributor E Stars Films. As Waller also works as a line producer on Hollywood films shooting in Thailand, his investors were satisfied he had the smarts to put together a technically demanding film. But initially the production didn't have access to the actual cave — now a tourist hotspot — and faced several other logistical challenges.
While Thailand's Ministry of Culture finally granted permission to shoot in the cave, and the crew returned to Tham Luang in February, most of the film was shot last year on a set in an Olympic-sized swimming pool and at other caves that could double as the real thing. The bulk of production took place between October 2018 and January 2019 with the crew often neck-deep in water wearing wetsuits. Again, their experience of working on Hollywood films helped them to keep safe.
"We found that when filming underwater, it's very difficult to monitor footage, especially as we were trying to recreate the murkiness of conditions in the cave. The good thing about using real divers is that they could look at the monitor and say, 'That's for real,'" Waller notes. But he adds that it was also an emotional shoot for those playing themselves, as it brought back difficult memories.
Following its Busan world premiere, The Cave will play at Vancouver International Film Festival and the BFI London Film Festival, before receiving a wide theatrical release in Thailand on November 28. Wild Bunch is handling sales for Europe and Japan, while MadRiver Pictures has the rest of Asia and CAA handles North America.
The Cave plays in A Window On Asian Cinema on October 10 (Lotte Cinema Centum City 6, 20:00)