The TV team at See-Saw Films is working on a diverse mix of upcoming projects.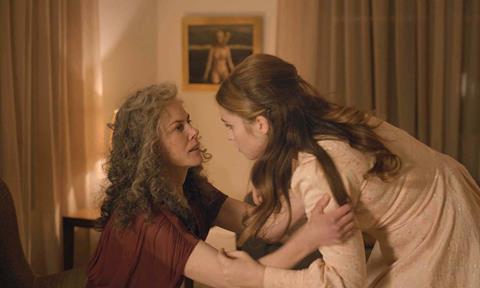 Top Of The Lake has come to define the work of See-Saw's TV team, in the same way The King's Speech did for their film division.
The first series of Jane Campion and Gerard Lee's crime drama was nominated for five Emmys, two Golden Globes (with star Elisabeth Moss winning best miniseries actress) and best drama at the Baftas.
Led by head of television Jamie Laurenson (pictured below, left) and COO, television Hakan Kousetta (below, right), the independent production house pursue prestigious TV projects, often with film directors, and always with "people who have something to say and have a vision", says Laurenson.
The duo are supported by television development executive Patrick Walters, Australia based producer Rachel Gardner and LA-based VP of creative affairs (USA) Negin Salmasi, who works across both TV and film.
See-Saw has bases in both London and Sydney, Australia, with Laurenson and Kousetta covering both territories. Kousetta says: "Because of this we've been able to generate a slate of projects that might be set in the UK or Australia but they will have an international feel to them."
Alongside Top Of The Lake, See-Saw's upcoming TV projects include an adaptation of Rupert Thomson's Dreams Of Leaving with Brooklyn director John Crowley, a short-form series written by Nick Hornby and directed by Notting Hill's Roger Michell called State Of The Union and North Water, written and directed by Lean On Pete's Andrew Haigh.
Ahead of the release of Top Of The Lake: China Girl, currently being broadcast on BBC2, Screen spoke with Laurenson and Kousetta at their Shoreditch office to see how See-Saw TV operate and what's coming up for the production company.
How do you both work with the film team?
Laurenson: We work very closely with the film division and with filmmakers. The truth is we want to work with people who have something to say and have a vision.
Kousetta: When you have a film and TV department working together, you have an intrinsic fluidity with talent. There are lots of instances where we find a project and go "this isn't right for TV, this is something for the film guys". What's great is that a filmmaker can come here and find the opportunity to do either film or TV.
L: Someone like Garth Davis, who worked on the first season of Top Of The Lake, came from the opposite route. By Jane [Campion]'s admission he bought masses of things to the party that weren't her own strengths. She called Garth her 'awesomiser'. The success of that first season of Top Of The Lake was a shop floor for Garth's work to be seen as strong enough to launch his film career with Lion and subsequently Mary Magdalene.
It cuts both ways. We're not just trying to cherry pick film talent but in the right instances of course we want to do that, like with John Crowley and Andrew Haigh. We want to be the place for people who have the desire to tell a long-form story with a filmic sensibility.
Will See-Saw ever focus less on film and more on TV?
K: The two businesses [film and TV] are run separately so there no comparisons there. TV has its own engine, me and Jamie were brought in to run it, do as much as we can and achieve as much as we can. Film has its own engine, its own methodology and process. It's in our DNA to want to be in production as much as possible, as often as possible.
What kind of projects do you look for?
K: In the last few years we've built up quite an eclectic slate. Our film division has always had a very specific idea about the types of films they want to make, the specific genres that they want to operate in. On the TV side we've been a bit broader but the See-Saw brand has always been about delivering quality product that means something. Our strategic focus is to find material that fulfils that.
We are also very open to finding new voices and new talent. We see ourselves as great curators. We work very hard to source those people and help develop their material.
Do you want to grow See-Saw's TV team?
K: We will grow, there's no doubt about it. The TV department will definitely grow as we get more shows made.
L: The plan is to grow. At the moment we can juggle the plates that are spinning and as that task starts to look harder we'll expand the number of people in the team.
How have Netflix and Amazon changed the high-end drama business for See-Saw?
K: The Amazons of this world have done an incredible job of splashing the cash. You contact them and they're hungry for [content]. Series' like The Crown are incredibly difficult things to put together but for the right project there is more opportunity than there probably ever was.
You worked with Netflix [alongside ABC] on family series The Legend Of Monkey [pictured], how was that?
K: They were great creative partners as well as great commercial partners. We've had nothing but a great experience with them that I'd love to repeat.
Is Monkey a change in direction for See-Saw?
K: We started developing it genuinely as a mad punt. We jokingly said: 'how are we are going to pitch this, from the team that brought you Top Of The Lake?!'.
L: I had some very funny meetings. We did go around and pitch it to lots of traditional [broadcasters]. But the response wasn't always overwhelmingly positive, mostly because they couldn't get over the See-Saw bit, the response to the material was quite good actually. But we had an opportunity to pitch it to Netflix and they said 'yes' straight away.
What was it like taking Top Of The Lake: China Girl to Cannes, and were you worried about the Netflix row?
L: We got a little bit nervous as we got closer to the whole sort of tumult of voices of dissent about how 'this is a film festival', which I get but is a slightly arbitrary dividing line when you think about it. [Top Of The Lake is] the work of the auteur. It's such a signature piece.
K: I put my hands up, I was terrified for the screening because all of this had started happening.
L: We were fearful of that [but] in the end they were unfounded fears and it went down incredibly well.
Will you do a third series of Top Of The Lake?
K: Every day I'm praying that Jane starts a third one. It's up to her. Every single moment she ever sees me, I'm like 'ready when you are – no pressure'.
What happened to Steve McQueen's Code Of Conduct?
K: Unfortunately, it was one of a number of shows that was a victim of [regime] changes happening at HBO. We made a pilot and we developed it up until a point and it kind of ground to a halt. Steve had to move on to other stuff.
Are you planning any more TV projects with him?
K: Lots of things with Steve, a couple of TV ideas and there are things percolating but he's busy [finishing Widows]. When he comes off the back of that we'll be signing him up. We've got stuff with him we have been developing, we've just had to put it on hold.
Has the increase in big television projects being filmed in the UK made it harder to find studio space, talent and technicians?
K: There's a huge amount of production going on, so the answer is bringing more people into the industry and encouraging more strategic thinking. We want people to be [working] in production, but if there's a skill shortage then we need to address that.
I sit on a PACT board and we've spoken to the BFI and Creative Skillset and they're all looking at how we can encourage more people into the industry and be a bit more diverse about the people getting in. Our single biggest challenge is that and Brexit.
Is Brexit a worry for you?
K: Absolutely. It is a real worry because currently you're able to recruit and have people travel without any kind of restriction. The uncertainty of whether or not we're going to be able to get visas and work permits for crew who work around Europe is going to be a really, really, really challenging proposition for everybody.
Has Brexit impacted on your work already?
K: Not yet. Because it's so hard to tell what that means… I say that but there's [a project where] we could do some of it in a European country and can't even consider that because by the time we go into production we could have left the EU. We've also suffered a huge currency loss on a project as a consequence of the Brexit vote, hundreds of thousands, so there's definitely been a price to pay already.
See-Saw's up upcoming TV projects
North Water
Limited series with Lean On Pete director Andrew Haigh.
"That should go into production at the end of this year," says Laurenson. "That'll be a huge, huge project. It was a hot book [by Ian McGuire], it's a really full-on story, it's a miniseries. Andrew Haigh is writing and directing it and it's incredibly visceral, like nothing you've ever seen before frankly. We're in the very last stages of development and we're casting at the moment.
Dreams Of Leaving
John Crowley [pictured], director of the Bafta-winning Brooklyn, is set to direct the high-end drama Dreams Of Leaving, based on the novel by Rupert Thomson. Nick Payne has written the script and the project will shoot next year.
Says Laurenson: "Dreams Of Leaving has parallels with the way we feel we're living now, with a divided society, the notions of what is a safe space, what is home, what is national identity and paranoia about immigrants.
"It speaks to contemporary themes but at its heart is a very powerful, interesting thriller about personal identity. It's a brilliant book and great world. John and Nick are bringing a vision to that material." Read more HERE
State Of The Union
Short-form series of 10X10-minute episodes written by Nick Hornby and directed by Roger Michell.
Laurenson says: "It's brilliantly funny, distinctly Nick [Hornby] style, both real and funny about people's foibles. It's about a couple working out if they have a future, but also being unable to avoid the fun paraphernalia of a life once you've shared 15 years of life experience with someone."
Adds Kousetta: "Because it's a completely different format, it lends itself to something a broadcaster can play with. It's not just a piece of digital television, it's a proper dramedy in ten minutes. Read more HERE
The Legend Of Monkey
Inspired by the 16th Century Chinese fable Journey to the West, the 10-part half hour series follows a teenage girl and a trio of fallen gods on a perilous journey as they attempt to bring an end to a demonic reign of chaos and restore balance to their world. The series is being produced by See-Saw Films and Jump Film & TV for Netflix, ABC Australia and TVNZ.
Stars Chai Hansen, Luciane Buchanan and Derek Siow.
Read more:
See-Saw: how to sustain a red-hot production company