Carol Morley's Platform selection Out Of Blue is a murder mystery that confronts the secrets of the universe. The UK filmmaker tells Screen why she is drawn to multi-layered stories.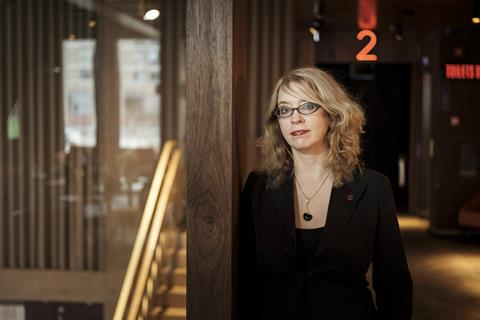 UK writer/director Carol Morley is not afraid of big ideas. Her film Out Of Blue, which has its world premiere in TIFF Platform tonight, is about "cosmology, life and death, things not being what they seem", she says. In addition, it is a police procedural, a murder mystery and a character study. "Cinema lends itself to being a multitude of things, that's why I like to make films that are multi layered," she says, adding with a laugh: "In everything I do, I want to explore about 18 things at once."
Producer Luc Roeg at Independent, who worked with Morley on 2014's The Falling, introduced her to the project. Roeg had the rights to the source material — Martin Amis's 1997 novel Night Train — because his father Nic Roeg had considered adapting it years ago.
Morley had carte blanche to write an unfaithful adaptation — "I expanded on the characters" — but wanted to stick to the key themes of the book, such as the proposition that "we're not just in the universe, that the universe is also in us".
Patricia Clarkson has a revelatory lead role as homicide detective Mike Hoolihan, who is called to investigate the shooting of an astrophysicist and black-hole expert. She is affected by the case in ways she struggles to comprehend. The cast also includes James Caan, Toby Jones, Jacki Weaver, Mamie Gummer and newcomers including New Orleans local Devyn Tyler. Night Train was set in an unnamed US city, and when Louisiana native Clarkson came on board to play the lead role, Morley and her producers thought New Orleans would be the right place to shoot. Louisiana had just rebooted its tax rebate — worth up to 25% of local spend — so it also made financial sense for the 28-day, location-based shoot.
Challenges during the filming included getting accustomed to US crew structures and union rules, as well as the weather — "sometimes in prep, we were knee-deep in water," Morley recalls. Of course, shooting in a city with so much character has its benefits: "There are great people, the city has an amazing feeling and some of it is naturally supernatural."
Morley tried to bring the themes of the story onto the set. "On the first day of the shoot, I gave a speech and gave everyone on the crew a little black pouch with blue glitter inside it, and told them, 'We are all stardust, part of the same thing.'"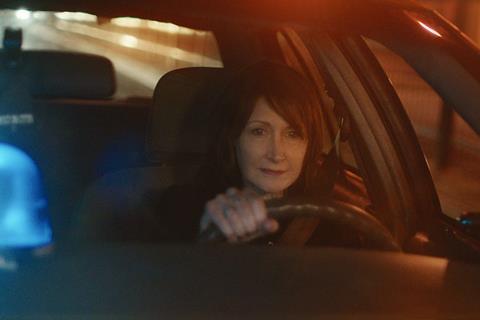 Morley made sure the script did not go too far into the black hole, letting the audience explore the cosmos through the lens of Mike, a practical detective. "Mike is grounded by procedure and a particular way of doing something, so what if that gets rocked by this sense of something else being there?"
The film is also grounded by Clarkson's performance. As Morley says: "She has a quiet and controlled, brilliant way of bringing a character to life."
CAMP fires
Working with producer Cairo Cannon is another key creative collaboration. In 2000, the pair set up Cannon and Morley Productions (CAMP). "Cairo and I are allies," says Morley. "She is amazingly diligent and committed. When you find those people, you want to work with them again and again."
They both were diligent during the financing of Out Of Blue, which Morley notes was not easy because it is led by a complicated female protagonist of a certain age. The film was developed and produced with the support of the BFI Film Fund and BBC Films. Picturehouse pre-bought UK rights; Independent handles international sales.
So far, Morley's films have all been about female protagonists. "I don't want to get pigeonholed in what I do, but of course I am drawn to stories of girlhood and womanhood," she says, adding: "I am a feminist but my dream of film itself is that a plethora of stories are told in all manner of ways by all kinds of people."
Out Of Blue moves Morley into more ambitious territory after The Falling and the smaller-budget films Dreams Of A Life, Edge and documentary The Alcohol Years. Her next project will be another story of a complex woman. Artist Typist Pirate King, likely to shoot in late 2019, is about the late schizophrenic UK artist Audrey Amiss, and the film was developed as part of Morley's Wellcome Screenwriting Fellowship. She says: "All my films seem different but at the heart of each one is, what is it to be human, to be here in this world, and what is the truth?" ns
Out Of Blue plays in Platform on September 7 (Public, Winter Garden Theatre, 21:30), September 8 (P&I, Scotiabank 13, 10:45), September 9 (Public, Lightbox 2, 21:15), September 11 (P&I, Scotiabank 10, 12:30), September 14 (P&I, Scotiabank 8, 10:00), September 14 (public, Lightbox 2, 15:45).