Toy Story 3 seemed like a fitting conclusion to the series, but the creative team knew Woody had more lessons to learn. Screen talks to the filmmakers of Toy Story 4 about going back to the drawing board.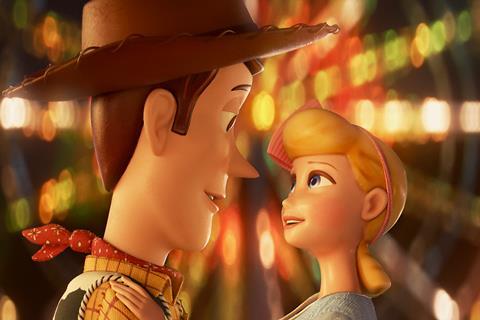 Toy Story 4 has a long and tangled history, even by the standards of big-budget animation, where years-long production schedules are the norm. According to producer Mark Nielsen, Pixar veteran Andrew Stanton came up with the idea for a third sequel to the groundbreaking 1995 original — Pixar's first feature and the first fully computer-animated feature film — while Toy Story 3 was still in production a decade ago.
That idea, says Nielsen, "was that [series mainstay] Woody's story wasn't really over. There's a lot for him still to learn." John Lasseter, then chief creative officer at Pixar and director and original story writer on the first two instalments, was originally set to direct the fourth outing. But in spring 2016, finding himself wholly occupied with his dual role running Pixar and Walt Disney's animation studio, Lasseter stepped away and co-director Josh Cooley took sole control. It was 18 months later that Lasseter announced he was taking a sabbatical from Pixar (he left the company altogether in 2018) because of unspecified "missteps" that had made some employees feel "disrespected or uncomfortable". Around the same time, according to reports, original Toy Story 4 writers Rashida Jones and Will McCormack left the project, citing "creative and, more importantly, philosophical differences".
Looking back, Cooley admits that for the Toy Story 4 team, Lasseter's departure from Pixar was "a big thing. I'm not going to say it was easy, because it wasn't. It was a shock. I had to talk to my crew and say, 'We're going to keep going forward and making this film the best we can.'"
The departure of Jones and McCormack and the subsequent overhaul of the script was much easier to cope with, the filmmakers insist. "That's like a Tuesday for us," Cooley jokes. Pixar projects, adds Nielsen, "have different needs, creatively, along the way so it's not uncommon for us to have a writer for a season and then to change and move on to another writer for the next season".
As finally credited to Stanton and Stephany Folsom — Lasseter, Jones, McCormack, Cooley, Stanton, Folsom, Valerie LaPointe and Martin Hynes have original story credits — the reworked Toy Story 4 screenplay took Woody (voiced by franchise regular Tom Hanks), Buzz Lightyear (Tim Allen), fresh character Forky and friends on a road trip with their new owner Bonnie and her family. At stops along the way, the toys cross paths with villainous vintage doll Gabby Gabby (Christina Hendricks) and Woody is reunited with Bo Peep (Annie Potts), a toy from the first two films now transformed into an adventure-seeking free spirit.
For Folsom, who says she never read the original Jones-McCormack script, "what really intrigued me was Andrew's idea that Woody's story wasn't finished, then bringing in the Bo Peep element. Those two things coming together justified why this franchise needed another instalment."
By giving Bo "purpose and making her empowered", Folsom explains, the character became "a counterpart to Woody, who was just stuck in his way of being defined by his child, by his room. Bo was an independent voice, saying you can make your own destiny."
Gabby Gabby, meanwhile, is "a villain that's not completely black and white", says Folsom, who previously did uncredited work on Disney-owned Marvel's Thor: Ragnarok and is a writer on Amazon's upcoming The Lord Of The Rings series. "We were the first in the franchise to redeem the villain."
On the technical side, Toy Story 4 had at its disposal a wealth of CG technology developed since the completion of the third film. But it also, says producer Jonas Rivera, had an obligation to maintain visual continuity with an original film — on which Rivera worked as a production intern — that by today's standards "looks like a video game".
Rivera recalls that production designer Bob Pauley, a veteran of all four entries, laid out "three things that we had to manage visually and then back into what that would mean technically". First, the visual grammar of the franchise needed to be preserved; second, the textures of the characters and sets had to be "very tactile and realistic"; and third, the lighting had to be "somewhat theatrical and pushed".
In some instances, the technology was stretched to its limit. The antique shop that provides the setting for the encounters with Gabby Gabby, for example, required Pixar's proprietary rendering software RenderMan and its global illumination plug-in to track myriad reflections from rows of glass cabinets and thousands of reflective objects, using huge amounts of computing power and a significant chunk of the film's reported $200m budget.
"When you have that much glass, it really makes the computer choke up," says Cooley. "At the beginning, we didn't know if having an antique store would be possible. So we had to do some tests early on to see if we could even make the movie."
In other instances — a rainstorm, for example, and the character of Forky — the technology had to be used sparingly in order to maintain the franchise's visual feel. "Strangely, that was our technical challenge," says Rivera. "It was almost like managing the technology back a little bit."
The complexity of the project's production resulted in the film's release being pushed back twice by the distribution arm of Pixar parent Disney, first from 2017 to 2018 and then from 2018 to summer 2019. When the film reached screens on June 20 this year it opened with a huge $121m first weekend gross, the biggest in the franchise's history. It has gone on to amass $434m at the North American box office and $639m internationally, for a global tally of $1.07bn, just beating Toy Story 3 to become the franchise's highest worldwide earner.
It remains to be seen whether wrapping up Woody's arc means the end of the Toy Story series. Latest franchise guardians Cooley (now doing punch-up writing on Pixar's summer 2020 feature Soul), Nielsen and Rivera say they have not had any discussions about a fifth film. "We never say never," Rivera concedes, "but we felt satisfied as a group of filmmakers that [Toy Story 4] would be an appropriate end."
Creating Home-Made Toy Forky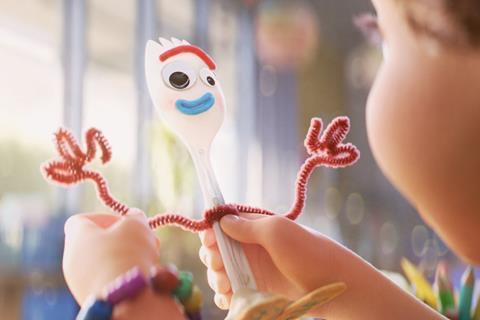 The newest member of the Toy Story family — made in the film by the toys' new owner Bonnie on her first, difficult day at kindergarten — has a disposable spork for a body, pipe-cleaner arms and popsicle-stick feet. He also has a lot of questions.
Forky originated, says Toy Story 4 director Josh Cooley, from spitballing in the story room about "what is the definition of a toy. We were talking about how our kids will pick up anything and play with it. If that happened in Toy Story-world, would that mean the thing's alive, that anything kids touch and play with is alive?
"It was just a joke at first," he continues. "Then we realised we could add this aspect where Woody has to explain to this thing what it is to be a toy. Now there's emotional weight and a purpose for him. As we worked on the story, his role got bigger and bigger."
Screenwriter Stephany Folsom notes that Forky allowed the film to present "a kind of intense philosophical argument in a really fun way through the character, who is essentially having an existential crisis because he doesn't know who or what he is, because he was made by Bonnie".
Bringing the character to life visually meant asking Pixar animators to go against their finer instincts. "A lot of the animators were coming off Incredibles 2 where they were doing beautiful work with complex characters, and we essentially gave them a stick figure," says Toy Story 4 producer Jonas Rivera. Cooley jokes that after seeing the first animated tests of Forky he simply asked the animators, "'Can you please make it crappier? Undo what you've learned in animation school and make it look really stiff and awkward at first and maybe he can grow into these [smoother] movements, kind of take ownership of himself.'" The animators, Cooley says, "totally embraced" the unusual request.
Tony Hale, from TV's Veep and Arrested Development, was recruited to give Forky his distinctive, childlike voice and Randy Newman, songwriter and composer for all four Toy Story films, gave the character his own musical theme.
Now Forky has been given his own series, becoming the star of Forky Asks A Question, a collection of 10 Pixar shorts screening on the new Disney+ streaming service. Written and directed by Up writer and co-director Bob Peterson and produced by Toy Story 4's Mark Nielsen, the shorts have Forky and other characters — some from the Toy Story movies — tackling posers about how the world works.