E-learning initiatives are breaking down the economic and geographical barriers to training for European producers.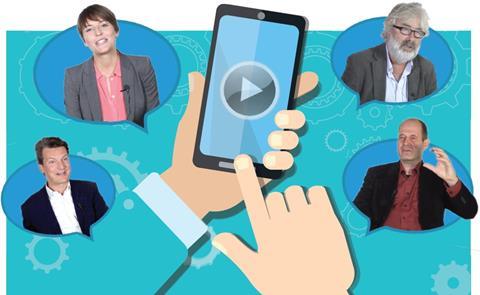 For an industry increasingly shaped by the digital market, the amount of good quality online training available to film-makers has been, to date, surprisingly scarce. Potsdam-based Erich Pommer Institut (EPI) is one of the first to dip its toe into this sector. It launched a dedicated online training programme on the topic of European co-productions at the end of 2015. If successful, it could change the way in which producers learn their trade.
Funded by Creative Media and Medienboard Berlin-Brandenburg, the e-learning course is split into 10 chapters covering topics such as European public funding and how to structure a co-production agreement. Consisting of five hours of studio-shot videos (in English or with English subtitles), the course also includes accompanying text, case studies, suggestions for further reading and an interactive quiz at the end of each chapter.
"E-learning has been around for a while," says Nadja Radojevic, CEO and director of training at the EPI, "but we wanted to take it to another level and create a high-quality online learning experience, which is easy to access and available on different devices so you can log in whenever you want."
Course of action
The course consists of the same information available to producers, financiers and lawyers attending the EPI's annual three-day European co-production residential seminar. Rather than simply place a camera in the seminar sessions, the online videos were shot separately with experts including Danish producer Lene Borglum, International Film Partner's Bernie Stampfer, lawyer Eva Ditgen and HanWay Films' Stephan Mallmann. This is what marks the programme out as different from existing offerings such as Raindance's Producers Certificate Foundation evening classes, which can be accessed live online.
"We worked with our experts to distil the essence out of their regular on-site sessions, so they fit the model of e-learning," says Radojevic. The course consists of two case studies, which will be updated each year. These are Anton Corbijn's A Most Wanted Man (a Germany-UK co-production) and Joachim Trier's Louder Than Bombs (a Norway-France-Denmark co-production).Respective producers Malte Grunert and Sigve Endresen take viewers through every detail of the production.
Participants have access to the material for six months after signing up and receive a certificate at the end (after all sections have been accessed and completed).
Unlike the residential course — which costs $1,415 (€1,290), including hotels and meals — the online programme is priced at $600 (€550) and is likely to be an attractive option for cash-strapped international producers. "It's about appealing to a wider audience," says Radojevic, who has been pleased by the broad uptake so far. "We usually have very few southern Europeans attending our courses, but almost half of the people who have signed up for e-learning are from southern Europe. It's a way of reaching different people who, for money, time or language barrier reasons, have been unable to attend our seminars."
Bulgarian producer Todor Velev signed up for the course ahead of his first co-production later this year, a documentary called Surviving Club 27, and EPI has also had a number of requests from producers from non-European countries interested in the way the EU system works.
"The material was really helpful and simply represented, even the more complex areas like law," says Velev, who has been recommending the course to his producing colleagues in Bulgaria.
But what the online offering cannot give producers is the invaluable opportunity to network. It's an area the EPI is working on, with plans to create a more guided course, consisting of the same content, but with
participants logging in on a certain date each week to access a new chapter, as well as being able to ask experts questions over Skype. There are also plans to create a Facebook group for those who have taken part, as well as drinks events during Berlin and Cannes for participants and trainers.
The EPI is also launching an online course in the autumn on the subject of clearing rights issues, the videos for which will be shot at its seminar in April.
The EPI is not the only European institution embracing online training. The BFI Film Academy runs a free video-based online film-making course, while October will see the launch of a two-year online MBA programme through the UK's Ashridge Business School for people already working in the creative industries, backed by David Puttnam's company Atticus Education and Creative Skillset. Significantly, this new MBA still includes three weeks of residential training.
"There is a real future in online training but it is not a threat to on-site training," says Radojevic. "They complement each other."