Alex Lawther stars in the story of a teenager who, despite attending an ultra-conservative high school, makes the decision to run for homecoming queen.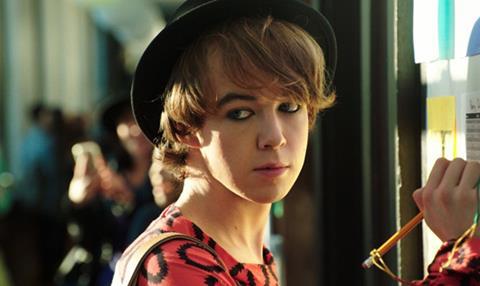 Talking to Screen ahead of tonight's world premiere of her debut feature as a solo director, Freak Show in Generation 14plus, Trudie Styler, a veteran of stage and screen, wasn't feeling the pressure.
"I'm not nervous about it," Styler said. "I hope I don't get horrible reviews but it's not like when I act on the stage – in the days before, I'm a gibbering wreck."
The sub-$5m Freak Show was adapted from James St. James's bestseller and shot for 22 days in New York in late 2015. Former ScreenStar of Tomorrow Alex Lawther stars as Billy Bloom, a teenage cross-dresser at a conservative high school who defies the bullies and runs for homecoming queen.
The subject matter resonated with Styler, who produced with her Maven Pictures partner Celine Rattray alongside Flower Films, Bryan Rabin and Jeffrey Coulter and jumped into the hot seat when the previous director moved on.
"America is becoming more homophobic as we speak," she says. "We don't want our youngsters to feel bullying can be condoned in a school environment.
"I felt it from a young age. I had an accident when I was two after a truck ran over me and scarred my face. I had ADHD and dyslexia so I was dealing with a few challenges and I was the brunt of jokes and meanness."
Styler bonded with Lawther after a trawl through more than 100 candidates. Her friend Bette Midler agreed to a rare on-screen role as Billy's mother, Muv.
The timing of Billy's personal manifesto, she says, has never been more timely. "We've all got a freak flag flying on the inside. It's a very strong message for what's happening in the US at the moment."
When Styler shot Freak Show in 2015, Donald Trump was campaigning to be a presidential candidate. "We kept hearing this mantra, 'Make America great again'," the director says, noting that in the film, Abigail Breslin plays a mean girl who utters a similar line.
Styler surrounded herself with world-class talent including Oscar-nominated cinematographer Dante Spinotti, Sofia Coppola's regular editor Sarah Flack and costume designer Colleen Atwood.
As well as Freak Show, Styler also produced recent Sundance entry Novitiate. In recent years, she has been a producer on Duncan Jones' Moon and Jon S Baird's Filth among others, and has executive producer credits on Still Alice and American Honey.
She wants to direct again and acting remains a passion. After Berlin, she expects to move forward on a couple of acting roles, one of which will be a play about Arthur and Guinevere.