Dir: Sergei Dvortsevoi. Germany-Switzerland-Kazakhstan-Russia-Poland. 2008. 100 mins.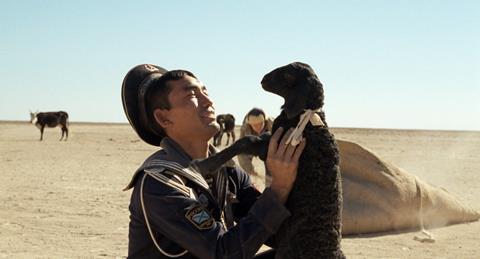 Shy courtship, stark landscapes and a spirited supporting cast of livestock make Tulpan a vivid, intensely enjoyable debut feature from former documentarian Sergei Dvortsevoi. The Kazakhstan-set film hardly breaks new ground, in both setting and mood pitching its tent very close to The Story Of The Weeping Camel.
But it similarly blends intimate, gentle fiction with a strong dose of ethnographic observation, to immensely charming effect. Received rapturously at its screening in Cannes' Un Certain Regard strand, the film will be an audience-pleaser atfestivals and, though not specifically targeted at children, should play well at events with a kids' angle. Theatrical exposure is likely to be modest, but robust ancillary life seems likely.
A supporting cast of sheep and goats, plus the odd cat, dog and camel, gives Tulpan as high a livestock factor as the average Kusturica film
The setting is a windblown, dusty plain - Betpak Dala, or 'Hunger Steppe' - in southern Kazakhstan, where young Russian-speaking sailor Asa (Kuchinchirekov) has travelled from Sakhalin to join his sister Samal (Yeslyamova) and her family. Samal's husband Ondas (Besikbasov) is a herdsman tending a large flock of sheep. Asa's dream - which he has illustrated, as per tradition, on his sailor's collar - is to have his own herd one day.
But to do that he needs to find a bride. The film starts with his nervous courtship of the coy Tulpan, daughter of a neighbouring couple, whom Asa tries to impress with his tales of the sea. But the couple are apparently deterred by Asa's wildly embellished description of encounters with marine life, while the bashful Tulpan, who stays stubbornly out of sight throughout the film, is turned off by the size of Asa's ears. The courtship scenes are a hoot, with photographic evidence produced to show that Asa's ears are smaller than those of England's Prince Charles.
Getting nowhere with Tulpan, Asa is also falling foul of his brother-in-law, who's not convinced the lad has the makings of a herder. Meanwhile, Asa's breast-obsessed, tractor-driving buddy Boni (an exuberantly entertaining performance by Baisakalov) tries to persuade the landlocked mariner to try better times in the city. But Asa sticks to his guns, and eventually wins his spurs as a shepherd by delivering a lamb - and giving it the kiss of life - in an extraordinary extended take that's shot for real, and that combines the 'yuk' and 'aah' factors to showstopping effect.
Sense of place is intensely vivid. Dramatic weather - lightning in stormy skies, a massive recurrent whirlwind - and the minutiae of the characters' harsh living conditions are conveyed with lightly-worn intimacy, adding up to a strong evocation of the family's yurt (tent-like movable house) as a womb-like protection against the stark landscape. Ondas's three children are a winning presence: a daughter who sings traditional songs at ear-splitting pitch, an older son with a talent for memorising radio news bulletins, and a toddler who just runs around cheerfully doing what toddlers do.
A supporting cast of sheep and goats, plus the odd cat, dog and camel, gives Tulpan as high a livestock factor as the average Kusturica film, and Dvortsevoi is often able to hang back on the narrative safe in the knowledge that animals and small children are just inherently entertaining. Still the occasional eccentric - but hardly contrived - image takes us by surprise, notably the priceless sight of a bandaged-up camel in a motorbike sidecar.
Even if Tulpan, the film's nominal subject, is only ever briefly seen once from behind, Kuchinchirekov's winning performance as the lovelorn Asa persuades us that she's surely worth his attentions. Main cast members are not actually from the type of nomadic community portrayed, but are more than convincing.
Production companies
Pandora Film
Cobra Film
Eurasia Film
Kaz Export Cinema
Film Company Slovo
CTB Filmproduction
Film Contract
Pallas Film
International sales
The Match Factory
(49) 221 539 709-10
Producers
Karl Baumgartner
Valerie Fischer
Gulnara Sarsenova
Bulat Galimgereyev
Sergei Melkumov
Elena Yatsoura
Sergei Selyanov
Henryk Romanovski
Karassis Karathanos
Raimond Goebel
Screenplay
Sergei Dvortsevoi
Gennady Ostrovsky
Cinematography
Jolanta Dylewska
Production designer
Roger Martin
Editor
Isabel Meier
Petar Markovic
Main cast
Askat Kuchinchirekov
Tulepbergen Baisakalov
Samal Yeslyamova
Ondasyn Besikbasov