13 years, £8m+ and an unenviable email to Brad Pitt. Andreas Wiseman talks to the creatives and financiers behind the remarkable journey of Under the Skin.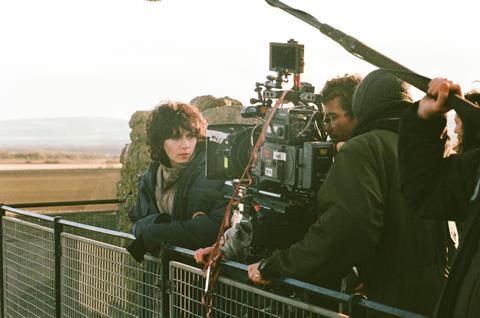 Shortly before Christmas 2009 Film4 head Tessa Ross invited producer Jim Wilson and director Jonathan Glazer to her house to try and solve a puzzle.
It was a mystery Glazer, Wilson and Film4 had been working on for nine years; a riddle that had consumed some of the biggest names in the film industry.
The conundrum was Under The Skin, the same film that today has critics and audiences in raptures, whose director has been hailed by some as the next Stanley Kubrick and which can rightly take its place among the pantheon of great independent sci-fi films ever made.
"We were exhilarated after the meeting," producer Jim Wilson recalls. "As Jon and I walked home through the snow, we finally knew what we had to do. 'You need to ask yourselves', Tessa had said. 'Can you only make this film for $32m, or do you want to make it at any cost?'"
At any cost. Meaning at any price.
"If you want to make it at any cost perhaps we should reimagine it for a number vastly less than $32m," Ross suggested.
By vastly, she meant roughly $15m. Less than half of the originally projected $42m budget.
The meeting proved a watershed moment in the film's epic journey to screen. But there had been other watershed moments, and there would be more.
For in 2009, Under The Skin was only half way to completing its remarkable odyssey.
Early incarnations
Michel Faber's acclaimed debut novel Under The Skin first dropped onto Jim Wilson's desk in 2000 when he was an executive at FilmFour Ltd, then run by Paul Webster.
The novel, about an alien murderess who hunts her victims in a remote part of Scotland, was sent to FilmFour by then William Morris agent Bill Contardi. The book's unique combination of sci-fi, horror, road-movie and metaphysics hit home with the broadcaster, which optioned the property soon after.
At the same time, the novel had caught the attention of Nick Wechsler, the established Los Angeles producer already known for critical hits including sex, lies, and videotape and The Player. As it turned out FilmFour had a first-look deal with Wechsler's Industry Entertainment so it made sense for the two to collaborate on the film's production.
Unusually, the search for a director preceded the attachment of a writer. "We wanted to attach a director with a strong, unique vision," recalls Wilson.
Fresh in his mind was buzzed-about commercials and music video director Jonathan Glazer, whose striking FilmFour-backed debut Sexy Beast would be one of the next year's revelations.
The UK broadcaster arranged a screening of the film for Wechsler in LA, who after seeing it agreed that Glazer would be a perfect fit.
With the red-hot Glazer on board to direct, the team needed their writer. They chose Alexander Stuart, the novelist turned screenwriter of Tim Roth's dark directorial debut The War Zone.
Stuart's development process spanned a couple of years, after which time Wilson moved on from FilmFour but joined the project as a producer with Wechsler. The script was always intended to deviate significantly from the book. That said, Alexander's version was "a relatively faithful rendition" of Faber's novel, recalls Wilson.
While the project gestated, director Glazer went off to make his second feature, the 2004 drama Birth, starring Nicole Kidman. The film proved divisive, receiving a decidedly mixed response from critics.
However, it was during Birth that Glazer met writer Milo Addica, who had recently been Oscar-nominated for Monster's Ball. And it wasn't long before the dust had settled on Birth that the director's thoughts returned to Under the Skin.
But the script still wasn't where Glazer wanted it to be.
"Alexander's faithful version wasn't the film he wanted to make - see perhaps, but not direct," remembers Wilson. The script needed fresh impetus and Addica was the man to inject it. "Addica's version of the story had a "lean, stripped down quality", says Wilson. "It was less faithful than Alexander's version but still far from the film we have today. The drafts included a lot of experimentation around alien language. We even invented a language, a la Clockwork Orange. It was a big creative challenge."
Nailing the look
Simultaneously, Glazer was keen to develop the 'look' of the film with a VFX house, an unusual and expensive move for a UK film in development.
It was at this stage, in 2005, that the UK Film Council came on board, and Development Fund head Jenny Borgars became another champion of the project [later UKFC/BFI champions included Sally Caplan, Tanya Seghatchian and Chris Collins].
With multiple backers now on board, Glazer was able to begin working with London-based VFX house One of Us, who between them came up with what Wilson describes as the "black matter" that accounts for the alien. According to Wilson the idea was aiming at something analogous to the inscrutable otherness of the monolith in Kubrick's 2001: A Space Odyssey.
While the film's VFX gained coherence, the script was still proving problematic. Addica's version was a step in the right direction, but wasn't right enough. "The script got us to a certain point but not to one that we could all agree on," says Wilson.
At the end of 2005, the script got another shot in the arm in the shape of its fourth and final practitioner: Walter Campbell, who had collaborated with Glazer on some of the director's most revered commercials, including the famed Guinness 'Surfer' advert.
"His ideas were very out of the box," says Wilson about Campbell, who he says shared a "common language," with Glazer. "Walter wrote a few pages of script. We didn't tell Film4 or UKFC initially but when we read the scenes to them they were blown away. Those pages were getting towards the atmosphere and feeling of the film you see today."
Campbell and Glazer started writing together in earnest, a two-year process that radically re-built the script from scratch. By now it was 2008. The film was still in development and remained unbudgeted so the team brought on respected line-producer Anita Overland to cost the film.
The market received a script about an alien husband and wife masquerading as farmers in a quiet, remote community where the wife lured male victims into the couple's barn.
The film's price tag was around $40m.
"To mount a film like that we needed major cast," admits Wilson. And at that time cast didn't get much bigger than Brad Pitt, who as luck would have it was a fan of Glazer's work.
After meeting each other the star became attached in the film's supporting role [Wilson describes the current film's motorbike character as a "minimalist distant cousin of Pitt's character"], and he remained attached for some time.
However, Pitt's attachment wasn't enough to secure the budget. "We still couldn't raise that much money," Wilson recalls. "There were creative elements that people found difficult to swallow at that price".
The team met with different US equity players over the space of a year. "They asked us to get it down to $32m. So we shaved and cut and worked on it. We wracked our brains over how to cut it down even more."
It was soon after that impasse that the fateful 2009 Christmas meeting with Ross took place. The project had now been in development for almost a decade.
New directions
Wilson and Glazer were left with the unenviable task of emailing Pitt to let him know they were going in a different direction. The script was to be stripped back to its "molten core", excised of virtually every scene and page that didn't feature the female protagonist. It would be a film told entirely from the 'female' alien's perspective, a radical change from what had gone before. There were no hard feelings.
Meanwhile Glazer was meeting actresses. He was initially wary of casting a big name but then Scarlett Johansson came into view.
The new script was sent out to industry once again and the signs were good. Johansson became attached to the project in early 2010 - she would be the film's only 'name' actor.
Fledgling sales and finance outfit FilmNation, run by industry stalwart Glen Basner, joined soon after.
Basner admits that he had to do "a bit of begging" at the time to get the film, which while in-demand was still dark and challenging: "This was an opportunity to be a part of something fresh and original and unlike anything that had come before," he recalls.
Basner took the film to the American Film Market in 2010. It faced another sink or swim moment. Would international buyers feel the same about the film as Basner and the film's producers?
"We knew there would be distributors around the world who would be desperate to be a part of this film, just like we were," assures Basner. "Scarlett gave the film a commercial backbone and people responded very viscerally to it."
The response was indeed strong. FilmNation pre-sold the film to the tune of around $4.5m, an impressive haul for such a challenging film.
It was also during AFM that Basner and WME agent Mark Ankner helped connect the production with financiers Silver Reel.
With backing from Film4, BFI, FilmNation, Silver Reel, Creative Scotland and the UK tax credit, the production was at long last ready to move into production. Anita Overland had since moved on to Rush, and line producer Alexander O'Neal had joined as co-producer.
The filmmakers were working to his budget of around £8m/$13m [more with overages] with the BFI and Film4 both having committed close to their record production investments of £2m each.
A leap of faith
The UK shoot began in October 2011. Glazer shot much of the film 'guerilla style', incorporating a string of non-professional actors and passers-by, many of whom were only told they were being filmed after the event.
The process was organic. More so than Hollywood actress Johansson was used to. As she told the production, the experience required a leap of faith on her part: "I went into this project with absolutely no idea how we were going to shoot it or what it was going to be".
"It was weeks before I even knew what I was doing," she continued. "Jonathan and I spent a lot of time talking about it, both of us saying, 'I will not let you down – I will give you everything I have!' I don't think either of us knew quite what we were doing. But we started it, and it became clearer as we went along."
A case in point was the film's nightclub scene. Glazer, his crew, Johansson and actor Paul Brannigan hid in a back room of Glasgow nightclub The Shed until the venue filled up with boozed up revellers.
Once full, they slipped out into the crowd, with the two actors filmed surreptitiously by cameramen hiding cameras under their jackets and in backpacks.
The shoot would also require a technical leap of faith on behalf of the actors, crew and financiers, as Glazer has described: "There were eight cameras built into the dashboard [of Johansson's car], behind headrests, places where you would normally find an air conditioner, and so on. They were all wired into the back, behind the bulkhead. Behind the bulkhead I'd be sitting in a chair and I'd have a monitor with eight images on it from the eight camera feeds. I'd have the DP sitting next to me, two guys doing digital imaging, the first AD and the sound man."
"Behind us, there'd be a follow-up van, with makeup people and PAs, who had to jump out of the van and get release forms from people that we happened to film," he adds.
Glazer's shooting method mirrored his exacting development process.
"It's hard to describe what his method is exactly," said Johansson, "but, to me, it seems he has a process of finding a scene. It may take him a period of time to find the rhythm of it, find the music in the scene, but once he does, he homes in on it, full steam ahead. He can see the shape of the scene as it is forming and he's very specific but, oddly, at the same time quite unspecific. It's a process of finding the material."
Whether because of Glazer's method or in spite of it, his lead actress conjured a sensational performance.
The Scottish shoot was punishing at times, with crew battling 100mph winds, snow and treacherous conditions. But those curve-balls led to stunning visuals and perfectly mirrored the internal crisis and transformation of Johansson's character. Despite the challenging conditions, the shoot was speedy compared to the film's development and post-production.
A long edit
Glazer would spend almost another two years in the edit, during which time he overlaid the film with a stunning score from English composer Mica Levi, known as Micachu.
Artist Neil Kellerhouse created a set of stunning print visuals for the film and Glazer also cut a killer teaser trailer.
However, rumours swirled about the film's well-being and potential festival landings.
As each festival went by, rumours grew. Was there panic in the camp? "Jonathan's process is absolutely meticulous," recalls BFI Film Fund head Ben Roberts, who joined the BFI when the film was in post-production. "We saw many versions of the film in post-production. But every iteration was better than the last. It was always moving in a controlled direction."
The BFI and Film4 both made another investment in the film during post.
So why did the edit take so long? "Because Jonathan is a painstaking director," says Wilson. "And that isn't a criticism. There is a lot of finding, exploring and eliminating that goes on in his process, which is very organic. That is his creative personality. He is never going to get through films like Michael Winterbottom."
"And Sexy Beast and Birth were films mainly of people talking in rooms," he adds. "They weren't VFX-heavy films about an alien driving across Scotland requiring eight covert cameras shooting at once".
Many tipped the film for a slot in competition at Cannes 2013. But it wasn't ready.
Finally, the completed film was announced in the lineups at Telluride and Venice. Thirteen years in the making and the film was finally ready to be seen by the public.
Those unable to be at the festivals eagerly awaited the first reviews. Venice audiences both clapped and booed, the sound of which Glazer described as beautiful –"the opposite of indifference".
Critics were at once bowled over by the film and bemused. Some called it a masterpiece, others were left scratching their heads.
Fledgling outfit A24 snapped up US rights to the film during Toronto in a deal with WME and CAA. Wilson and Glazer were happy with the fit. They were among many impressed by the distributor's eye-catching release of Harmony Korine's Spring Breakers earlier in the year.
In the UK the film would be released by StudioCanal, who picked the film up back at AFM 2010. The BFI made another £160k investment in the film's distribution.
But how many people would actually be able to stomach this abstract, art-house dreamscape?
It must have been tempting to overplay its main-stream selling points: Scarlett Johansson, sci-fi, horror.
"We didn't want to try and put a narrative over this film that didn't exist," explains Hugh Spearing, head of marketing for StudioCanal UK. "The film is an experience. We knew we weren't going to present it as Species in Scotland. We endeavoured to stay away from that."
The film's marketing campaign has been subtle, in keeping with the film. One clever stunt included placing enticing adverts in the 'personal section' of Craigslist sites.
But staying true to the film's art-house core meant only a limited release.
In the UK, the film opened ten days ago on 47 screens. In the US it will open in April at only 4 sites [extending to a maximum of 500, according to A24].
Some might raise eyebrows - £8m [chunks of it public money], one of the world's leading actresses and years and years of hard work, yet a small release.
"The thinking behind that number [47] is that this film has many fans but the important thing for it is to bed in and get a good worth of mouth," explains John Trafford-Owen, head of theatrical distribution for StudioCanal UK. "If you slap this into a mainstream cinema it would get lost."
Wilson understands the appproach: "I'm not disappointed at all," he says. "This is the right release for this film."
And the strategy has paid off, with a strong UK opening weekend of $396,000 (£238,203) and the week's highest site average of $8,423 (£5,068).
Over its second weekend the film has expanded to 75 sites and risen to an impressive running total of £596,070.
A landmark film
The numbers matter. Often more than many will let on. But for most invested in this film, the desire to be part of something unique has trumped business imperatives.
"It's not healthy to focus on opening weekends for films like this," says the BFI's Roberts. "People will be talking about films like this in ten and 20 years' time. We can't make films and structure releases around a studio-dominated model."
"Jonathan's films will cost a certain amount of money," he continues. "He has a process, a craft, you need to back that and stand by it, otherwise these films won't exist. If only half the films we saw were as exciting as Under the Skin. It's what you do the job for."
FilmNation's Basner agrees. "When we read the screenplay it felt like it was the type of film that would be almost impossible to make in today's world but desperately needs to be," sales the veteran sales executive. "Sometimes things can feel homogenised."
"In 10-15 years when I'm put out to pasture I expect this to be one of the films that people really remember on FilmNation's slate," he continues. "I sincerely hope we're able to make this kind of film going forward. We need this kind of film. If we don't take risks as an industry we stagnate."
"This one was certainly an experience I'd never really had before" concurred lead actress Johannson, who took a pay cut from the likes of Iron Man and The Avengers to be a part of the film. "It's very rare to come across an opportunity like this… it's such a beautiful, poetic story."
Under The Skin is a masterpiece 13 years in the making. A film that had to be made, at any cost.
The film's final word is with Wilson, who along with Wechsler, Film4 and Glazer, drove the film from the beginning.
"There aren't any rules to filmmaking. Some films take a long time. Yes, this was a long one but I think it's uninformed to say that the process lacked discipline. Would we have liked it to have been quicker? Yes. Would we happily spend ten years making another one? No. But this film took that amount of time."