Dir/scr. Nicolas Winding Refn. Denmark/UK, 2009. 90 mins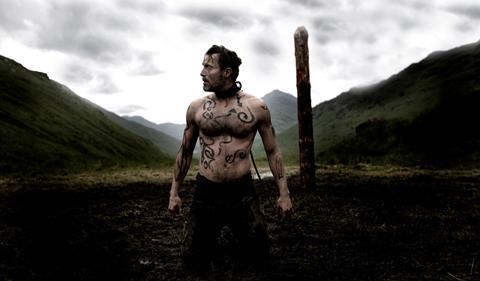 With its growling metal score and hyper-brutish, grunting male violence stapled into beautiful but static framing, Valhalla Rising is easily identifiable as a Nicolas Winding Refn feature. The Danish director is an acquired taste, but even this may be too much and too little for his Pusher fans. Bronson was made quickly during the Valhalla shoot, but it turns out to be Winding Refn's better work while the long-awaited opus disappoints.
Winding Refn here is fine-tuning artistic ideas hinted at in Bronson
Valhalla offers plenty to look at – although the shots tend towards the numbingly repetitive – but the images only decorate a hollow screenplay. The dialogue, scant though it is, is complete cod. So carefully and often languorously framed it veers towards the art installation (Winding Refn has always been engrossed by the collision between art and violence), Valhalla is interesting but frustratingly under-developed. Still, with Winding Refn and Mikkelsen in the titles, it should attract an urban, late-night cult crowd before perhaps doing its best business on DVD.
Refn's central character, One Eye (Mikkelsen) doesn't speak at all, and the film gets off to an interesting start without any sound but the wind and rain lashing the cage where he is chained and fed by a boy (Maarten Stevenson). This is a tribal, Viking age, and the whistling winds and blanket mist and mud effectively conjure up a brutish sense of time and place. Eventually, the chieftain Barde (Alexander Morton) reveals that this warrior of supernatural strength is "driven by hatred" to kill all around him and he is used like a fighting dog in wrestling matches, tethered to a pole. Winding Refn flashes effectively to blood-drenched visions, using Mikkelson's ruined face and empty socket effectively and creepily.
The violence is bone-crunching and, when One-Eye is sold to another tribal lord, he naturally escapes by disembowelling his captors. The boy follows him, and they encounter a band of "Christian Vikings" – led by Gudmond (Andrew Flanagan) and Kare (Gary Lewis) - who are on their way to Jerusalem and the Promised Land. One-Eye joins them for reasons that are unclear but seem to be about the kind of primal, macho, urges which would pretty much deny this film any sort of female demographic.
Their ship is becalmed by an engulfing fog, as is the film: Winding Refn's camera takes over to produce ever-more beautiful tableaux, but plot, characterisation, dialogue, impetuous, all dissipate in the studio-bound mist. When the warriors finally arrive on a strange land, primal instincts take over in Hearts of Darkness mode: chapter titles scream "Hell", "The Sacrifice", etc (it's a five-chapter structure), and the droning metal soundtrack comes to the fore.
Much of this seems to have been shot in Scotland – local accents dominate – but Valhalla Rising's production credits show an extensive patchwork of European backing and indicates a tough financial road to completion. Winding Refn here is fine-tuning artistic ideas hinted at in Bronson, filtering his colours and framing: red, black and grey turn into green and inky skyscapes, indigo-blue mists and sandy colours filtered through the fog. It's impressive. But there are few ideas to carry this through and the pacing is stalled. At 90 mins, this is a short film; but it never feels that way.
To sign up for Screen's weekly Reviews Newsletter with all the week's new releases, international openings and full festival reviews delivered free to your mailbox every Friday, please click HERE
Production companies
One Eye Productions
Blind Eye Productions
Nimbus Film
International sales
Wild Bunch - + 33 1 53 01 50 30
Producers
Johnny Andersen
Bo Ehrhrdt
Henrik Danstrup
Cinematography
Morten Soborg
Editor
Mat Newman
Production design
Laurel Wear
Music
Peter-Peter
Peter Kyed
Main cast
Mads Mikkelsen
Maarten Stevenson
Gordon Brown
Andrew Flanagan
Gary Lewis
Gary McCormack
Alexander Morton
Jamie Sives
Ewan Stewart
Matthew Zajac