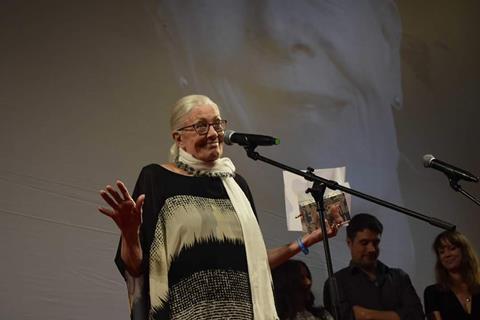 Vanessa Redgrave has called for the international film community to support a change in visa requirements for Kosovan citizens to travel abroad, describing the current situation as "absurdly wrong".
Speaking to Screen at the 10th Pristina International Film Festival (PriFest) in Kosovo on Saturday July 21, Redgrave said producers and financiers "could raise their voices with their consulates, with their cultural organisations, with their unions".
Kosovan passport holders are currently required to purchase a standard visa at £93 ($122) to visit the UK; a visit to the US requires a $160 DS-160 visa; while a Schengen visa, required to visit the 26 countries in Europe's Schengen area, costs €60 ($70). Kosovans are not permitted to enter several countries, including Russia.
Citizens of neighbouring countries Serbia, Albania, Macedonia and Montenegro do not required visas to visit Schengen area countries; Serbians, Macedonians and Montenegrins do not require visas for Russia, while Albanians can purchase one.
Redgrave said that the extra visa requirements placed on Kosovans were impeding the growth of its film industry. "Culture must be without visas," she said. "It's an impossible burden of time and effort and endless delay. It's absolutely wicked.
"Anyone who feels that films are important…who wants these festivals to continue, who understands the significance of assisting them to grow, has to support that you don't have to have visas."
Fake news
She also criticised current governments in both the UK and abroad for manipulating the public. "In the last 10 years governments have developed a language called 'fake news'. It gives people the idea that something very helpful and progressive is being done. On the contrary – something completely destructive is being done. The epitome of that is Trump, of course, but he's not the only one. Our government in Britain does the same thing."
The actress, 81, was in PriFest to screen her 2017 directorial debut Sea Sorrow. The film, which premiered at Cannes last year, is a documentary about the current refugee crisis across the world, and Redgrave used a post-screening Q&A to condemn the current treatment of both refugees and Palestinian citizens.
"All over the world there are people becoming inhuman. We have to ask our own selves, can you detect in your self a hardening, a beginning to ache, not see, not hear, not listen, to become inhuman."
She warned of the danger of misusing the word 'migrant' in place of refugee, saying the way people are misled and having their agency removed today has echoes of the pre-Second World War period.
"We're in danger. A lot of people didn't realise, back in the 1920s and 1930s, good, decent people were misled. The stress of life and the lack of a future for young people, lack of any means to live for old people, made them go in the wrong direction at a crucial moment. This kind of thing is going on in countries all over the world."
Rising Stars
Attending PriFest as a special guest nine years after she appeared at the first edition of the festival in 2009, Redgrave also addressed the 10 actors participating in the event's 2018 Rising Stars talent showcase.
She offered advice from her career in the industry, including on constructing a showreel. "You have to ask other people…the actor or actress shouldn't judge their own work. We're very bad judges of how we look. Actors and actresses should never watch dailies."
Touching on the struggle to promote the creative industries, she told Screen: "Very few people are capable of keeping alive soul, but that's what the arts are about. We're soldiers. It means doing work without enough money, without enough sleep, hardly knowing what to do. But it's priceless work, and that's what this festival symbolises."
This year's PriFest took place from July 18-22, and included an industry programme called PriForum of events to develop the Kosovan film business. Redgrave also attended the closing ceremony on Sunday July 22.
This week Redgrave was announced as the recipient of the Golden Lion for Lifetime Achievement at the 75th Venice International Film Festival (August 29 – September 8).