Director Midi Z went to unusual lengths on his love story about Burmese immigrants in Thailand, the first co-production between Taiwan, France, Germany and Myanmar.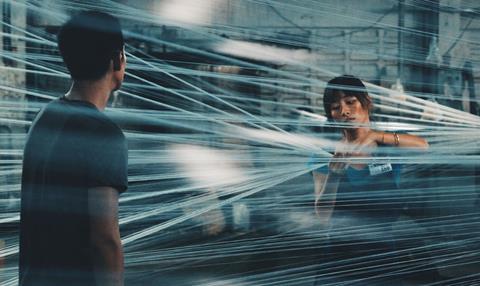 The Road To Mandalay marks the first outing at the Venice Film Festival (Aug 31 - Sept 10) for Myanmar-born, Taiwan-based director Midi Z, whose reputation is fast on the rise. His last two films, Ice Poison (2014) and documentary City Of Jade (2016), premiered at the Berlin International Film Festival.
The Road To Mandalay is the sole Chinese-language narrative film playing at Venice this year. The main characters are Burmese-Chinese who speak the Chinese Yunnan dialect, like Midi Z himself.
According to the director, the Burmese believe there are three ways to escape poverty, "One is to become a drug smuggler, one is to work in the jade mines and the third is to smuggle yourself into another country."
While his previous films have addressed the above issues in one way or another, The Road To Mandalay features a more prominent love theme. The story follows a young couple who meet while smuggling themselves into Thailand. But their love is doomed as they begin their new lives as immigrants in Bangkok.
"The tragedy lies with the man's wish to return to Myanmar, but the woman who is more ambitious wants to earn a better living overseas," says Midi Z.
Real-life experience
The character of the young woman is partially drawn from the real-life experience of the director's sister, while the young man works at a textile factory, which was the first job of his brother in Thailand.
"Thailand is always the main destination for the Burmese. Many of my family members and relatives have done it," he says.
The first draft of the script was finished in 2010, but it would take him five years and a dozen more revisions before the final script was ready. It was the first time that he had a fully written script before the shoot, as his previous films were all made guerrilla-style on a shoe-string budget that required constant improvisations.
The project subsequently became the first four-way co-production between Taiwan, France, Germany and Myanmar.
"The majority of the funding is from Taiwan, with both equity partners and government subsidy," says Patrick Mao Huang, the film's principal producer. Although the budget is not disclosed, he adds that it is Midi Z's biggest budget film, bigger than all his previous films added together.
The Taiwanese backers include Fine Time Entertainment Intl, CMC Entertainment (which operates Taiwan's largest cinema chain VieShow), Star Ritz International Entertainment (the producer of mega-blockbusters You're The Apple Of My Eye and the Tiny Times series) along with Midi Z's Seashore Image Productions and Huang's Flash Forward Entertainment. France's Urban Distribution International handles international sales.
Immersive experience
To prepare for their roles, Taiwanese actors Kai Ko and Wu Ke-Xi (a regular of Midi Z) attended a four-month intensive language course for the Yunnan dialect in Taiwan. They then travelled to Thailand and worked at a real textile factory for a further three months, which gave them the opportunities to mix with immigrants.
The new film is a comeback for Ko who is collaborating with Midi Z for the first time. Ko shot to fame for You're The Apple Of My Eye, which earned him a Golden Horse award for best newcomer in 2011. But his promising career hit rock bottom after his arrest in Beijing on drug charges in 2014.
To make him look the part of a poor young man from a small village, Midi Z sent him to a remote area of Burma for a couple of months where he lived the life of a local and worked on a farm.
The shoot took place entirely in Thailand over 23 days. Around 70% of filming was on location in Bangkok, with the remainder taking place along the Thai border. Most of the key crew were from Taiwan, including DoP Tom Fan, who previously shot Ice Poison. A 20-strong Taiwanese crew worked closely with around 40 Thai crew members, including production designer Akekarat Homlaor (the frequent collaborator of Cannes Palme d'Or winner Apichatpong Weerasethakul).
During post production, Midi Z was well supported by French editor Matthieu Laclau (who previously worked on Chinese auteur Jia Zhangke's A Touch Of Sin and Mountains May Depart), music composer Lim Giong (the frequent collaborator of Taiwanese auteur Hou Hsiao Hsien) and renowned sound designer Tu Duu-Chih.
Next up, Midi Z has an offer to direct a big budget sci-fi drama, which is a China-Taiwan co-production with half of the filming taking place in Taiwan. Though he has lived half his life overseas, he still has firm roots in his homeland, and plans to continue making small, independent productions about Myanmar.