Cannes Film Festival may not have had a vintage 2018, but its loss may be Venice's gain. Artistic director Alberto Barbera talks to Screen about this year's rich crop of major titles, diversity challenges and Netflix.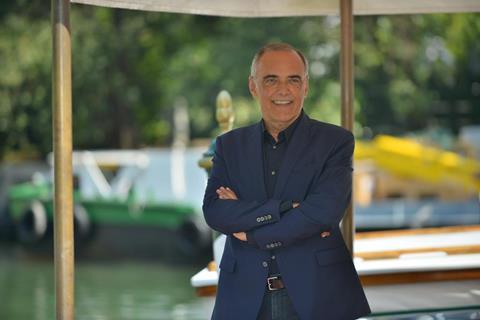 You can hardly blame Alberto Barbera, artistic director of Venice Film Festival, if he feels like the cat that got the cream. After a rancorous Cannes Film Festival marked by a stand-off between Netflix and the French film industry, and a Berlinale attacked by one UK newspaper for promoting the "dullest and most valueless films in its line-up", the 75th Venice Film Festival programme looks like a veritable goldmine. Barbera and his team have been able to hoover up many of the titles originally expected to be in Cannes, while Venice is still clearly being used as the launchpad of choice for US premieres bound to be at the front of the Oscar race.
"It is very rare to have such a number of good things coming out at the same time in different countries," Barbera enthuses, calling it "quite unique", and a "once in a decade" situation.
Netflix may have been absent from the French Riviera, but it is very present at the Venice Lido. Its offerings include the Coen brothers' The Ballad Of Buster Scruggs — originally conceived as a TV series but now made into a film — Alfonso Cuaron's ROMA, and Paul Greengrass's drama 22 July, about Norwegian terrorist Anders Behring Breivik.
Venice is also screening Orson Welles' The Other Side Of The Wind, a film that started shooting almost 50 years ago — and one that various parties have been arguing over and trying to complete ever since. The task has finally been achieved with the backing of Netflix.
"We have been chasing The Other Side Of The Wind since the first announcement that Frank Marshall was going to edit all the footage," says Barbera. "The film was expected to land in Cannes but then, with all the problems between the festival and Netflix, that couldn't happen. So we took profit from this situation."
Accompanying the screening is a new feature documentary on Welles, They'll Love Me When I'm Dead, from Morgan Neville. Welles' partner Oja Kodar will also be in Venice for the premiere.
But Venice is not without a little Netflix controversy of its own. Italian exhibitors have complained about this year's Horizons opening title — Alessio Cremonini's On My Skin (Sulla Mia Pelle) — which Netflix acquired and will be giving a simultaneous release on its platform and in Italian cinemas. The exhibitors say this is not to their benefit.
"I personally think this is the future," Barbera says of the simultaneous release strategy being pursued for On My Skin by Lucky Red producer/distributor Andrea Occhipinti. "You have to face the fact the market is completely changing. The best experience of seeing a movie is in a theatre with an audience, no doubt about that. But I also think it's impossible to keep a conservative position in front of these new players in the market."
Thinking big
Venice has so many big-name directors in its main Competition (Mike Leigh, Julian Schnabel, Olivier Assayas, Jacques Audiard, Damien Chazelle, Luca Guadagnino, Yorgos Lanthimos, Florian Henckel von Donnersmarck, Carlos Reygadas and others) that some fear new filmmakers will be squeezed out.
Barbera resists this suggestion, insisting Venice is a festival of discovery. He points to young filmmakers in the main Competition, for example Jennifer Kent's second feature The Nightingale, her follow-up to cult horror hit The Babadook, and to the young Argentinian director Gonzalo Tobal's The Accused. Eight debut features have been programmed in Horizons and new talent is being hatched through the Biennale College, which holds development workshops and produces selected features made on a micro budget.
The Venice boss is well aware the festival selection has far more male than female directors. Barbera met the representative of the Italian branch of the #MeToo movement and explained that more than 70% of the key Biennale staff are women, and 45% of the cinema programmers are women. However, Barbera suggests programming choices are constrained by what is submitted. There are 30 female directors out of 137 filmmakers represented in the festival. "It's 22%, a small percentage," he concedes, but puts the figure in context by revealing that the festival received 1,700 submissions of feature films — and less than a quarter were directed by women. "It's bad. I totally agree we should do our best to change this situation," says Barbera.
The festival has transformed itself since the days when it was in danger of being eclipsed by Toronto and Telluride. "We were lucky enough to invite films that went to the Oscars. I'm talking about Gravity and Birdman, films that not even the studios were so optimistic about," Barbera recalls. "American distributors began to think maybe Venice is not so useless!"
With 2,000 journalists from all over the world in attendance, Venice receives far more press attention than Toronto or Telluride. And the paparazzi should be happy with Lady Gaga due on the red carpet for the premiere of A Star Is Born. Barbera is confident critics and industry delegates will find rich pickings on the Lido this year too.