Vertical Entertainment has expanded from being a US distributor focused on independent releases to becoming an international player in global day-and-date distribution. Jeremy Kay reports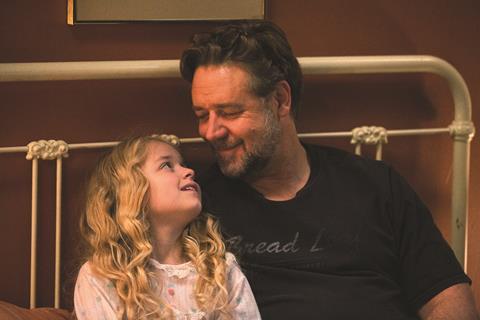 After selling Lightning Entertainment and setting up Vertical Entertainment in 2013, co-presidents Rich Goldberg and Mitch Budin have embarked on a trajectory that has taken them far from the sales agency model in which they had operated for years. The privately backed Santa Monica-based distributor built a business specialising in the US release of quality independent films such as Susan Sarandon thriller The Calling, Chris Evans-Michelle Monaghan romantic comedy Playing It Cool, and the scheduled opening in July of Russell Crowe drama Fathers And Daughters.
Working to a goal of 24 releases a year, Vertical handles the theatrical release in some cases, while in others it leverages content and retail relationships to orchestrate a day-and-date model encompassing some ancillary component. By early 2015, the partners and Peter Jarowey, Vertical's head of marketing and acquisitions and a former executive at ARC where Goldberg had served as president, spotted an opportunity to expand into global day-and-date distribution.
International expansion
"The genesis of the model was seeing third-party distributors and sales agents having a difficult time on independent titles because of the lack of [opportunities] in TV internationally," says Goldberg, noting how the rise in local production and reality programming has made TV slots scarcer. "So the ability to launch internationally gets you premium placement that will get you better performances than from bifurcated sales agents."
Premium placement comes from Vertical's relationships with the likes of iTunes and Comcast, enabling global reach through single marketing and delivery platforms often based in Los Angeles. What has also made the global expansion feel right is the withdrawal from the distribution space or the financial challenges experienced by the likes of Alchemy, Anchor Bay and eOne-owned Momentum. This has strengthened Vertical's hand as a buyer and, as Netflix increasingly snaps up global streaming rights, it has left an exploitable cluster of rights on the table such as theatrical transactional VoD and DVD.
It is a relatively tight window before a title's launch on Netflix kicks in — roughly six months after the theatrical and transactional VoD. The Vertical team, however, has taken a punt they could roll out a film theatrically and on premium digital channels in a manner that is timely and efficient. As Jarowey notes, Vertical had proved itself as a distributor of US fare and saw a cost-efficient way to cut out the middle man — a sales agent — and exploit premium digital rights via its ties to Apple, Amazon Studios, Google and Microsoft. "We're not selling to people in France," says Goldberg. "We sell to people located in Los Angeles who reach France."
They have cut a deal with financier and sales agent XYZ Films to connect with quality international distributors and augment the global day-and-date strategy. Noting that He Never Died, starring Henry Rollins, grossed $1m alone from worldwide VoD, Goldberg says the company makes its money much as it would traditionally: put up a minimum guarantee and take a distribution fee. The rest goes to the producers once costs are returned.
While the arrangement with Los Angeles-based XYZ is not exclusive, Goldberg says it feels so. The partners are working on the genre portmanteau Holidays, which went out day-and-date in mid-April the day after its world premiere in Tribeca. The slate includes Sundance pick-up Under The Shadow, a breakout Farsi-language, Tehran-set genre film from Babak Anvari that XYZ got involved with at development stage several years ago. "In our experience with international distributors and trying to find the best partners, the quality of the content we're dealing with [on Holidays means] we have identified partners in the UK [Kaleidoscope], Germany [Meteor] and Australia [Rialto]," says XYZ partner Nate Bolotin.
The partnership with Vertical has enabled XYZ to reach as many people as possible, avoiding what Bolotin calls "the trap" of an all-rights deal with the US and a complicated international sales strategy. "By aligning with Vertical and linking up with key partners internationally, we're starting to come up with a more forward-thinking model," he says. Nick Spicer, a partner at XYZ with Bolotin and Aram Tertzakian, adds: "The biggest thing we're getting from these partnerships is a big marketing push from the distributor, who knows the local audiences and can work with our [US-based marketing endeavours] to help their own efforts."
For Goldberg and Jarowey, the deal with XYZ offers links to international theatrical distributors in a way that complements the day-and-date pattern. The roster includes the Mo brothers' Headshot, starring Iko Uwais (The Raid). "We're trying to find partners who understand how to exploit content within these truncated windows and maximise opportunity," says Goldberg. Bolotin agrees. "This is the beginning of something bigger."