Dir: Fabrice Du Welz. 2007. France-UK-Belgium. 97mins.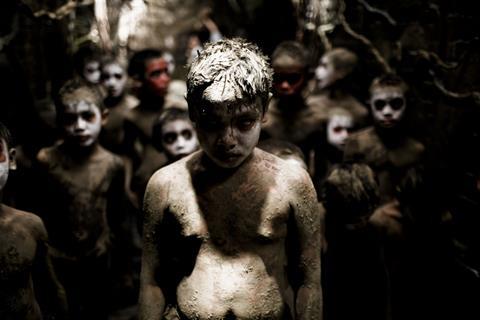 A Franco-British couple whose son is presumed drowned in 2004's Tsunami embark on a riveting and oppressive Heart Of Darkness-style journey after glimpsing a few video frames of a child who could be theirs. A stunning cinematic enterprise in more ways than one, the potent imagery and unsettling sound design in Fabrice Du Welz's Vinyan yield a memorable immersive experience about the perils of testing the law of the jungle without a lawyer.
A truly sinister primer on cultural differences, the entire film's waking nightmare quality makes Lord Of The Flies look benevolent. Violence and nudity may pose a ratings challenge in some of the many territories to which Vinyan has been sold, (including Sony in the US, Canada and Australia) but this disturbing and ravishingly shot visual and emotional adventure - screening in Venice and Toronto prior to an Oct 1 French release - deserves cult status.
Vinyan's distinct tone of rumbling unease is announced in the film's initial minutes as a pitch black widescreen image is slowly invaded by a smattering, then an onslaught, of soft focus bubbles percolating to a screeching soundtrack.
Then, like some parallel-universe Ursula Andress in Dr. No, shapely Jeanne (Beart) emerges from the water in a bikini. Her husband Paul (Sewell), standing beside their Thai beachfront bungalow, gazes at her with love tempered by concern. Paul, an architect, is in Thailand as a volunteer building an orphanage.
At an intimate fundraiser in town, guests are shown video smuggled out of Burma. Among the needy children on screen Jeanne is certain she sees her missing son, Joshua, who was almost certainly a tidal wave victim six months prior but whom she senses is still alive.
That same night, Jeanne bolts from a cab and plunges into a nightlife netherworld with Paul on her heels. Frantic, she asks right and left for Thaksin Gao, a shady character whose prostitution activities give him special access along the perilous Thai/Burmese border. A shifty intermediary offers to help the couple track down their son for a hefty fee. Paul doubts the boy glimpsed in the video is theirs but can't refuse the wife he loves.
Palms must be greased at many turns but when Jeanne and Paul finally meet the charismatic Gao (perfectly cast Osathanugrah), their hunt begins in earnest. Suffice it to say that the couple's ritual offerings at a shrine, intended to insure a problem-free journey, may have been inadequate.
Beart and Swell convince as a loving couple in turmoil, their emotions and judgement rubbed raw by the apparent death of their only child. Their white, Western take on their surroundings segues into incomprehension as they head into the tropical jungle, increasingly in over their handsome heads.
Vinyan is a considerable advance over the director's Belgium-set 2004 debut Calvaire (The Ordeal), which was unsavory to the hilt without any emotional depth to temper the escalating horror. Here, the ominous mist, overwhelming undergrowth, haunting silhouettes and clammy unease paint a portrait of people derailed by grief.
Du Welz and his DP Benoit Debie excell at finding cinematic equivalents for subjective states of being. Debie, who shot Gaspar Noe's Irreversible, (in terms of sheer womanly physicality, Beart's performance here is nearly as memorable as Monica Bellucci's was) is an ace at both fearless hand-held camerawork and intricately choreographed shots.
The title refers to confused spirits of the dead who died a bad death.
Production companies
The Film
Film4
Backup Films
Wild Bunch
International sales
Wild Bunch
(33) 1 53 01 50 20
(44) 20 7792 9791
Producers
Michael Gentile
Peter Carlton
Lizzie Francke
Screen play
Fabrice Du Welz
Cinematography
Benoit Debie
Production design
Arin Pinijvararak
Prajak Ngamsap
Music
Francois-Eudes Chanfrault
Editor
Colin Monie
Main cast
Emmanuelle Beart
Rufus Sewell
Petch Osathanugrah
Ampon Pankratok