Studios and VFX facilities are experimenting with animated and live-action virtual reality in anticipation of a new consumer mass market. Adrian Pennington reports.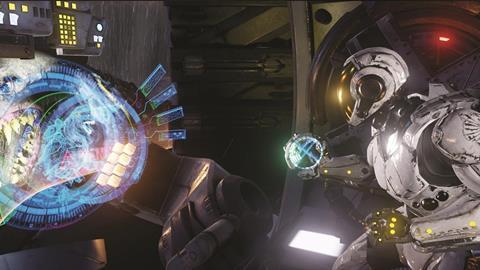 The anticipated launch of virtual-reality (VR) headsets next spring has created a feeding frenzy in Hollywood. It is founded on a belief in VR's potential as a new mass entertainment medium. In early 2016, Facebook is set to debut VR device Oculus Rift while Sony will bow Morpheus, a VR headset for PlayStation 4. This Christmas, game developer Valve will launch its own visor-style, head-mounted display called Vive. While smartphone-based Samsung Gear VR (co-developed with Oculus) and Google Cardboard are already on retail, the new entrants to the market will work from a PC and are expected to deliver the next level in virtual experience.
"As we understand more about storytelling in VR, the length of pieces will expand."

Paul Raphael, Felix & Paul
Whether consumers will take to them is the million-dollar question. But with forecasts of 171 million users worldwide by 2018 and the prospect of two billion existing smartphone owners who could be enticed to buy a VR accessory, studios are not about to wait for the tech to scale.
"Even a small percentage of [2 billion users] is a big market," says Cliff Plumer, the former Digital Domain CEO and Lucasfilm chief technology officer who is now president of virtual reality tech company Jaunt Studios. "VR for mobile is a static experience, but the incoming technologies will give a much more immersive feel that will give creatives many more options. The key to mainstream adoption is to produce enough content that people will come back for more."
"This is a pivotal point in VR's development," echoes Dale Carman, founder of VFX and VR facility Reel FX. "It is not a fad."
While VR's natural early home lies with computer games, it is also being eyed as a live-event platform by the broadcast and sports communities. The initial interest from Hollywood has been as a marketing tool, with studio marketeers latching onto VR as a shortcut to publicity for theatrical releases including The Hobbit, Interstellar and How To Train Your Dragon 2. Reel FX delivered VR campaigns for Legendary Pictures' Pacific Rim and Lionsgate's Insurgent. 20th Century Fox commissioned VR promos for Wild, The Maze Runner and The Book Of Life through its tech incubator Fox Innovation Lab. Future titles on Fox's slate, such as War Of The Planet Of The Apes and James Cameron's Avatar sequels, are obvious candidates for a VR companion.
"The next two to three years will see the creation of an ecosystem for VR content to be distributed, bought and consumed by viewers," says Felix Lajeunesse, co-founder of Felix & Paul Studios that produced the Wild VR promo. "Right now, there are no models to generate revenue, so it makes sense for budgets to come from hardware manufacturers who need to seed the market with content or from marketing, where VR serves an immediate purpose."
"I don't think anyone's ready, creatively or technically, to produce a two-hour [VR] film."

Felix Lajeunesse, Felix & Paul
Recent examples include a VR promotion for Disney/Marvel's Avengers: Age Of Ultron. The CGI short was delivered by the New York branch of UK VFX house Framestore and commissioned by Los Angeles-based ad agency 72andSunny. "Event-based and marketing campaigns are a way to turn heads but are not the future of VR," says Mike Woods, Framestore's head of VR.
DJ Roller, co-founder of virtual reality tech firm NextVR, agrees: "VR trailers and marketing promos are a powerful tool but are not the highest use of the medium." Nor is using VR as a vanilla distribution platform for cinema releases. Users of online stores such as Samsung Milk can choose to stream ad-supported or free content, including full-length features in 2D or 3D, in a virtual theatre viewed through a headset. "Playing back movies can offer a more immersive 'cinema-style' environment when you are on a plane, for example," says Woods. "But it doesn't remotely stretch VR as an art form."
Comparing the shorter duration of VR content to feature releases also misses the point, according to advocates. "A VR piece may be two minutes long but since it doesn't play linearly like a film, you could, if the experience is good enough, immerse yourself in that environment for hours," maintains Lajeunesse. Felix & Paul recently released a nine-minute VR for Cirque du Soleil and is currently working on a 20-minute non-fiction experience. "As we understand more about storytelling in VR, the length of pieces will naturally expand," says Felix & Paul co-founder Paul Raphael.
Other reasons cited for the current short-form nature of scripted VR include the need to educate users about what to expect. "VR delivers such an intense emotional experience - because you are placed within the scene - that it will take time for people to get used to it," says Woods. "As they do, their acceptance of longer content will grow."
Another factor, which will also evolve with time, is the limited capacity of smartphones and internet connections to stream or store the video. "I don't think anyone's ready, creatively or technically, to produce a two-hour film, let alone spend that time watching it," says Lajeunesse. "One interesting idea is to create a series of episodic or bite-sized content that builds into a larger whole."
Taking notice
By dabbling in VR promos, studios such as Fox will also be working out how they can maintain a stake at the table, should VR becomes a viable content platform. With technical expertise in the hands of VFX houses and VR kit developers, there is nothing to stop their suppliers from striking out as independent content producers. Carman likens the situation to the impact YouTube made on video distribution. "The arrival of technology like [Oculus] Rift has democratised VR," he says. "It means we can go straight to Samsung, Google or Oculus and make this content available."
Virtual-camera maker Jaunt, which is backed by Google and Sky, spun off content arm Jaunt Studios after recruiting Cliff Plumer and ex-LucasFilm COO David Anderman to take charge of the offshoot. VFX and 3D conversion studio Legend3D launched a VR division in February and announced that it had partnered with feature film studios. As for Oculus, it tapped Pixar Animation creative and technical directors Saschka Unseld and Max Planck to head up Oculus Story Studio. Lost, the first of five short films slated for 2015, debuted at Sundance Film Festival in January.
"[VR] is set to be the most powerful medium we've ever seen outside of live performance."

DJ Roller, NextVR
"Our focus is to conceive, write, present and distribute our own content," says Woods of Framestore's VR ambitions. The company is drawing on the interactive storytelling skills of computer-game writers, with Woods citing "a huge appetite among consumers wanting to lead their own story in a wider constructed story arc".
Relationships and contracts with key actors will give studios a valuable card to play. "There are opportunities for studios to create new content around an existing intellectual property as a specially designed piece of VR rather than a bolt-on trailer," says Roller. "Other content might include virtual face-to-face meetings with a favourite actor."
Unsurprisingly, VR has caught the attention of high-profile producers and A-list talent. Mandalay Entertainment founder Peter Guber is an investor in NextVR while Maleficent director and VFX supervisor Robert Stromberg is developing a VR slate for start-up The Virtual Reality Company, which also boasts Steven Spielberg as a board member. This month, Google released live-action VR short Help, shot by Star Trek 3 director Justin Lin, and Ridley Scott is reportedly planning a VR complement to his 20th Century Fox-backed science-fiction adventure The Martian. "The onus," says Plumer, "is on creatives to push VR further and make it compelling for studios to invest more capital."
While film-makers such as Scott, Stromberg and Lin are clearly intrigued by the possibilities of VR, mastering the storytelling side of the medium represents a substantial leap. "Being a master storyteller in one form doesn't necessarily transfer to VR," warns Carman. "In fact, it may be an obstacle. You need to dedicate yourself to the medium and set aside everything you've learnt."
Meeting the medium
Most exponents dislike the term 'Cinematic VR', arguing there is nothing conventional about a medium in which the rules of content creation and experience need rewriting. "None of the old rules apply, from editorial to staging," says Lajeunesse. "A cut in VR is disorienting. To move the camera in VR is to move a viewer against their will. You have to justify every cut and movement and you have to recalibrate the drama to allow space for the viewers' imagination."
Even the production technology itself is still in an experimental stage. The camera rigs are prototypes, the picture-stitching software is primitive, the rendering of data from up to 16 cameras is slow and professional-grade monitors to view material in 360-degrees do not exist. Overall, production is playing catch-up to consumer technology. The new wave of headsets bring eye tracking and voice control, while Morpheus integrates the PS4's Play 'wands' so viewers can interact with the environment. Live social interaction with 'friends' within the virtual world is another focus and a key component to Facebook's interest in Oculus Rift, which it acquired last year for $2bn.
So different is the VR experience believed to be that the mixed reception the industry received from its gung-ho approach to stereo 3D is being brushed aside. "First-generation VR will be viewed in time like the first brick cellphone," Roller predicts. "Technology coming down the track will ultimately be like a pair of glasses. It is set to be the most powerful medium we've ever seen outside of live performance."
Going Wild: Experiencing the VR short for the Reese Witherspoon vehicle
According to Felix Lajeunesse, the three-minute VR short his company Felix & Paul made for Fox Searchlight's Wild "blurs the boundaries" between conventional trailer and original VR experience. Viewers finds themselves on a tree stump in a forest, watching and listening as Reese Witherspoon's character Cheryl Strayed (on whose bestseller Wild is based) walks up and sits on a nearby rock without acknowledging their presence. The camera remains static but allows the viewer to look in any direction.
"The intention is to give the viewer the sensation of being present," says Lajeunesse. If the viewer looks in one direction, they will see Laura Dern (who plays Strayed's mother) and be able to eavesdrop on their conversation. This only happens, however, if the viewer obeys certain audio cues (eg, Dern's voice coming from their right) and turns accordingly to look, with Dern triggered to appear by head-tracking sensors in the Samsung Gear VR.
Since everything in a live-action VR shoot is in shot, the crew hid 50 feet away behind a rock during filming, while the camera rig was digitally removed in post-production. To keep equipment to a minimum, only natural lighting was used. "This was the first time either actress had been filmed entirely alone on set," says Lajeunesse. "The moment they shared contributes to the intimacy of the piece."