How does a producer decide on what content to focus in a region as diverse as Asia? It's about quality not quantity, says WarnerMedia Entertainment Asia Pacific's Jessica Kam.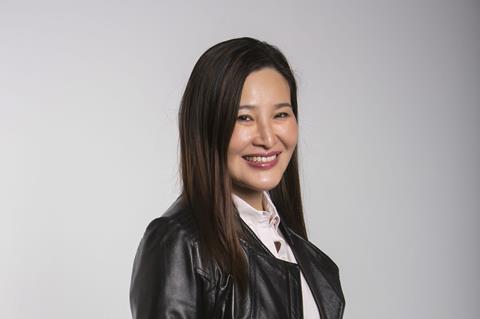 Jessica Kam is relishing her new role at WarnerMedia Entertainment Asia Pacific. As part of the company's restructuring in the region, which involved the merger of HBO Asia and Turner Asia Pacific, she was appointed head of original Asia productions for the company's entertainment pillar.
At the recent Asia TV Forum in Singapore, Giorgio Stock, WarnerMedia Entertainment's president, EMEA and APAC, revealed how the company is planning to significantly ramp up its slate of Asian originals. Much of the responsibility for that will fall to Kam, who was previously senior vice president, original production, at HBO Asia.
Kam has already been involved in a string of successful HBO shows, such as Chinese-language drama The Teenage Psychic, action fantasy series Halfworlds and anthology series Folklore and Food Lore, which tap into the region's unique ghost stories and cuisine. These shows have all found audiences across the region and some have also played on HBO channels in Europe and the US.
Next to drop are the third season of Halfworlds, which marks HBO Asia's first production in the Philippines, and 6x30-minute drama series Invisible Stories, about the residents of a public housing estate in Singapore.
Travelling tales
Kam says she has two criteria when sourcing projects: content that can travel outside its country of origin and strong storytelling.
"It doesn't have to be in English in order to travel. When a story is told well, it can transcend boundaries. But usually I look for a clear genre — horror, action. Content that is less language intensive tends to travel better," she says. "Of course, the core is to tell a good story, so finding the right scriptwriters to develop it and the right teams to execute it. Our focus has always been to do premium content rather than compete on quantity."
It puts WarnerMedia on a different track to some of the global and regional streamers that have approached Asia by producing as much content in as short a time frame as possible, in a bid to draw in viewers — often with mixed results. Kam points out that with the huge proliferation of platforms in the region, strong positioning of content has become more important than ever. So while the content mix will broaden, now that Kam's remit includes all of WarnerMedia's Asian originals, this doesn't mean she will start chasing millennials with 30-second videos.
"But the fact is we're now part of this bigger family, so that will help add diversity to our offering," she says. That offering will be available across both linear and on-demand platforms. WarnerMedia hasn't said if its new streaming service, HBO Max, will be launched in Asia, but it already has OTT service HBO Go available in six Asian territories.
Kam acknowledges that while there is a huge amount of creativity and no shortage of stories in Asia, the region still lacks expertise in concepts such as showrunning and developing content across eight to 10 episodes. But she believes that by enabling talent and allotting enough time for development, the region will soon catch up.
"Talents just need the chance to try things out," she says, citing the Singaporean creator of Invisible Stories, Ler Jiyuan, as an example. "He wrote three episodes of [HBO Asia period drama] Grisse and can also direct. We spotted his talent, so when he pitched me a show I had more confidence he can deliver. Also he was pitching a show within his capacity, not overly ambitious and based on people he knew in his neighbourhood — the characters we see but don't notice, like an Indonesian helper falling in love with a construction worker from Bangladesh. So the show has a strong local taste but something that connects."
Local-language content
When HBO Asia first moved into originals in 2012, it focused on English-language shows such as Grisse and 1960s-set drama Serangoon Road, but has since changed direction towards local-language content.
"We just felt that was more authentic to Asia as not too many people's first language is English," says Kam.
Reflecting the realities of the region, the slate also includes multilingual content, such as Invisible Stories and upcoming feature film The Garden Of Evening Mists, a co-production with Malaysia's Astro that has dialogue in English, Cantonese, Japanese and Malay. But Kam insists that language and nationality are not determining factors in what she will produce.
"My objective is good content coming out of Asia, so anything that has the potential to travel with good storytellers behind it, I would consider it," she says.