It took more than a decade of perseverance, smart team-building and market evolution to bring an Elton John musical biopic to life. Director Dexter Fletcher and producers David Furnish and Matthew Vaughn speak to Screen about achieving lift-off for Rocketman.
Following the remarkable $900m worldwide cinema gross for Bohemian Rhapsody, it feels an auspicious time to be releasing Rocketman. Director Dexter Fletcher's biographical musical about the life of global rock and pop icon Elton John premieres out of competition at Cannes Film Festival on May 16, before Paramount Pictures starts rolling out the film internationally beginning with the UK on May 22.
Had the filmmakers attempted to make the project in today's market, it is easy to imagine backers would be quickly forthcoming. But this was far from the case when Rocket Pictures, the production company run by Elton John and husband David Furnish, embarked on the journey more than a decade ago.
The project began with photographer-turned-filmmaker David LaChapelle attached as director (his credits include music videos for Christina Aguilera and Britney Spears). LaChapelle helped to create John's Red Piano residency at Caesars Palace Las Vegas beginning in 2004, and also directed the video for his 2001 single 'This Train Don't Stop There Anymore', which featured singer and actor Justin Timberlake as a younger, 1970s-era version of the musician. "We felt David had such an uncanny ability to drill into the visual authenticity, particularly of Elton's early years," explains Furnish. "We were really excited."
Having started developing a screenplay with LaChapelle, Rocket then brought on Lee Hall, with whom they had collaborated on the stage musical of Billy Elliot, for which John wrote the music and Hall the lyrics and book. "When we have a great experience with someone," says Furnish, "we feel they understand what we're all about and we love to collaborate with [them again]."
When LaChapelle later dropped out ("He wanted to focus on his fine-art career — pursuing the film wasn't really aligned with his interests," explains Furnish), Rocket attached Michael Gracey, who had a background in visual effects, animation and music videos but had yet to direct a feature at that point. "Michael did some additional script work with Lee, and we kept Lee in the mix the whole time," says Furnish.
However, as Rocket reached out to potential financing partners, the producers soon found their vision for the film — a scripted musical in which characters break into Elton John songs that advance the narrative, rather than a conventional rock-star biopic — was misaligned with the marketplace at that time. "We couldn't quite ever get the pieces of the puzzle to fit," says Furnish. "Elton's vision for the film was always that it was larger than life, and that it was a fantasy. And fantasy filmmaking takes a bigger budget. It wasn't since Moulin Rouge! [in 2001] that there had been [a musical] that ambitious in cinematic terms, plus Michael was a first-time director and we were R-rated, because Elton wanted the film to be very bold and very honest.
"We didn't want to compromise the fact we felt it had to be hard-hitting and truthful," Furnish continues. "I think we would have got a lot more interest at the higher-budget levels if we'd been willing to produce a more sanitised version of Elton's life story. That never appealed to Elton — his life has had incredible moments of lightness but also moments of real darkness. We wanted to be very honest about those and not gloss them over. When you throw all those things into the mix, it was really difficult; people kept wanting the film to be made for a lower budget level."
Over the course of "many years", Rocket Pictures developed the project, with Gracey departing to make The Greatest Showman. But time was suddenly pressing, because Furnish wanted the film to land during John's farewell tour (2018-20). At this time, the singer was shooting his scenes for Matthew Vaughn's Kingsman: The Golden Circle, and Rocket now turned to Vaughn.
"Matthew and I have been friends for many years, and I've always really respected him as a filmmaker, and also been very attracted by his production company Marv," says Furnish. "The way he set himself up as an independent, British-based producer, terrific experience, great creativity, very, very well-resourced. If you look at Matthew's films, he's a great lover of contemporary music, and I love the way he mines pop catalogues in his films."
Vaughn's response was immediate: "I was excited by the R-rated side of it, and the warts-and-all approach, and the celebration of such great music, and beautiful writing by Lee Hall. I felt, I can't believe this hasn't been shot."
Vaughn wanted to direct Rocketman, but as he explained to Furnish, "I just didn't have the time, and I didn't feel comfortable removing Michael Gracey either, it's pretty shitty behaviour." Even with the departure of Gracey (who retains an executive producer credit on Rocketman), Vaughn was too focused on the third Kingsman film — prequel The Great Game — and offered himself instead as producer partner. "I promise that we'll be filming in six months," he told Furnish.
Casting Elton John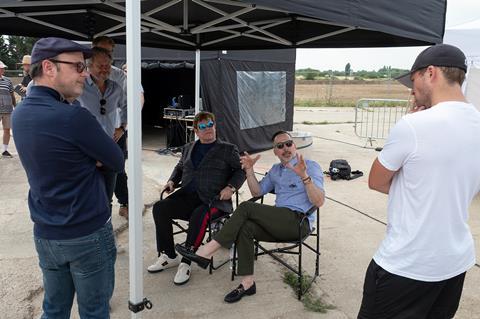 Back in October 2013, Rocketman had been announced with Tom Hardy in the lead role, in a version of the film co-financed by Len Blavatnik's AI Film, with Focus Features as US distributor. While this iteration never came to pass, Hardy remained attached. The 41-year-old actor, by his own admission, is no great singer, and the plan was that he would lip-synch the significant singing portion of the film.
Vaughn was not convinced. "I love Tom Hardy, but Tom's probably got too old for the film," he says. "And then I was naive enough to say people would never watch a movie where the lead actor was lip synching — cut to Bohemian Rhapsody, boy was I wrong."
Furnish adds: "If you really want to bond with the character emotionally, to have them genuinely sing the music was going to be the ultimate goal. But of course the actors that have that skillset are few and far between."
Vaughn, however, had what he calls "a secret weapon" — his Kingsman star Taron Egerton. "I knew Taron could sing," says the filmmaker. "I knew Taron's audition piece for RADA was [John's] 'Your Song'." Egerton also voiced a character in the Illumination Entertainment animation Sing, released in 2016, performing a version of John's 'I'm Still Standing'. "I think that was the universe sending a little message," says Furnish. "Everything just magically aligned at that point."
Next came financing, which proved more complicated than Vaughn had anticipated. While Marv took over all the development and pre-production costs, the tricky part, says Vaughn, boiled down to the fact Rocket had gone down the very independent route and pre-sold multiple territories. "I said I wasn't interested in that," he adds. "Life's too short for dealing with thousands of different distributors. So then we had to get all the rights back and clear up the chain of title, and that took a lot longer than I thought."
Although in the past Marv has worked with US partners such as 20th Century Fox, it has traditionally structured its films as independent productions, retaining significant rights. With Vaughn already substantially committed to the production of The Great Game, he took a different approach to Rocketman. "Suddenly I got nervous of having that much capital in two movies at the same time," he explains. "I said to David and Elton, 'I think I need a partner on this, because I've never done a musical before.' I wasn't as confident as I normally am, or arrogant or stupid or brave or whatever it is I am."
The producers now turned to Paramount Pictures, which former 20th Century Fox chairman Jim Gianopulos joined as chairman and CEO in March 2017, bringing in Wyck Godfrey as head of production. According to Furnish, Gianopulos had "always loved this project" when at Fox, while Vaughn adds: "He was a big supporter of mine on Kingsman. I think Kingsman opened his eyes to the idea R-rated does not necessarily mean smaller box office." The Paramount boss was willing to roll the dice on the version that John, Furnish and Vaughn wanted to make (Paramount's co-financing partners New Republic Pictures also came on board).
By this time, Dexter Fletcher, who had directed Egerton in Marv's biographical comedy-drama Eddie The Eagle, and whose long acting career includes the Vaughn-produced Lock, Stock And Two Smoking Barrels, was attached as director. Rocketman would be a step up in scope, scale and budget for Fletcher, but Vaughn did not have concerns. "As long as you've got the right people around you, whether it's two people in a room or a thousand people in a stadium, it's still storytelling and a camera and actors," he says. "Dexter is fantastic with actors, and anything he didn't know about, I said, 'Don't worry, I'm here to help.' He learns quickly and he was ready."
Speaking to Screen International in the London post-production offices of Rocket­man, Fletcher recalls landing the directing gig. "I actively went after it," he says. "Matthew made me work for it, which is right, he wanted to know I was committed." The director presented his ideas to Furnish and John, who approved the appointment.
Once hired, Fletcher settled down to create his own pass on Hall's screenplay, which tells the story of musical prodigy Reginald Dwight growing up in the north-west London suburb of Pinner in the 1950s and 1960s. Reinventing himself as the progressively more outlandishly attired Elton John, he forges an enduring songwriting partnership with Bernie Taupin, embarks on a love affair with his manager John Reid, then flames out with drugs and alcohol until finally entering rehab in the early 1990s. Egerton has described the film as, at its heart, "a love story between Elton John and Bernie Taupin".
Building the fantasy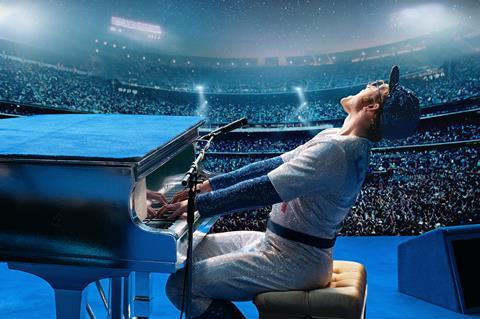 In the screenplay, Hall had created a framing device in which John tells his story from the perspective of rehab. It was an idea Fletcher enthusiastically embraced, citing the fact personal recollections are always "fallible". "It opened up the whole fantasy element," he says. "In recounting the stories, in looking back through a lens that's fogged by drugs and alcohol abuse, then it becomes something more magical or imagined, and that really excited me. That was something I took and ran with."
Fletcher also wanted to take some of the musical numbers into more ambitiously fantastical directions. For example, when the young singer heads to California to play his first ever showcase at famed West Hollywood music venue the Troubadour, both John and the audience literally levitate during his performance of the song 'Crocodile Rock'.
Fletcher knew the film's production budget but "I didn't let that restrict me in the first place. I went full-out, hell-for-leather, because it warranted that, and then I let the number crunchers and people who are smarter than me work that. And then when they came to me with that look in their eye, this sequence here, [we would have to consider], 'Is there another way?'"
Over a period of several months, Fletcher attended script meetings with Paramount's Godfrey, Elizabeth Raposo and Jon Gonda, and Vaughn's regular producer partner David Reid. He characterises Paramount's input as "always supportive" with "great notes and great ideas, that I gladly commandeered and took as my own". Hall made himself available and approved Fletcher's changes, says the director: "Lee was very generous in that way. Lee took it up and read it and gave his blessing."
It was at this point that Fletcher's career took an unlikely detour, when he was drafted in to rescue production of 20th Century Fox and New Regency's Bohemian Rhapsody. Fletcher took over the Freddie Mercury biopic from director Bryan Singer in late December 2017, wrapping at the end of January 2018, and staying with the edit and post-production until April 1 — the date he had agreed with Vaughn he would return to Rocketman.
As the film geared up for a summer and autumn shoot, the cast rounded out with Jamie Bell as Taupin, Richard Madden as Reid, Bryce Dallas Howard and Stephen Graham. The scale of the film and the musical sequences required extensive pre-production, including six weeks of dance rehearsals, with cameras finally rolling for the 12-week shoot in August 2018.
Much is now riding on the outcome — for a newly revitalised Paramount under Gianopulos, for Fletcher, helming his first big-budget film, but also for Rocket Pictures, which has yet to make a serious mark in live-action filmmaking, having achieved its biggest successes with animations Gnomeo & Juliet and Sherlock Gnomes.
As Vaughn sees it, Furnish has not yet been accorded the respect as a producer talent that he deserves. "Furnish and I were a really good team," says Vaughn. "He doesn't know the film business as well as I do, and I don't know musicals and that world as well as he does. He knows his stuff. He surprised me in the edit — his notes were spot-on, on a technical level. David has been the best producer partnership I've ever had. I'd love to work with him again, which is quite rare for me."