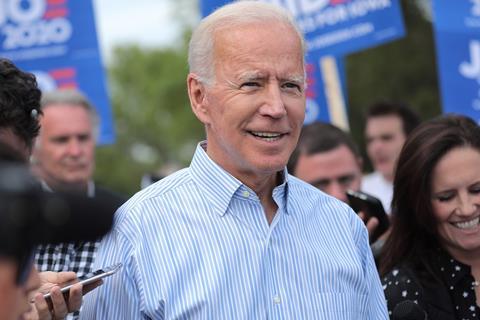 When the administration of US president-elect Joe Biden takes over from Donald Trump early next year, it is expected to give a relatively sympathetic hearing to the concerns of the US film and TV industry.
But Hollywood will not necessarily get its way on all the issues. With traditionally Hollywood-friendly Democrats in the White House, "there are issues that will be resolved differently and conversations that may or may not be more comfortable," says Jean Prewitt, president and CEO of the Independent Film & Television Alliance (IFTA).
"But our industry employs people in every state in the country, both red and blue," Prewitt adds. "It's not a one-party industry."
Pandemic crisis
The most pressing concern for the industry is "getting a handle on the virus," says a leading Hollywood PR executive. "That's the key to both the industry's own activities and to people being able to consume content outside their homes, which is paramount to all of us."
Biden is expected to be more proactive than his predecessor on that front. Even before taking office he may try to push US Congress into finally agreeing on an economic stimulus plan – a plan for which US cinema operators, for one group, "cannot wait," according to the National Association of Theatre Owners.
Biden's political track record may provide clues to how his administration will handle longer term issues relevant to the industry. Also crucial will be the new president's ability to appoint majorities at government agencies such as the Federal Trade Commission and the Federal Communications Commission (FCC).
The office of the US Trade Representative - where Biden's transition team includes an executive from the Directors Guild of America (DGA) - will take the lead on talks about the US-China film agreement.
The agreement was negotiated in 2012 by Biden as Barack Obama's vice president, and Xi Jinping, who was China's vice president at the time. However its implementation was interrupted by the Trump administration's trade war with China.
Now, says IFTA's Prewitt, "we would like to see that picked up again."
Piracy, net neutrality, tax incentives
Piracy is another area Biden dealt with as Obama's second in command, and a DGA spokesperson says his administration and Congress "must address the rampant illegal and unlicensed exploitation of our films and TV programmes on the internet".
On the issue of net neutrality, some industry interests are hoping that a Democratic-majority FCC might reinstate the 2015 Open Internet order that was repealed by the then Republican-majority agency in 2017.
Most US film and TV tax incentives are state-based and beyond the control of the federal government, but industry watchers suggest that if a stimulus bill provides broad financial aid for pandemic-hit states it could indirectly help those states maintain their incentive programmes.
Areas in which Biden administration policies might not favour Hollywood studios include antitrust and media consolidation – mega mergers along the lines of Disney-Fox and AT&T-Warner could face more scrutiny from now on – and corporate taxation.
Biden's campaign plan called for the corporate income tax rate, reduced to 21% under Trump, to increase to 28%, and for a minimum levy on companies' foreign earnings.
Increasing diversity in the film and TV industry is an area that could be a focus for Biden's vice president-elect Kamala Harris, who will become the first female and the first African American and South Asian to hold that office.
Harris, born in California and a former US Senator for the state, could prove to be an invaluable Washington contact for Hollywood.
Though Biden has not tapped into the 'Hollywood ATM' as much as previous Democratic candidates like Barack Obama and Hillary Clinton, Harris has had fund-raising support from industry names such as Watchmen creator Damon Lindelof and Universal film group chairman Donna Langley.