As Israel Film Fund chief Katriel Schory prepares to retire after 20 years at the helm, Screen asks where the industry he helped nurture is heading.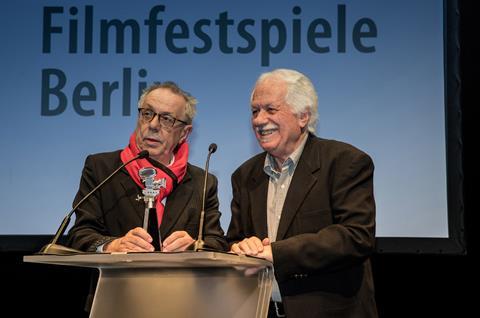 It has been a tumultuous three-and-a-half years for the Israeli film industry as it has fought attempts by the right-wing minister of culture and sport Miri Regev to seize control of the country's autonomous film funds and censor the types of features getting state support. But the industry is now breathing a collective sigh of relief after Regev's effective departure, following her decision to hit the campaign trail ahead of the country's snap general election on April 9 (Regev, a member of the ruling Likud Party, has reportedly set her sights on a bigger ministry and is not expected back).
The film industry is now assessing the extent of the damage she left in her wake. Israel Film Fund (IFF) chief Katriel Schory — one of Regev's most vocal critics — says it could have been worse. He likens her reign to "a hurricane that passed through but in the end didn't leave that many victims".
Regev's main legacy will be an amendment to Israel's 2001 Cinema Law that puts the ministry of culture in charge of the pool of readers assessing projects submitted to the funds. Under that 2001 law, roughly $22m (ils80m) of state funding is divided between six autonomous film and TV funds, with some of the money also going to festivals and small cinemas.
The funds previously recruited readers and selected grantees without state interference. Giving the ministry of culture control of the readers was seen as an attempt to influence funding decisions in the future. According to Schory, difficult parliamentary lobbying by the film industry led to the watering down of the requirements to be part of the pool to such an extent that every member of the film industry now fits the bill. "There will be a pool of some 200 film professionals from which the funds can draw. It's a terrible amendment but we've managed to dilute its impact," he explains.
Less clear is when the amendment will be enforced and, more importantly, what will happen to the $22m of state funding. The IFF previously received around $6.3m (ils23m) each year but, prior to her departure, Regev set in motion a move to reconfigure how state film funds were shared out. The industry is now seeking clarity on where these plans stand.
Fickle funding
Regev made a last-ditch attempt to get her so-called "cultural loyalty law" through parliament before it went into recess in late December — but failed. Under the proposal, creative works criticising symbols of the State of Israel, such as its army, would have lost funding.
Not everyone is in agreement with Schory's damage assessment. Some feel that while Regev was unable to overhaul Israeli cinema wholesale, her public criticism of films such as Samuel Maoz's Venice International Film Festival winner Foxtrot and threats to remove funding from cultural initiatives that did not tow a positive, pro-Israel line will have a lasting impact. "It's complicated," says producer Eitan Mansuri at Spiro Films. "We're in the fog, it's hard to say where things will go. The damage has been done. It's not just the things she changed physically, like the amendment, it's also psychological."
Mansuri, who is in Berlin as lead producer of Yuval Adler's Golden Bear contender The Operative and Nimrod Eldar's Panorama title The Day After I'm Gone, suggests Regev's actions have encouraged a degree of self-censorship in the industry. "There's a risk producers and funds won't want to take on sensitive topics that could be problematic," he says, adding that Regev's legacy is part of a wider political situation in Israel. "Miri Regev is not a standalone thing. It's the general situation in Israel — we're at the end of an era. The liberal era of humanity has gone, not just here but everywhere."
The biggest unknown, however, is who will win the elections and in turn who will be the new minister of culture. Up until the end of January, opinion polls suggested prime minister Benjamin Netanyahu was on course for victory in April. However, this dynamic has changed following the recent entry of former Israel Defense Forces chief Benny Gantz into the election race as a centrist candidate with a brand-new party called Israel Resilience.
Schory's departure
Against this backdrop, the other major development facing Israel's film industry in the first half of 2019 will be the departure of Schory as the head of the IFF after two decades in the job. He announced his departure at the end of 2018 and a new candidate is expected to be appointed after Berlin, although Schory will stay on for a transition period.
An architect of the 2001 Cinema Law, Schory was a driving force behind the renaissance of Israeli cinema on the world stage, after a period in the doldrums in the 1990s. He has also become Israeli cinema's de facto international ambassador.
While Israeli cinema professionals generally agree the arrival of "fresh blood" is not a bad thing, they are unanimous about the fact that Schory leaves behind big shoes to fill. "Katriel is the face of the Israeli film industry around the world," says Saar Yogev of Black Sheep Film Productions, who is in Berlin with Panorama title Chained. "Everybody knows him. He has opened so many doors."
Gal Greenspan at Green Productions — best known internationally for films such as Freak Out, Youth and Scaffolding — says: "He was effectively fulfilling two roles, running the fund and promoting Israeli cinema worldwide. It's hard to see who can replace him."
Greenspan also notes Schory's matchmaking activities. There is hardly an Israeli producer under the age of 50 who has not benefited from Schory's extensive network at some time in their career. Mansuri recalls his first trip to International Film Festival Rotterdam in 2012 as a participant of CineMart's Rotterdam Lab event, aimed at emerging producers, attending with the low-budget drama The Cutoff Man.
"It was a small film produced with no money. I went to Rotterdam, looking for a sales agent and to position myself in the market. I didn't know anything or anyone. I didn't know how to start," he says. "Katriel told me to meet him at the beginning of the producers' breakfast. He literally took me by the hand and walked me around the breakfast, introducing me to everyone and then spent two full days with me, connecting me with the industry."
A lasting legacy will be the countless co-production deals Schory spearheaded around the world. "They have been a game-changer for Israeli cinema," says Greenspan. "If you look at the actual money being invested in Israeli cinema, the amount coming from outside is almost equal to that coming from inside."
Schory's successor faces multiple challenges, topped by securing more funding for cinema and getting local broadcasters — who have largely abandoned cinema in recent years — to invest again. "Competition for funding in Israel is crazy and even when you get public funding, it's not enough to make a film," says Yogev. "Not having the broadcasters is a headache."
But perhaps the biggest challenge will be maintaining the funds' independence in the face of future government or commercial pressures. "What we need is someone who stands by the Israeli film industry, and doesn't pander to government or commercial forces," says Greenspan.
Mansuri, meanwhile, hopes Schory will not make himself absent from the Israeli cinema world altogether. "It will be a sad day when he leaves," he says. "I hope he sticks around at least on the international arena, to keep match-making and opening doors in these difficult days."
Israeli cinema at the Berlinale
Israeli cinema is out in force again at the Berlinale this year. Nadav Lapid's semi-autobiographical, Paris-set tale Synonyms and Yuval Adler's spy thriller The Operative, starring Diane Kruger as a Mossad agent operating in Tehran, are both premiering in Competition. A further three films directed by Israeli filmmakers are screening in Panorama: Nimrod Eldar's father-daughter drama The Day After I'm Gone, Yaron Shani's Chained, about a police officer falsely accused of abusing a minor, and Guy Nattiv's redemption tale Skin, starring Jamie Bell as a reformed white supremacist. Fauda creators Maria Feldman and Leora Kamenetzky's spy thriller False Flag 2 screens in the Berlinale Series programme.
The festival is also holding a special retrospective tribute, bannered 'Scarred Generation, in honour of the Jerusalem Sam Spiegel Film School, which marks its 30th anniversary this year.
At the EFM, three upcoming projects — Shira Geffen's A Responsible Adult, Rotem Kaplinsky's Kullu Men Allah and Dana Modan's The Property — are being presented at the Berlinale Co-Production Market.