Dir. Andreas Dresen. Germany, 2009. 108 min.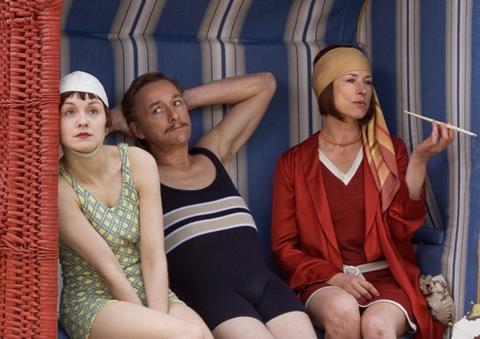 Following on from his arthouse hit Cloud 9, Andreas Dresen, one of Germany's better known directors, attempts a comedic satire on film-making in Whisky With Vodka. Tracing the conflicts and jealousies which take place on the set of a period situation comedy, Dresen comes pretty close to achieving his goal but doesn't quite deliver the irony, insights or pain required.
Popular, older, heavy-drinking actor Otto (Hubchen) is forced to accept a double (Hering), with the threat that he'll take over the part if Otto doesn't toe the line. Otto once had an affair with his co-star Bettina, (Harfouch) now married to hypocritical director Telleck (Groth). This gives rise to further complications.
Whisky With Vodka presents romantic entanglements on- and off-screen, musings on the quality of acting and thespian insecurity, reflections on old age and the approach of death. All the ingredients, in other words, for a German Day for Night, but none are sufficiently sharp or pertinent to generate any kind of emotion or curiosity about the characters.
Thanks to high-class technical credits all the way through, and professional though rather impersonal performances by an experienced cast, Dresen's film may well enjoy a decent theatrical release, particularly in German-speaking markets. It is likely to settle best in the digital marketplace, however.
Production Company
Senator Film Produktion
Producer
Christoph Muller
International Sales
The Match Factory
+ 49 221 539 709-0
Screenplay
Wolfgang Kohlhaase
Cinematography
Andreas Hofer
Production design
Susanne Hopf
Editing
Jorg Hauschild
Main cast
Henry Hubchen
Corinna Harfouch
Sylvester Groth
Markus Hering
Valery Tscheplanowa