Walt Disney and Pixar between them have won nine of the last 10 animated feature Oscars — but the twin studios face some serious competition from rival players for the prize this year. Screen surveys the contenders.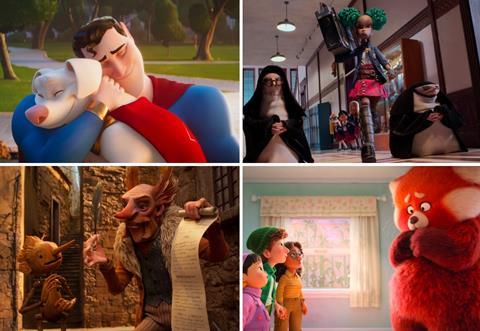 Big-name studios and big-budget computer­animated films have dominated the best animated feature Oscar race ever since the category was established 21 years ago, and the same is true of the equivalent category at the Bafta Film Awards, first awarded in 2007 (to Happy Feet).
Over the past decade, in particular, CG pioneer Pixar has scored eight nominations in the Oscar category and five wins, most recently in 2021 for Soul. Walt Disney Animation Studios, Pixar's sister operation since 2006, has claimed nine nominations and four wins, most recently with last year's Encanto.
But this year things could change. Because while Pixar and Disney both have strong CG contenders in the animated Oscar field, other kinds of films from other companies are very much in the running.
Netflix, which up to now has scored just three nominations in the Oscars' animation category (including last year's The Mitchells Vs The Machines), has at least five strong contenders this year. A24, whose live-action films have lately been awards magnets, will be hoping for its first animation nod. And Apple will be looking for its second nomination with the debut project from its new animation partnership.
Two of this year's leading contenders are flying the flag for stop-motion animation, a technique that has produced only one previous winner in Aardman Animations' 2005 classic Wallace & Gromit: The Curse Of The Were-Rabbit.
Guillermo del Toro's long-in-the-works version of Pinocchio for Net­flix is the deepest dive into animation yet by the Mexican genre maestro (a personal double Oscar winner for his live-action The Shape Of Water), who shares directing duties with Mark Gustafson. The much-admired reimagining of Carlo Collodi's tale has had its awards push bolstered by festival screenings in London, Los Angeles and Toronto and by Del Toro's charismatic promotional appearances.
Marcel The Shell With Shoes On, meanwhile, has built a cult following since its premiere at Telluride Film Festival in 2021, after which it was snapped up for the US — and pushed to an impressive $6.3m US gross — by A24. Based on the online shorts from director Dean Fleischer-Camp and voice performer Jenny Slate, the film has earned an Independent Spirit Award nomination for editing and been named the year's best animated feature by the New York Film Critics Circle. The Los Angeles Film Critics Association named Guillermo Del Toro's Pinocchio best animation — with Marcel The Shell With Shoes On as runner-up.
The year's three highest-profile CG contenders all come with budgets well north of $100m, the technical sophistication of the studios' animation divisions and the support of the studios' distribution arms. Their awards fortunes, though, could be affected by their release patterns and box-office showings.
Pixar/Disney's Turning Red, from director Domee Shi (Oscar-winning short Bao), was acclaimed by critics for its cultural diversity and funny take on a teenage girl's struggle with adolescence. But the film had its wide domestic theatrical release hijacked by a spring pandemic surge and instead received a less-visible launch on the Disney+ streaming service in the US and some international markets.
Strange World, Walt Disney Animation Studios' follow-up to Encanto, has Don Hall, one of the directors of 2015 animated feature Oscar winner Big Hero 6, steering a colourful fantasy adventure. But its disappointing box-office debut in late November could be hard to shake off in the awards race — unless voters rally to the cause of a film, based on original intellectual property, that deserved a bigger cinema audience.
Lightyear, Pixar/Disney's second offering of the year, has a strong pedigree as a spinoff (of sorts) from the Toy Story franchise, whose third and fourth instalments both won the animated feature Oscar. The spinoff puts the 'real' Buzz Lightyear, the space ranger whose action figure featured in the Toy Story films, in his own intergalactic adventure. Angus MacLane, who worked on three Toy Story entries, made his feature directing debut, and Chris Evans voiced the title character.
Lightyear became the first Pixar title in more than two years to get a full theatrical release when it opened in cinemas in June. The $226m worldwide gross may be the third best for an animated feature this year, but the box-office number is well down on all the Toy Story entries, and Lightyear went to Disney+ less than seven weeks after its big-screen debut.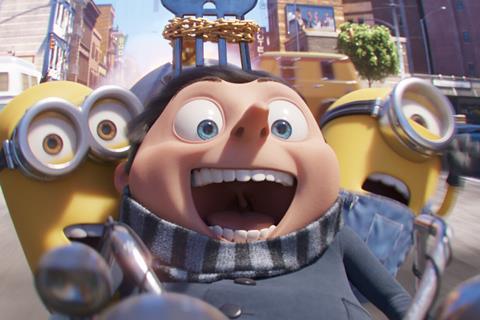 Franchise pedigree
The rest of this year's animated feature field — which comprises a total of 27 eligible titles — is split between mostly studio-backed CG entries and more maverick projects.
Though sequels have rarely taken the Oscar in the category, two are currently pushing for recognition. Minions: The Rise Of Gru, follow-up to 2015 blockbuster Minions, is the latest from Los Angeles- and Paris-­based animation powerhouse Illumination and its distribution partner Universal and a continuation of the massively successful Despicable Me franchise (whose second instalment scored a 2014 animated feature Oscar nomination).
This entry tells the origin story of super-­villain Gru — voiced, as he has been in every entry so far, by Steve Carell — and how he met his cute yellow helpers. With Kyle Balda, who directed the original Minions alongside Pierre Coffin, returning to steer the comedic action, the sequel had a premiere at the Annecy festival before embarking on a July theatrical run that produced a $939m worldwide gross, easily the biggest take of any of this year's animated award contenders.
Puss In Boots: The Last Wish, produced by DreamWorks Animation and also distributed by Universal, is the sequel to the 2012 Oscar-­nominated Puss In Boots, itself a spinoff from blockbuster franchise Shrek (whose original entry was the first winner of the animated feature Oscar in 2002).
With Antonio Banderas returning to voice the title character and Joel Crawford taking on his second feature directing assignment after 2020's The Croods: A New Age, The Last Wish sends its furry hero on a quest to restore his nine lives before the last one is used up. The comedy adventure's late-December theatrical launch and strong reviews should serve to keep it front of mind for awards season voters.
DreamWorks Animation and Universal also have The Bad Guys — loosely based on the Aaron Blabey book series of the same name, and directed by Pierre Perifel, making his feature directing debut after serving as animator on the likes of the Kung Fu Panda franchise. It is the second-highest grossing animated film of 2022, after Minions: The Rise Of Gru, with $250m.
Netflix's latest bid to become a CG animation player is The Sea Beast, from Chris Williams — who directed, alongside Don Hall, Disney Oscar winner Big Hero 6. Williams was also one of the writers of the fantasy adventure about a young girl who teams up with a famous aquatic hunter and the creature he once hunted. The film was much admired by critics, but it remains to be seen whether its limited summer theatrical release before going to Netflix will have given it enough of a profile in awards season.
Apple is vying for its second nomination in the animated feature category (it was previously the streaming home of Cartoon Saloon's 2021 nominee Wolfwalkers) with CG fantasy comedy Luck. It's the first feature from the tech giant's deal with new player Skydance Animation, headed by former Pixar and Disney creative leader John Lasseter.
The CG tale — with a reported $140m budget — tells the story of a hapless young woman and a mysterious talking cat in the domain of good fortune, and boasts voice talent including Simon Pegg, Whoopi Goldberg and Jane Fonda.
Warner Bros last won this Oscar category in 2007 with Happy Feet, and rather incredibly missed out on a nomination in 2015 with The Lego Movie, despite winning the Bafta for best animated film. (The Lego Movie did pick up an Oscar nod for best song, with 'Everything Is Awesome'.)
This year, the studio presented its debut big-screen animation produced alongside its DC Entertainment division, DC League Of Super-Pets, a tale of animal misfits who band together to save the day after Superman and the Justice League are kidnapped. Global box office was a decent $204m.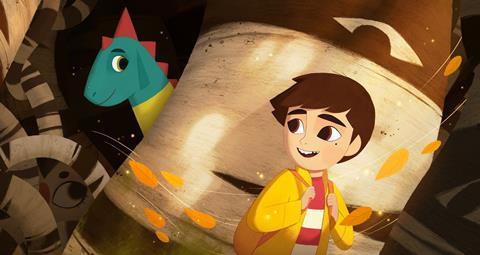 Auteur filmmakers
In addition to Pinocchio and The Sea Beast, Netflix boasts three further notable titles by signature directors, underlining the impact the streamer has had on the animation world.
Writer/director Henry Selick (maker of 2010 Oscar nominee Coraline) and writer/producer Jordan Peele combined their sensibilities for Wendell & Wild, an offbeat stop-motion horror comedy about two scheming demons and the tough teen who summons them to the land of the living.
Irish director Nora Twomey follows her 2018 nominee The Breadwinner with My Father's Dragon, another 2D hand-drawn project, this one based on an award-winning children's book about a young boy's friendship with the titular creature. The new film could give Cartoon Saloon, the Kilkenny-based company Twomey co-founded, its fifth straight nomination in this category.
Oscar-nominated live-action writer/director Richard Linklater makes another of his occasional forays into animation with Apollo 10½: A Space Age Childhood. The drama is inspired by Linklater's own childhood in Texas, with the 1969 Apollo lunar mission as a backdrop. It combines animation based on live-­action footage, with computer imagery that resembles the rotoscoping from Link­later's earlier projects Waking Life and A Scanner Darkly.
Providing another indication of how animation is evolving, Apollo 10½ was, according to reports, initially rejected for consideration in the animated feature category due to its mix of techniques, but eventually deemed eligible after an appeal by the filmmakers.
Rounding out the animated feature field are a number of international projects. Non-English-language films often have a presence in the category, though only one has ever taken the Oscar: Hayao Miyazaki's 2001 Spirited Away, which was the second film to win the new category in 2003.
Inu-Oh, directed by Masaaki Yuasa and distributed in the US by GKids, is arguably this year's leading representative of Japanese anime. The rock fantasy about a 14th-­century outsider who becomes a musical superstar had its premiere at Venice Film Fest­ival, screened at events in Asia, the US and Europe, and won prizes at the Bucheon and Fantasia festivals.
Also in serious contention is Eternal Spring, an animated documentary in English and Mandarin from Canadian filmmaker Jason Loftus. Widely seen on the international festival circuit and the winner of the top audience award at Canada's Hot Docs event in May 2022, the film uses live-action and 3D animation inspired by comic-book artist Daxiong to recount the events and aftermath of the hijacking of a Chinese TV station by members of the spiritual group Falun Gong.
Like Flee, last year's Oscar-­nominated animated documentary from Denmark, Eternal Spring has also been submitted — in this case by Canada — for the international feature film Oscar, making it a rare category crossover in the increasingly global contest for awards season recognition.