UK costume designer Joanna Johnston explains how the clothing worn by Brad Pitt and Marion Cotillard reflects their characters' dramatic arcs.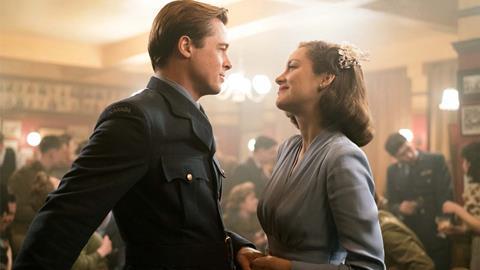 While costume design is central to any film, providing an essential visual shorthand for character, era or tone, it is intrinsically woven into the narrative fabric of Robert Zemeckis's Second World War drama Allied.
Written by Steven Knight and produced by GK Films with Paramount Pictures, this story of French Resistance fighter Marianne (Marion Cotillard) and Canadian airman Max (Brad Pitt), who fall for each other while on a covert mission in Casablanca, revolves around identity, perception and deception.
As individuals in the most precarious of situations, Max and Marianne are not simply defined by their appearance; their very survival depends on it being absolutely correct, down to the last thread.
Allied, which is playing across multiple territories, may be a period film, but UK costume designer Joanna Johnston says she was guided more by character than history and so intentionally amped up the glamour.
"I approached it as an homage to old-fashioned Hollywood film, where everything was lifted," she says.
"Rather than it being gritty and war-torn, everything looks a bit more glossy and groomed."
Authenticity remained essential, however, and that entailed a great deal of research.
"My starting point was the Special Operations Executive (SOE), which I knew very little about, because that's where Max is rooted," she says.
"Robert [Zemeckis] wanted to know what Max would look like, so I went to the Imperial War Museum [in London] to find out how a flight commander would have worn his uniform during the war. That was the root of him, and the heart of the story."
But although Johnston drew her inspiration from 1940s style, she did not rely solely on vintage pieces to clothe the actors.
"There were a few pieces that were original," she notes.
"I buy a lot in [London's] Portobello Market, so we accumulate the stuff for the extras during prep time. But the principals' costumes were bespoke. Bespoke is such a joy, because you have it particularly tailored to the actor and it helps give that polish."
Character arcs
Designing and making Pitt and Cotillard's costumes from scratch also enabled Johnston to reflect their dramatic arcs through their clothing - particularly essential when it comes to Marianne, who undergoes several identity shifts throughout the film.
"You never get to the heart of [Marianne], which is interesting," says Johnston.
"I wanted her to look very assured in the first part of the film, in Casablanca. I looked at a lot of French style and fashion plates from the time, and I made her look very clean and graphic. When she goes to London, she takes on a mantle of being a mother and wife, so I put her in warmer tones. But you never really know who she is. Everything becomes a bit more fuzzy in her clothing; the patterns are very different from how they are in North Africa. That hard clarity and sharpness diminishes when she comes to London. But she still has a very French application of style, in the way she puts herself together."
Johnston says that Marianne's singular style was not just helped by the fact Cotillard has a "natural ability to carry everything", but that Zemeckis was on board with her vision.
"We've established a relationship," she says of her long-time collaboration with the film-maker, which began with Who Framed Roger Rabbit in 1988 and has taken in the such films as Death Becomes Her, Forrest Gump and The Polar Express.
"A director is always going to have some pointers, but he does let me run. On the whole, he loved most of the designs but it's always a discussion, and it evolves as the script and action changes. It's not always the same from start to finish."
Johnston credits Zemeckis with helping her develop her craft, particularly when it comes to designing for evolving film-making technologies.
"He's a technical pioneer," she says.
"My first film was Who Framed Roger Rabbit, and the technology was going from hand-drawn animation into the computer world. Similarly with The Polar Express, it was one of the first full-length motion-capture films and I designed and made all the costumes, which were never filmed but just used as a reference for the animators. With Bob, you are watching the future emerge before your very eyes."
These experiences proved particularly helpful on Johnston's other major project this year, The BFG, which reunited her with Steven Spielberg after she received an Oscar nomination for her work on his 2012 biopic Lincoln.
While she referenced Roald Dahl's original book and the 1989 animated film, her main inspiration was more personal.
"[I spoke to] Roald Dahl's widow, Felicity Dahl, who is a friend of mine," she says.
"And my father used to work for the Queen, so doing all of the live-action Buckingham Palace stuff, footmen and cooks, I was in my absolute element."
"I modelled that on an original trenchcoat of the period. Max was an officer so his uniform had to conform, but he would have had the coat made to his requirements. There's a company called Macintosh in London, and they very kindly constructed it in their factory; we obviously had to do quite a few,ght. It's that kind of romantic Humphrey Bogart look, it's so classic for the 1940s."