'Sequelitis' was a legitimate story this year after so many studio sequels bombed at the box office.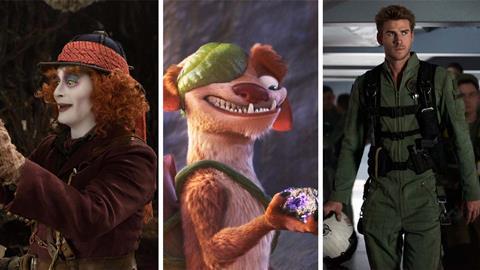 Take your pick of US box office flops in 2016 because there were plenty of them – Alice Through The Looking Glass, Ice Age: Collision Course, Zoolander 2, Independence Day: Resurgence, and on and on.
In fact, there were so many casualties the US entertainment press revived 'sequelitis', a term headline writers coined several years earlier and one that certainly applied to the last 12 months.
'Sequelitis' was a legitimate story because it happened, although it isn't the whole story. Remakes and adaptations flopped too, like Ben-Hur, The BFG and Warcraft. And original and non-original films soared in 2016 and made a ton of money, which is why the summer came close to being a record-breaker and Rogue One: A Star Wars Story could push the year past 2015's $11.1bn record. At time of writing, ComScore had reportedly projected a $11.3bn finish.
In real terms the overall picture of box office is not so bright, even if it will eventually be coming to us in the higher 4K resolution. Inflation and premium formats drive up ticket prices but they can't hide the fact that film-going has been on a downward slope since the advent of television in the 1950s. Exhibition faces today its biggest threat ever from streaming and a wide range of alternative entertainment choices for consumers.
Audiences were picky this year. DreamWorks Animation's Kung Fu Panda 3 through Fox and Paramount's Zoolander 2 heralded the shape of things to come for sequels as early as January. Both failed to live up to their predecessors and in the case of Ben Stiller's comedy sequel, the title opened on $13.8m – roughly 35% behind the original's 2001 debut when adjust for inflation.
The $28.8m final haul trailed that of its predecessor by 54% when $45.2m translates into $61.6m in real terms. A $55.9m global box office for Zoolander 2 does not sit well with the reported $50m production budget – marketing costs were not revealed. They rarely are.
Warner Bros released Batman v Superman in late March to so-so results. The promising $166m opening weekend preceded a 69.1% drop in the second session and the superhero mash-up ended on $330.4m in North America and $873.3m worldwide after costing in the region of $500m to produce and market. Not nearly as good as executives would have wanted.
Disney had a superb year with five out of the top ten releases of 2016: Finding Dory ranked first, Captain America: Civil War second, The Jungle Book third, smash animation Zootopia sixth and Marvel Cinematic Universe spin-off Doctor Strange ninth.
However the studio will prefer to forget Alice Through The Looking Glass, a massive flop that debuted in late May on $26.9m, some 76.8% behind the $116.1m from Alice In Wonderland in March 2010. The fantasy finished on $77m in North America against its predecessor's $334.2m and even $222m from international markets could not shake off the whiff of failure given the $170m production cost.
Buena Vista distributed Steven Spielberg's The BFG, another flop that managed $55.5m in North America and $178m worldwide. What made that a little more palatable for Disney was the fact it was not fully exposed, having co-financed the $140m Roald Dahl adaptation with Amblin Entertainment and Reliance.
Fox's X-Men: Apocalypse in late May was a disappointment, launching on $65.8m to trail the debut of 2014's X-Men: Days Of Future Past by 27.5%. It finished on $155.4m in North America and if the $543m global tally salvaged some pride, the stated $178m price tag and an unspecified marketing figure on top of that tempered any sense of excitement.
Legendary's game adaptation Warcraft reportedly cost $160m to make and debuted in early June on a dismal $24.2m for a final $47.2m through Universal. International and in particular a sensational performance in China made the overall result look fairly respectable as a further $386m elevated the worldwide haul to $433.5m.
Summer disappointments included Paramount's Teenage Mutant Ninja Turtles: Out Of The Shadows, Lionsgate-Summit's Now You See Me 2 and Fox's Independence Day: Resurgence, which tumbled into action toward the end of June on $41m and finished on $103.1m, some 66% behind the $306.2m from the original Will Smith starrer 20 years earlier. A decent $286m from international spared executives' blushes even if the $165m price tag put the kibosh on any celebrations.
Warner Bros' The Legend Of Tarzan crashed and burned over July Fourth weekend on $38.5m and ended on $126.6m in North America and $357m worldwide on a reported $180m budget. A few weeks later, Sony's Ghostbusters reboot set sail for $128.4m in North America and $229m worldwide, well short of the $300m studio executives admitted the $144m comedy adventure needed to break even.
Paramount's Star Trek Beyond disappointed in late July, while the same session was crueller to Fox's Ice Age: Collision Course, which bombed on $21.4m, the lowest opening in the 14-year franchise. It finished on $64m and even $343m from international was not enough to pull the fifth instalment close to previous editions. For the record the original grossed $176m in North America, which is 73% more than the 2016 release's comparable $64m score in real terms.
MGM delivered a big miss in mid-August in the form of Ben-Hur. The studio partnered with Paramount and funded about 80% of the film, which grossed $26.4m and $94m globally by the end of its run. The 1959 version starring Charlton Heston grossed $74m, which equates to $613.7m in today's terms – more than 87% higher than the ill-fated modern retelling.
The notable year-end flops include The Birth Of A Nation, the once great hope that began the year on a high when Fox Searchlight out-manoeuvred Netflix and Amazon Studios in Sundance to land what was regarded as a heavyweight awards contender at a time when the #oscarsowhite movement was gathering steam.
After a 1999 rape allegation against writer-director-star Nate Parker resurfaced in the summer (Parker was acquitted of all charges in 2001) Searchlight's big hope fell off the radar. It opened on October 7 and went on to gross $15.9m in North America.
Ang Lee's Billy Lynn's Long Halftime Walk debuted on November 11 in two theatres through Sony's TriStar Pictures label and stood at $1.7m by mid-December.
Admittedly the film's exacting technical specifications (4K resolution, 120fps frame rate, 3D) meant there were only a handful of theatres in North America equipped to show it as Lee intended. However the response was muted even when the studio rolled out a lower spec version in 1,176 sites for the second and third sessions. They scaled back dramatically after that and the war drama, which reportedly cost $40m to make, has managed an additional $29.2m from international markets.
The cyclical nature of production means that the failure of a certain type of film in 2016 does not mean it is guaranteed to fail the following year. Risk-averse and creatively barren studio brass have lined up plenty of sequels, reboots and adaptations for 2017 and beyond.
Nobody knows how audiences will respond to these upcoming gems – including the studios, which test their films well after they have invested tens of millions of dollars into the budget.
What we do know is millennials are shunning theatres and the studios and their independent counterparts with less marketing muscle must be on top of their game to entice audiences that are increasingly swayed by reviews aggregators like Rotten Tomatoes and knee-jerk reactions by their peers on social media.
And it is incumbent on the exhibition sector, fighting for its life against streaming platforms and disruptive start-ups like Sean Parker's The Screening Room proposal, to offer a world-class alternative to people's fancy home entertainment systems.
That means more comfortable seats and tastier and more varied concessions – the main profit centre for theatres – serious thought on audience interactivity, and robust and consistent alternative programming for the times in between peak tentpole viewership.