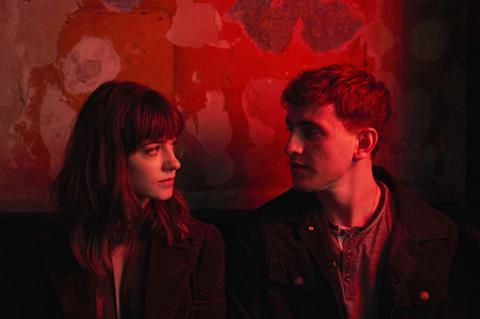 Producer Ed Guiney of Element Pictures and director Lenny Abrahamson have done plenty of work together since they met as teen­agers in their native Ireland — most notably, of course, on 2016 multiple Oscar nominee Room.
But they have not previously collaborated on a television project with the profile of Normal People, their upcoming series adaptation of Irish writer Sally Rooney's 2018 novel about the complicated relationship between two bright Irish students. It was a rare literary award-winner that also managed to enter the zeitgeist on both sides of the Atlantic.
"Though we could all see what a great novel it is, Sally certainly didn't anticipate how big it would become," says Abrahamson of the book's appeal for Guiney, himself and the series' backers. "I remember around the time we were shooting [in Ireland], I was going to London for casting and meetings and I'd sit on the tube and see three people reading the novel."
The book's popularity helped confirm the instinct that the producer and director had to turn the story into a series — in 12 episodes of 30-minutes each — rather than a feature. "There was never a serious doubt about it being for television," says Abrahamson, who directed the first six episodes himself, with Beautiful Thing filmmaker Hettie Macdonald shooting the rest. "The novel takes place over four or five years and presents these very intense glimpses of different phases of their relationship. It felt like episodic television would allow us to best mirror that structure.
"It is such a unique moment in television now, anyway, because you can tell small, meaningful stories in a way that gets to a really huge audience," Abrahamson adds. "The pressure if it had been a movie would have been to squeeze it into a shape that didn't go with its natural DNA."
According to Guiney, who serves as an executive producer with his Element Pictures co-head Andrew Lowe, Emma Norton, Anna Ferguson, and Abrahamson and Rooney, the novel's reputation helped get the series set up quickly. In the UK, BBC Three gave the project the greenlight, says Guiney, "off the book and Lenny's interest. So we were able to go back to Sally and say, 'If we're the lucky recipients of this, we will make the show — it's a guaranteed make, not a development deal.'
"That gave it a brilliant impetus," he continues. "Because there's a different energy around that rather than, 'Now we have to attach a writer and jump through all these hoops.'"
Rooney co-wrote the series with Alice Birch (Lady Macbeth, Succession) and Mark O'Rowe, and it found a buyer in the US in Hulu, the streaming service now majority-owned by Disney. Out of a number of companies that pitched, Hulu "really got it best", says Abrahamson. "They got the fact that if you tried to dumb it down it wouldn't work."
Guiney suggests the streamer recognised the story — although set in contemporary Ireland and told in an understated style — had universal emotional appeal. "The clichéd way you think of US broadcasters or financiers is that they try to Americanise something or make it more palatable, but actually that wasn't the case at all," he says.
Hulu also backed the choice to cast relative unknowns — the UK's Daisy Edgar-Jones and Irish screen debutant Paul Mescal — in the lead roles rather than pushing for, as Abrahamson puts it, "famous people in school uniforms".
With Normal People due to land on BBC Three on April 26 (plus air on BBC One at a later date) and Hulu on April 29 and Endeavour Content handling international sales, its producer and director are now mulling other television — as well as film — possibilities. They recently committed to a 12-part adaptation of another Rooney novel, Conversations With Friends, with Birch again attached to adapt.
In the pipeline
Abrahamson, who has a first-look deal with Element Pictures, is also developing a trio of feature projects: one based on non-fiction book A Man's World about a black queer boxer in the 1960s, another on American Civil War novel Neverhome and a third with an original story about a family from the west of Ireland in the early 1980s. He also sees plenty of potential in the peak television world. "I'm developing more things with Ed," Abrahamson says. "There's a massive opportunity in television, so I'd like to always have something on the go in TV as well as in features."
Guiney has ramped up Element's push into television drama in recent years. The company's first foray into television came with crime thriller series The Dublin Murders, a co-production with Euston Films and Veritas Entertainment for BBC, Irish public service broadcaster RTE and Starz that was broadcast in 2019.
The producer is now hoping to do more television projects with both Abrahamson and his other A-list directing partner Yorgos Lanthimos. It is a matter, Guiney suggests, of maintaining relationships by allowing directors and writers to explore all their options at a time when "TV is much more open to film people".
"The filmmakers we work with, you want to present them with opportunities for making both film and TV," he says. "You don't want them going off to someone else."